Listening to the music of some kind has always been one of the most favorite pastimes of the human race since the dawn of civilization. We have got an innate love of music even in this digital world. And when it comes to enjoying our favorite songs, our little all-in-one companion is always the first choice. Good audio quality on Android devices is half the substance of multimedia experience on any mobile device. You cannot enjoy a good song unless your phone has a really nice audio engine that makes you groove with ecstasy. Unfortunately, very few Android devices are capable of giving the ultimate experience that touches the level of our satisfaction.
There is no limit to which a thing can be better or worse, and so with the audio quality of our Android phones. In the past, we have shared various mods and apps that significantly improve the audio quality of Android devices, but the audio mod we are going to talk about today is probably the best of them all. Also, while those mods worked on a specific phone, this one works on almost all devices with Android versions ranging from 2.3 to 4.3.
The mod is called ViPER4Android Audio Effects and it is available since March 2013. It's another thing that we discovered this ultimate audio mod now. The app is a sheer example of how clever coding and tweaking can bring forth outstanding results with audio quality and effects. It gives you enhanced audio in its default configuration but it also lets you optimize the sound output the way you want. The extensive options provided in the app's interface allows tuning each and every cog of your device's audio engine.
ViPER4Android Audio Effects thus lets you fine-tune audio equalization and channel panning, Hass psychoacoustic channel localization effect, and virtual surround sound, etc. Besides, you can also choose from one of the preset configuration parameters. Besides making your device's audio far better, ViPER4Android  also lets you enjoy louder audio output on your device. Here is the list of components that can be customized for the best audio effects.
Bass control: Viper Bass, Natural Bass, Pure bass
Viper Clarity: Natural, Ozone, and XHiFi
eXtraLoud
FIREqualizer
Field Surround
Differential Surround
Hass Effect
Convolver
Reverberation
Dynamic system sound
Differential surround
Requirements
To enjoy ViPER4Android Audio Effects on your Android device, it must have the following things:
Android 2.3 or above
Root access
Latest BusyBox installed on the device.
Update (October 19, 2013)
The latest version of ViPER4Android FX is available now and can be installed as a normal Apk file (still requires root).
Don't Miss: How to Get 3D Stereo Sound Effect on Any Android
Audio Drivers for Device CPU
While installing ViPER4Android Audio Effects on your phone, you'll be prompted to select the appropriate audio drivers according to the CPU used on your device. Here is the list of compatible drivers for different CPU types-
FX 2208+
Marvell ZTE U880 or similar processors(PXA920) — Without VFP (PXA920) (Convolver and VHS+ disabled)
All Tegra2/ARM — With VFP
All Single-core with freq equal or less than 800MHz — With VFP
All Qualcomm/Snapdragon with freq higher than 800MHz, regardless of cores — CortexA8 with NEON
All other Single-core with freq higher than 800MHz — CortexA8 with NEON
All other Dual-core, Quad-core, Octa-core with freq higher than 800MHz — CortexA9/15 with NEON
If Qualcomm QSD8250  has an issue with CortexA8 with NEON, try With VFP 
XHIFI 2101+
All CPU with freq equal or less than 800MHz — Recommended do not use
ZTE U880 or same CPU(PXA920) — Without VFP (PXA920)
Tegra2/ARM — With VFP
ALL others — CortexAx with NEON
How to Install
ViPER4Android Audio Effects requires some special steps to be installed properly on your device.
Download the appropriate zip from above and extract it.
Copy the ViPER4Android_FX.apk file to your device and install it.
When the app is installed, open it and allow root permission when prompted.
You'll be asked to install Audio Drivers. Allow it and select the driver according to your phone's CPU type (see above).
When the drivers are installed, reboot the device.
Extract the IRS Starter Pack zip file. You will find some sub-folders inside it.
Connect your device to the computer and look for a folder named ViPER4Android/Kernel on your phone's SD. If you do not fond this folder/path on the device, create yourself.
When you get into the Kernel folder, copy/paste all files with .irs extension inside this folder.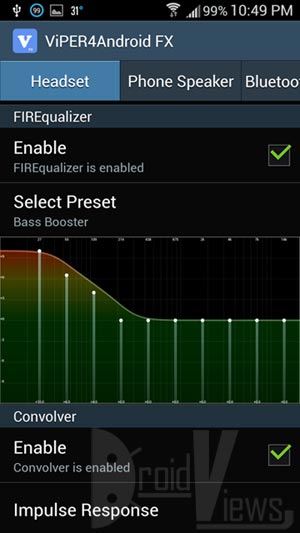 Now open the ViPER4Android FX app and enable your preferred options. Enjoy the wonderful audio quality on your Android device!
Read Next: DDB2 – a Powerful Music Player for Android You Must Try