Wallpapers are the most basic way to customize your device, whether its a feature phone, a smartphone running iOS or Android or a PC running Windows, macOS, Chrome OS, Linux, or anything else. On Android, there are so many wallpaper apps on the Play Store that make it easy to find and apply wallpapers. There are always new Android wallpaper apps that you may have missed. Here are five that are worth trying.
5 New Android Wallpaper Apps
1. Artwalls
High-quality self-made wallpapers.
Wallpapers designed for this app.
Growing collections of wallpapers.
Different collections of wallpapers each with different styles.
Notifications for new wallpapers.
A large collection of AMOLED wallpapers.
[googleplay url="https://play.google.com/store/apps/details?id=yasanx.yasan.wallpapers"]
Despite the name, Artwalls does not have artistic wallpapers in the manner one would assume. The app offers minimalistic wallpapers inspired by artworks from great artists. The color palette has a heavy emphasis on black so it is best suited for devices with an AMOLED display but they still look good on LCD screens with deep blacks.
It will let you see the inspiration behind each wallpaper as well when you open the wallpaper page. It provides the option to set the wallpaper directly from within the app or save it to your device. More than anything else, it's the wallpapers in this app and the originality that makes it one of the best Android wallpaper apps.
Read Also: Wallpaper Changer for Reddit – Change Wallpapers Automatically
2. White Wallpapers 4K PRO White Backgrounds
NO ADS
Premium walls when compared to free apps
4K and 8K wallpapers
The average size of wallpapers – 7MB / 700DPI
HDR Wallpapers (Coming Soon)
Supports any device, including devices with large screens: 1080×1920 px (Full HD 1080p) and 2160×3840 px (Ultra HD 4K S8 Plus).
[googleplay url="https://play.google.com/store/apps/details?id=com.motion.White4KWallpapers"]
The name quite abundantly makes it clear what this app is all about. If you're not a fan of the abundant use of black in the wallpapers from Artwalls, you can go white. There are many people who prefer a white background with dark texts and many custom launchers let you do that too. The app's Play Store page even has a long article on why white is good. If you're one of those people you might like this app. Not all the wallpapers are quite suitable for dark texts but you can only know when you try. The app isn't quite free and will cost you $0.99/₹15 which is not much.
Don't Miss: 5 Apps to Customize Physical Buttons on Android Devices
3. Walldrobe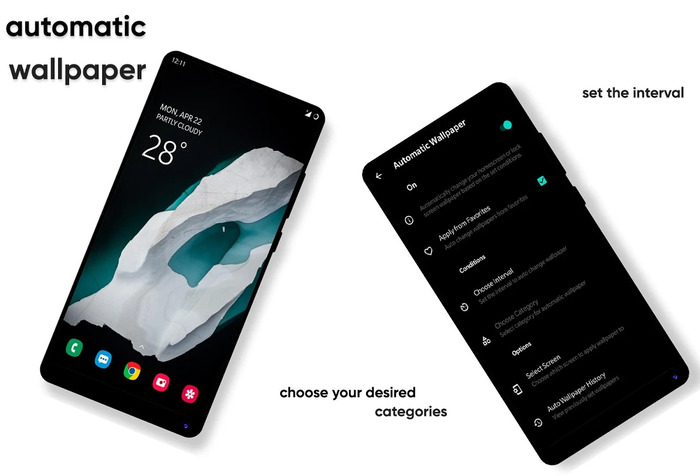 Live Wallpapers | Automatic Wallpaper Changer
Set Automatic wallpaper Intervals
Choose automatic wallpaper categories
Download HD Wallpapers
Powered by Unsplash images
Explore HD Categories
Easy download & Apply wallpapers
Free Images & Backgrounds
[googleplay url="https://play.google.com/store/apps/details?id=walldrobe.coffecode.com"]
If you don't have an affinity for absolutely white or black wallpapers you're probably normal and Walldrobe is a great option. Walldrobe has some of the most beautiful wallpapers and that's why it is one of the better Android wallpaper apps. It lets you automatically change the wallpapers based on a user-chosen time interval. You can choose the categories from which automatic wallpapers are picked. Apart from that, there are the usual features such as downloading the wallpapers, applying them directly from within the app, etc.
Must Read: 4 Unique Wallpaper Apps for Android
4. CREATIVE: Wallpapers, Ringtones and Homescreen
By logging in you will have the opportunity to share everything you want on CREATIVE.
Customize your profile with a photo, background color, short description, country, links to your social networks and much more
List of your uploads
Like received,
Position in the CREATIVE ranking
List of users who are following you
Follow and be followed by other users to stay up to date on new content!
You can receive notifications for "Like" received, new Followers and News
Thousands of Wallpapers shared by users
Unpublished backgrounds by CREATIVE
"Favorites" section
Wallpapers divided by categories
[googleplay url="https://play.google.com/store/apps/details?id=com.kubix.creative"]
To put it in layman's terms, CREATIVE is essentially a social network built around wallpapers. Of course, there are some truly awesome wallpapers and you're more than likely to find them on this app more easily than any other. I always end up having a few wallpapers I want to try anytime I open this app. Apart from the great wallpapers, the app lets you create your own profile and upload your own wallpapers.
You can follow other people so you always know when they've uploaded a wallpaper. Others can similarly follow you and you can see a list of your followers. The developers are CREATIVE also share wallpapers apart from all the user-generated content. To top that all off, the app is just a joy to use with its smooth, fancy animations and clean design. It's definitely one of the best Android wallpaper apps and it's worth a try, especially because it's free.
As the name says though, it's not just about wallpapers. There are a lot of other features baked into it like ringtones, icon packs, widgets, etc. There is even an image editor and a section where you can put on device frames on your screenshots or other images.
Editor's Pick: Get Edge Lighting Border Around Screen on Any Android
5. Everpics Wallpapers 4K HD + Auto Wallpaper Changer
Auto wallpaper changer
Daily Hot pictures
Daily New pictures
Choose between dark and light theme
Create your own playlist of photos
Choose your favorite layout of showing the pictures
You can download all of the pictures in one of three different resolutions (tradeoff between size and resolution)
Manage storage of pictures downloaded from Everpics
Share your favorite pictures with others
Showing preview of wallpaper on the home screen and lock screen
Downloading pictures in the background (you can continue to use the Everpics when the pictures are downloading)
Search, fast and easy search feature
[googleplay url="https://play.google.com/store/apps/details?id=com.mobilemediacomm.wallpapers"]
There are some wallpaper apps with great wallpapers but Everpics is one with great features and that makes it one of the best Android wallpaper apps. Not that it doesn't have some absolutely stunning wallpapers because that's what makes a wallpaper app a great wallpaper app. It has a huge collection of wallpapers which is almost never-ending. There are more than 50 categories to browse and new wallpapers get added every day. One of the unique features of the app is the wallpaper playlist.
It lets you set it up so your wallpaper changes automatically but instead of it being a random process you can create a list of your favorite wallpapers to rotate from. There are a ton of other features as listed above.
Read Next: 5 Best Call Voice Changer Apps for Android