There was a time when Android smartphones came with a lot of buttons, despite the full touch-screen controls. These days you just have a Power button, Volume rockers, and an additional button for voice assistants and camera on some phones. Even the home button hasn't survived. But you can get more out of the limited number of physical buttons on your Android than before. Here are 5 apps to customize physical buttons on Android devices. We have featured several apps that can remap physical buttons on Samsung devices. The apps listed below work on all Android devices though.
Customize Physical Buttons on Android
1. Trainer Stopwatch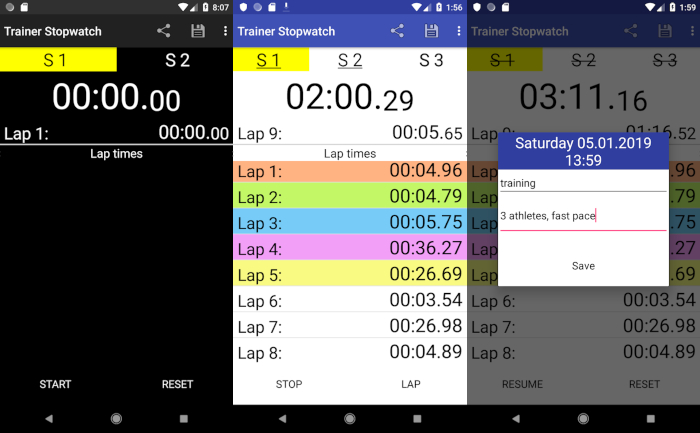 [googleplay url="https://play.google.com/store/apps/details?id=cz.hilgertl.jackbuttonstopwatch"]
The name doesn't quite suggest button remapping but it does customize physical buttons on your Android device. Not all of them but only your phone's or tablet's Volume buttons.
It's a stopwatch app primarily but it can be controlled using the Volume buttons. Using those buttons you can lap timings, start or stop and reset the progress without even touching the screen once. Makes you feel like you're holding an actual stop-watch.
The app's interface is clean and there are features you won't find on an actual stop-watch like the ability to have multiple active sessions and save important notes.
2. Frinky Music Controller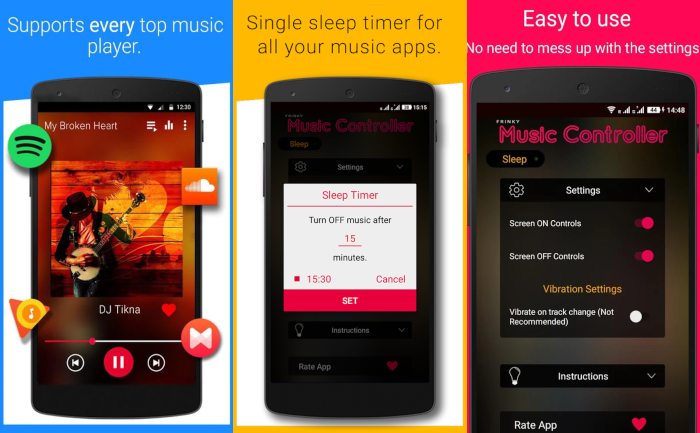 [googleplay url="https://play.google.com/store/apps/details?id=frinky.volumeKeys.music.controller"]
Frinky Music Controller is specifically dedicated to music if the name didn't make that clear. So all the options you have to customize physical buttons on your Android are related to music. This includes actions such as Pause/Play, Forward, and in some cases previous tracks too. It only allows remapping the Volume keys though so it's not quite as perfect.
Don't Miss: Remotely Erase Android Phone Data without Internet
But the app does work even if your screen is off which is essential for such an app. You don't even need root access neither need to grant permissions using ADB. It supports more than two hundred music apps including all the popular options such as Spotify, Google Play Music, etc.
3. Oops! AppLock
[googleplay url="https://play.google.com/store/apps/details?id=com.keybotivated.applock"]
Oops! AppLock is as different from other app lockers as its name. Other app lockers let you lock apps behind a password, PIN, pattern or fingerprint. This one lets you lock apps and then unlock them using the Volume buttons. It works by utilizing Volume key press patterns.
So you can basically set, for example, UP + UP + DOWN as your password. Anytime you want to unlock a lock app just launch it and press UP, UP and DOWN using the Volume keys. Your code can be up to five key presses long. The app also gives you the option to make it look like a notes app in the app drawer, for enhanced privacy.
See Also: Top Android Apps for Mobile Photography
4. Button Mapper – Customize physical buttons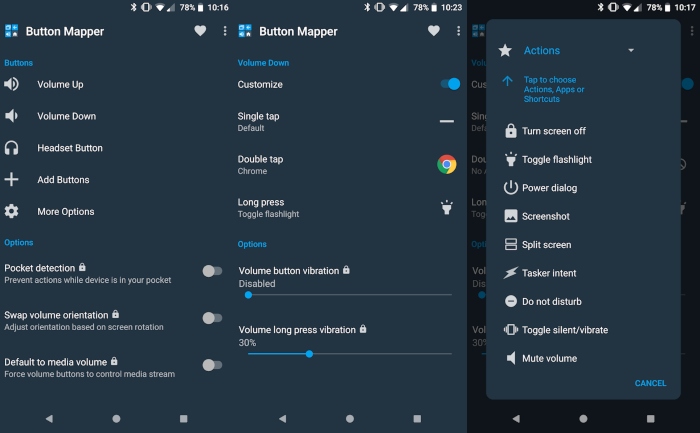 [googleplay url="https://play.google.com/store/apps/details?id=flar2.homebutton"]
Button Mapper is one of the most feature-packed apps on this list and it can customize any physical buttons on your Android phone or tablet. Actions can be triggered upon single and double taps of a physical key. Not only that, it is even compatible with the buttons on your earphone as long as they're compatible with your phone.
If that wasn't enough, this app also supports Active Edge on Google Pixel 3. However, due to limitations, perhaps, the app cannot remap the power button. As for the actions that you can perform, Button mapper includes a host of these. You can toggle the flashlight, perform an in-app action from a third-party app, use navigation actions, take a screenshot and a lot more.
There are even more options available concerned with customizing other aspects of the experience. These include the ability to customize the vibration intensity, long-press delay, etc. Despite all of that though, there's the one thing that might ruin the experience. The app can only work when the screen is turned on unless you have a rooted device and grant root access. Some of the features mentioned above are only available in the premium version.
5. Keyboard/Button Mapper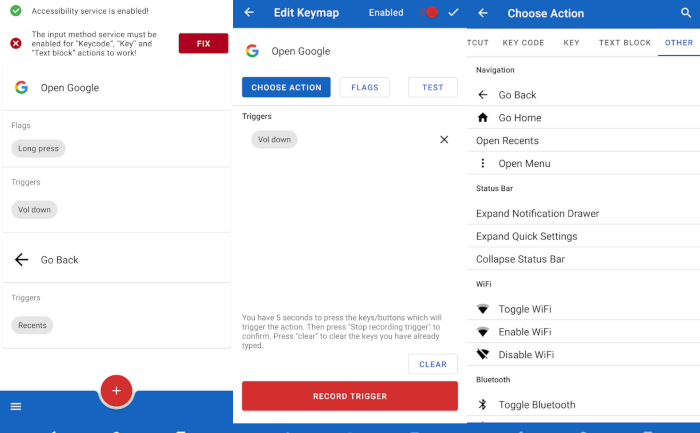 As you can tell, this is also an app that lets you customize physical buttons on your device to anything. Not just music, stopwatch, scrolling within an app, but anything, almost. It does so in style too.
Unlike Button Mapper, which it may seem similar to, this one actually lets you string a couple of keypresses together. So you don't only have a double press of the Volume up button but also the option to launch an action by pressing Volume down and then Volume up. It only allows stringing together a maximum of two presses.
If you have an external keyboard or mouse attached, you can map their buttons as well. If you have a rooted device, you can unlock further features.
Read Next: Best Android Auto Alternative Apps