With more than a billion registered users, Facebook is the ultimate social media website. The same goes for its official mobile app. A Recent survey shows that Facebook is the most installed third-party app on Android and it has more than a billion download. Sadly, the official Facebook app is also a battery draining and resource hogging disaster of an app that can easily slow down your device, especially if you have an old or an entry-level smartphone. Thankfully, there are a few amazing third-party alternatives that provide just as good experience as the official app and they do so without all the issues mentioned above. Now, here's our list of 5 lightweight alternatives for Facebook Android app.
Facebook Lite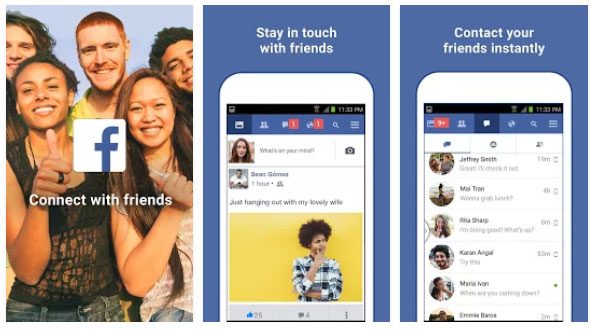 Remeber the old Facebook app? The one that came before Android and ran on those 1-inch screen feature phones? Well, Facebook Lite is a lot like that. It's very basic and the stripped down version of the official Facebook app. The UI is similar to what you get from those mini browsers. Since it's the lighter version, it's fast and battery and resource friendly.
Metal for Facebook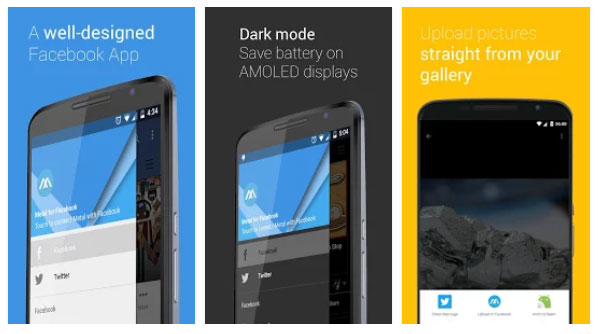 Metal is probably the best third-party alternative for the official Facebook app. With a size of less than 3 MB, Metal works totally smooth without hogging the RAM or the battery.
Metal for Facebook is a web-wrapper. What it does is that it presents the mobile website inside of an app with some extra tweaks and features to improve the overall experience. Some of the enhancements include material design, notifications, themes, etc.
Don't miss: How to Download and Share Facebook Videos on WhatsApp
Metal does contain ads which might annoy some of the users. As a result, the developer has also provided a pro version of the app which is completely ad-free.
Friendly for Facebook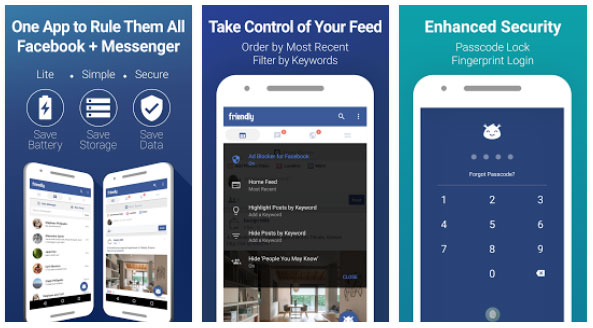 Friendly is another third-party app that works as an extension of the mobile website. With features like theming, ability to download videos, block Facebook ads, the ability to secure your account with fingerprint and passcode, switching between multiple accounts, etc. Friendly is a treat for those who are looking for a simple experience. With this app, you can also customize newsfeed by filtering certain words and hiding posts containing those words. That's something I haven't noticed in other such apps.
Swift for Facebook Lite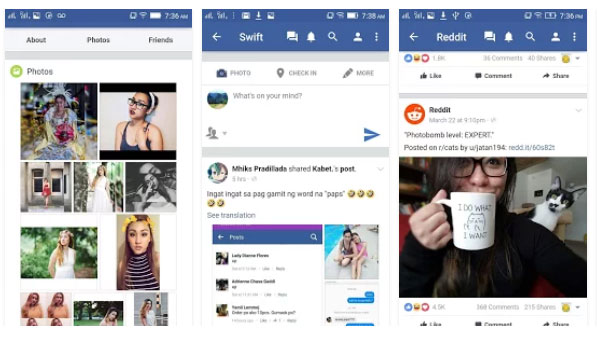 Swift is a bare-bones app that doesn't go out of its way to provide something extraordinary. It's a simple service that lets you browse Facebook with essential features like messaging, sending and downloading images and videos, push notifications, voice and video calls, interacting with posts, etc.
The selling point of Swift is its RAM consumption – around 20 MB only. You can get rid of the ad and support development of the app by making an In-App-Purchase.
Simple for Facebook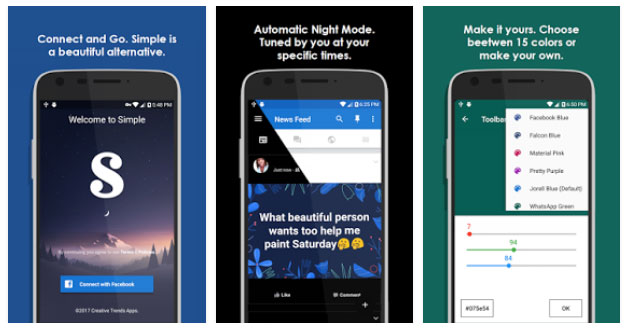 Simple for Facebook, as the name suggests, is a simple web-wrapper for Facebook's mobile website. Just like Swift for Facebook Lite, simply focuses on providing the essential features rather than any gimmick, and it does it in an efficient manner. With Simple, you can perform basic activities like interacting with posts, uploading photos and videos, updating status, chat with your friends, etc.
Also see: 9 Lite Apps to Save Space and Reduce Data Usage
Simple for Facebook has a pro version that you can purchase to block sponsored posts and ads.
All of the apps mentioned above are very good and easy on the phone. But, do remember that they are third-party apps. What this means is that when Facebook rolls out a new feature, the official app will get it long before such third-party apps.