We are all familiar with the drop-down menu in Android. For years, its has been used as a notification center as well as a place with quick toggles for many Android features. However, we as users, have never been able to customize it (unless we had a rooted phone). That kinda changes right now as the Quick Settings Tile API was introduced in Android Nougat. Using this API the developers are able to utilize those toggles to enhance their apps' functionality.
Today, we are going to see 5 applications that do so, but before we do, feel free to read some related articles:
Now, let's move on with the apps that utilize the aforementioned API. Please note that those applications are compatible with phones that run Android Nougat 7.0 or higher.
Also read: 5 Android Apps that Utilize the Quick Settings Tile API [#2]
1. ScreenFilter Quick Settings Tile
Screen filter allows you to suppress certain colors of your screen in order to minimize the bad impact that LCD screens may have. This app lets you choose exactly wich colors to permit or not and it uses its quick toggle in order to turn it on or off.
2. Weather Quick Settings Tile
This is a simple Tile on your quick toggles' menu that gives you a small weather report. It displays the temperature as well as whether it will rain or not.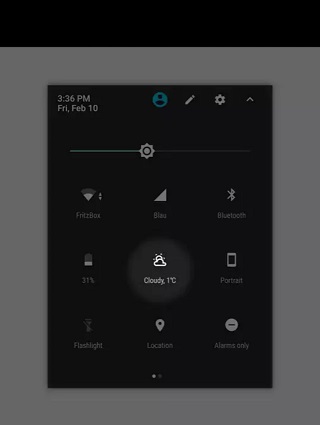 Finally, by long pressing the tile you gain access to the app's settings. There you can set the location for which to get the weather report and more.
Related post: Customize Quick Setting Tiles on Android Nougat with ShortCutter
3. Notedown Quick Settings Tile
If you've ever been in a situation where you want to quickly write something down but don't know where then this app is for you.
With Notedown you are two taps away from creating a new note. There is no need for looking through your whole app drawer for the right app.
4. Quick Search Tile
If you have removed the Google search bar from your home screen but you still need its functionality, simply install this application.
Tap on the tile and Google search will open. Simple isn't it?
5. Ringer Modes – Quick Tile
This application adds a tile that helps you change your device's volume for calls. Tapping the tile will change the volume to vibration-only or silent. Try it below.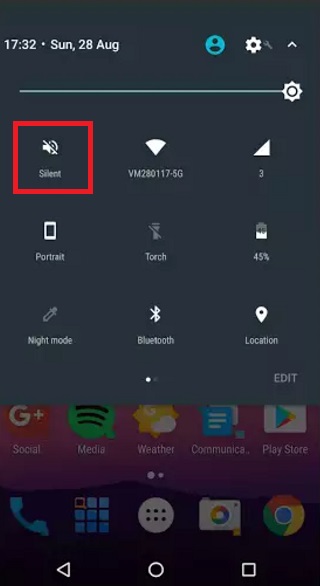 Feel free to comment below with suggestions and/or questions. Thank you for reading.