Today I'm going to talk about the weather. Wait, we aren't changing our niche to weather forecasting, we're still all about Android.
It's nice to know about the weather but it's not the must conversational topic, right? Heck, it's not even funny to talk about it. Well, today that's going to change. Well, slightly. I mean, you still won't talk to anyone about the weather but you may have a laugh while checking out the condition. Here are three entertaining weather apps for Android to try if you're bored of the conventional ones.
Fu*** Weather
"Take your #@*&% umbrella. Or better don't go outside at all." Is what you'll see when you check the weather with Fu*** Weather.
How many times have you seen out of the window to check the weather and all you thought was "oh #@*&%!"? Quite a few times, I bet. Well, Fu*** Weather does that for you. If anything, it may stop you from swearing.
Jokes aside, Fu*** Weather is simply awesome. With it, you can check detailed current weather condition, hourly weather, humidity, wind, temperature, etc. It also has a home screen widget and also supports Android wearables.
[googleplay url="https://play.google.com/store/apps/details?id=pl.lawiusz.funnyweather.release"/]
What The Forecast?!!
What The Forecast?!! is just like Fu*** Weather except for the foul language. The app "honestly" tells you how the weather outside is. Like, extremely honest.
What The Forecast?!! has more than 6500 funny (read: obnoxious) phrases to detail all types of weather.
You know what's the coolest thing about this app? Adjustable profanity level. You can either pump it to extreme or turn it off completely (but, what's the fun in that, right?).
It has everything you would look for in a normal forecasting app, too. In fact, the funny thing is that if you turn off the profanity in settings, it's just like a normal weather app.
[googleplay url="https://play.google.com/store/apps/details?id=com.williamking.whattheforecast"/]
HumorCast – Authentic Weather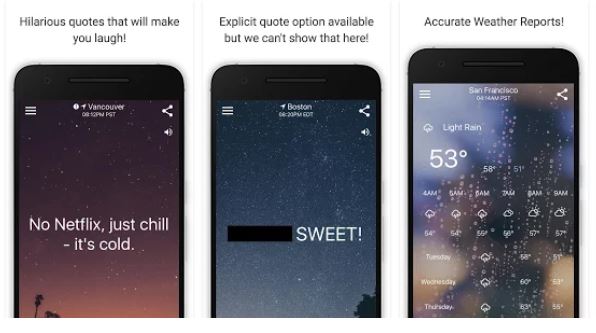 Do you like funny one-liners describing the weather with beautiful background images? If yes, then HumorCast is for you. Even though it has a lot of things going for it, one thing is sure – it's never boring.
[googleplay url="https://play.google.com/store/apps/details?id=com.steventso.weather"/]
This goes without saying, but by now you must have realized that these apps are not suitable for children.
There you have it. Weather doesn't have to be boring. Weather forecast with jokes and profanity will make sure that your day starts with fun. Your mornings will never be the same.
Don't miss: Today Weather Forecast – The Most Beautiful Weather App Ever
So, what's your favorite weather app? Well, not the simple ones I mean. Do you know of some other apps like the ones mentioned above? Tell us in the comments below