Everyone has a few big events in his or her life that he or she look forward to. Planning to go on a trip 5 months down the road? Receiving the next paycheck in 2 weeks? Have an important exam in 3 months that you have to pass in order to leave this lousy place you call your hometown & shape your career? There are a lot of things to get excited about in life. That's why calendars & reminders are so popular. You can just set a date & forget about it till the time comes.
Sometimes, a calendar just doesn't cut it. Sometimes you need a visual representation of how much time you got left till the big day. This is where countdown timers prove helpful.
There are a lot of countdown timers on the play store. But, some haven't been updated in years, some don't offer useful features, and some are just plain ugly. That's why we have selected 3 best event countdown apps for Android from the lot that we think are the best.
Countdown Time – Event Countdown & Big Days Widget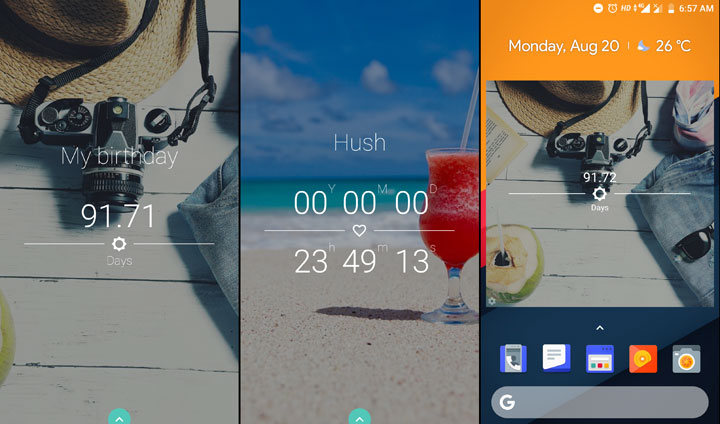 Countdown Time looks awesome. It makes use of beautiful pictures as backgrounds & shadows to make text readable & overall make the countdown look amazing.
You will find all the required features (and some extras) like the option to set event name, date, the way you would like remaining time to be shown (days, months, years, hours, etc.) – it's got all the basics covered.
The most important thing that an event countdown timer must have is a widget. And, Countdown Timer has one that's sleek & elegant.
Time Until | Countdown Manager
Time Until is one of my favorites. I used it a lot when I was in university to keep track of various events. What I like about it is that it's very minimal looking and feature rich, just like the above-mentioned app. But, the one thing that makes it better, in my opinion, is the ability to customize the timer background as well as the widget.
Don't miss: 5 Best Free Calendar Apps for Android
For starters, Time Until has better background images. Plus, while setting up the timer, you can blur & dim the background as per your liking & make the texts more readable. The widget, too, comes with multiple background color & transparency support. Plus, you can set a reminder for the event so that you can be reminded of the task a few minutes before it begins.
Hurry – Countdown to Birthday/Vacation (& widgets)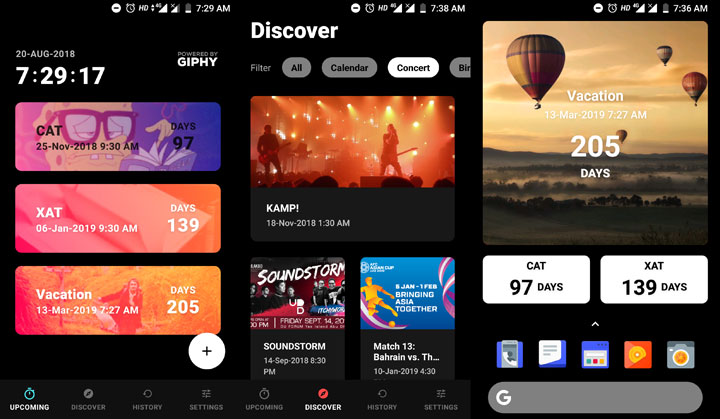 Hurry is the best event countdown timer for Android. It comes from Sam Ruston, the developer of the famous weather app – Weather Timeline.
So, what makes Hurry the best? The user interface. All the apps mentioned in this list offer the same thing at their base – a countdown timer. Hence, the biggest factor for differentiation is the presentation. And, Hurry wins in this department; there's no doubt about it.
Here's a cool fact before we proceed – when you open the app, the calendar on the splash screen animates to the current date.
Useful tip: How to Protect Your Personal Data and Privacy on Facebook
Not only the looks, but Hurry excels in the features department too. I'm not going to dig into the basic features that it offers. So, here are a few extra features that you won't find in other apps.
First, you can use GIFs instead of photos as background. Second, Colourful themes along with an opacity adjuster & dark texts. Third, persistent notifications. Fourth, adding notes for each event. Fifth, a discover section that shows events from your calendars like holidays, birthdays, etc. & upcoming events near your location.