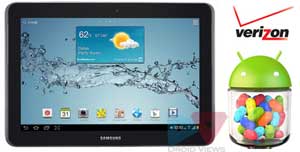 It's a big day for the owners of the Verizon variants of the Galaxy Tab 2 10.1 and the Galaxy Tab 2 7.0 as these second generation tablet devices have now been getting some Jelly Bean pinch today. This long-awaited update has arrived rather late because all non-carrier branded variants have seen it long ago. With the Android 4.1 Jelly Bean update the users of Tab 2 can now jump to the Jelly Bean from Android 4.0 Ice Cream Sandwich.
Many users of Verizon's Tab 2 has already started to get the update that is rolling out in phases and will reach all devices pretty soon. You can manually check for the availability of the update via Over-the-Air from Settings> About> Software Update on your device.
Having updated your Tab 2 to the new firmware, you will be greeted with a host new features and improvements. Some of these features include Project butter, Google now, new Notification Panel, better multitasking, enhanced widgets, etc. Besides these, the update  will also be bringing the following new things:
Galaxy Tab 2 7.0:
All Share
Pop up Play
Improved status bar
Group cast
Mini Apps
An improved floating keyboard
Sync & Connect email updates
Movies purchased from the Google Play store can be viewed
Backup Assistant & Media has been improved
Google Security Patches added
Faster and Smoother screen transitions
Enhanced Google Maps
Offline Google Maps
Voice Typing Support
Free Style Widget
Automatic widget size adjustment
Galaxy Tab 2 10.1:
Lock screen icons
Improved status bar
VPN Client has been moved to the Settings Menu
Event list frame has been added to Calendar
Google Security Patches added for additional security
Zooming solution in the user interface has been implemeted
Translucent icons can now be non-translucent or opaque
Sync and Connect email server has been updated
Improvements have been made to Back Up Assistant Plus
Music player application has been updated
Downloads:
Download the PDF file from Verizon that details all the features of the new Android 4.1 Jelly Bean Update.
Source: Verizon