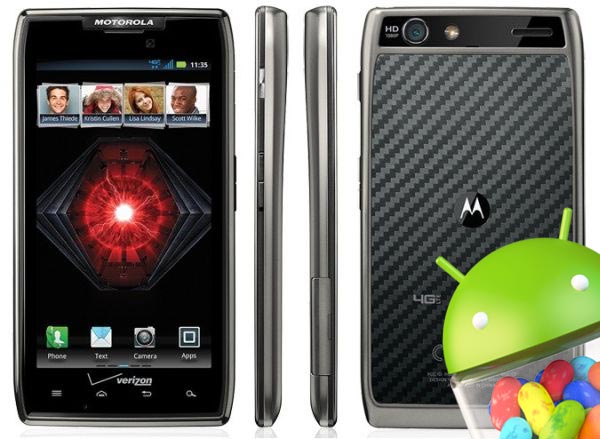 Motorola has again  proven its potential with its latest brilliant flagships; Droid RAZR M, Droid RAZR HD & Droid RAZR Maxx HD. We already had it about  Motorola Jelly Bean update for Verizon Droid RAZR M, which began previous month. And now Verizon is ready to stretch its arms towards the RAZR HD & RAZR Maxx HD; the latest full-screen HD flagships from Motorola. It was back in the fall of November, when Verizon announced the upcoming Jelly Bean 4.1 updates for the same.
The Android Jelly Bean 4.1 updates for Verizon RAZR HD & Maxx HD are claimed to appear anytime during the upcoming week which definitely holds major updates to the devices. Jelly Bean 4.1 for these Motorola devices grabs a lot of updates and feature enhancements which shall include improved notifications support, major UI updates, new Google apps and a lot more to conclude. Lets take a little walk through with the latest Jelly Bean 4.1 update for these devices.
Interactive new apps
Google Now: You know before you see it! Google Now brings real-time notifications of around you actions to keep you updated with your present surroundings and you don't even need to ask! It updates you automatically.
Voice Search: Typing to search is now old school, you are now accompanied by amazing voice search capabilities to search what you seek, with just as you speak. Not just search, it does gives you real-time guide experiencing by answering your typical questions.
Gallery: The new improved Gallery makes viewing, managing, sharing, organizing and editing images easier and snappier.
Amazing new enhancements
Improved Notifications: Stay connected on-the-go with real-time notifications. Make your actions to these with improved UI support and better expansions.
Camera Improvements: Are you tired of the slow image clicking? Of course yes! Then you might feel luckier to snap everything in real life, just as you see and when you see it. Capturing indoors during parties or outdoors during travels, you have it to be your companion. Apart from these, more contrast and color enhancements have been made to turn it out to be a better camera.
NFC & Android Beam Technology: Near Field Communication (NFC) is now improved to heights. It just not only allows you to scan tags or other stuff but also makes sharing better and faster. Images, videos, contacts, web, maps, directions etc, you just name it!
Speech-to-Text: There are hard times when you cannot type but why shall that limit you when you have a Motorola smartphone in hands. This feature securely and appropriately converts your voice into text within your messages, emails, twitter updates, notes and much more.
Text Predictions: Why type a word again and again when you have predictions. Jelly Bean supports improved predictions and its surely goes better as you use it.
These might just be the outlook of features that you are going to hold off but during a reality check with your own hands-on, a lot more might come up to your surprises.
According to Verizon, the updates will be available over-the-air beginning the coming week. But for those who believe in doing it manually shall visit Droid RAZR HD Support Page & Maxx HD support page.