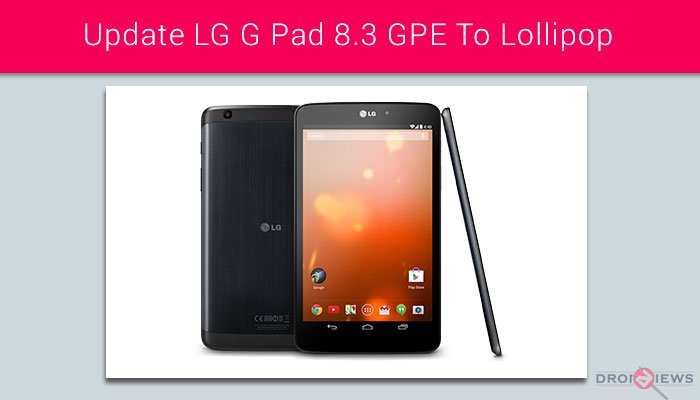 Lollipop is around for Christmas and arriving at several Android user's doorsteps this fall. Back then, Google made a word about the Google Play Edition or GPE devices to start receiving the update Over-the-Air just after it was done for the Nexus lineup. The word came true and the LG G Pad 8.3 GPE has just been reported to receive the Android 5.0 Lollipop update worldwide, in several regions and counting.
We know you have been eagerly waiting for this, but the time it will take to reach your region is quite unpredictable. While, some of us are patient enough to hold ourselves until the OTA update hits our device, others are getting grumpy to flash the OTA update by any means possible. And we seize this opportunity to help our users to Update LG G Pad 8.3 GPE to Lollipop 5.0 by flashing the OTA package manually.
Now, without wasting any more time, we would like to thank oldblue910 at XDA-Developers for gathering the OTA updates at one spot. Your G Pad should not be rooted and should be running on Stock KitKat KTU84P build. If it is not so, you shall restore it back to stock. The guide is tremendously easy and will help update LG G Pad 8.3 GPE to Lollipop 5.0 LRX21P build. Let us get started.
If you haven't yet updated to KTU84P build, you can use our guide below:
Install KitKat 4.4.4 OTA Update on LG G Pad 8.3 GPE
Warning!
Manually updating or messing around with the update system may be harmful to your device, if done wrong. We advise you to wait if you do not know what you're doing. DroidViews or any of its community members shall not be held responsible for any damage to your LG G Pad 8.3 GPE.
Get Everything Ready
Charge your G Pad to at least 60% battery life to avoid any mishaps during the procedure
Backup your Storage, Contacts, Messages, and Calendars etc.
Enable USB Debugging on your Pad, using our detailed guide.
Setup Android SDK (for ADB and Fastboot): Click to view the guide
Once you fulfill all the requirements, you must head below to follow the instructions.
Download Lollipop 5.0 OTA Package
signed-KTU84P.L002_user-LRX21P.L004_user_update.zip
Steps to Update LG G Pad 8.3 GPE
Connect your Pad to the PC via USB data cable.
Open the folder location where the update OTA package has been downloaded.
On an empty space inside the folder, press the SHIFT key and Right-click.
A pop-up menu will appear, select Open command window here.
This will execute a new Command Line or CMD window which is already cd'ed to the file location.
Type this command to confirm that your device has been successfully connected and recognized by the machine:

 adb devices

The command will return the device ID. If it does not, you will need to reinstall the device drivers again.
Type the command to reboot your device into Stock Recovery mode:

 adb reboot recovery

An Android logo with an exclamation mark will appear, press the Volume Up and Power buttons and release them quickly. Your Pad will reboot into Stock Recovery mode, displaying Android system recovery <3e> text on the top.
Use the Volume keys to highlight Apply Update from ADB and select it using the Power key.
Finally, type this command to start the update process:

 adb sideload 3e00c98ade9ceb594409c8e038739d3e4f3cd1c3.signed-KTU84P.L002_user-LRX21P.L004_user_update.zip

The update procedure will take sufficient time to complete.

Once done, highlight and select Reboot system now using the Power button.
Just in case you experience lags or hiccups, make a Factory Reset and everything will be fine, again.
The process is easy, but when performed wrong may corrupt your OS. Handle everything carefully. Tell us about your experience after using Android Lollipop on your LG G Pad 8.3 GPE, via comments. Wait until we get back with more tutorials for your device.