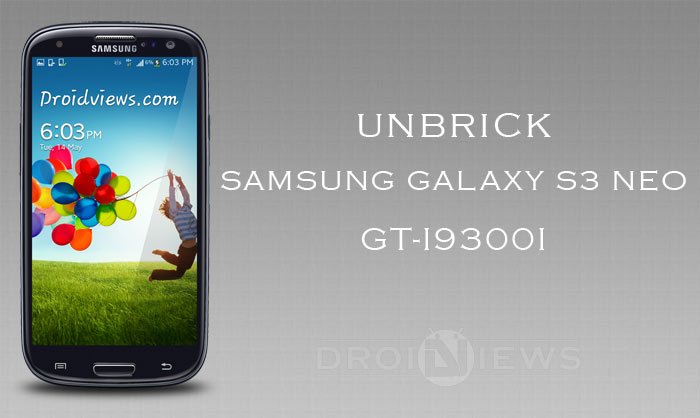 Android is well-known for its versatile nature and the huge developers support using which you can transform a device from a simple smartphone to a powerful hacking machine. Most users get into tinkering business to boost up their device performance and bring a new look to it, but some take it seriously and get their hands dirty. In both the cases, there is a chance to bid farewell to your device where it goes into a deep sleep, in other words when your device is bricked. Not all bricks are fatal as you can recover a soft bricked device easily but that is not in the case of hard brick or dead brick.
Once again thanks to developers out there, we got many procedures to recover a device even from a hard brick. Today we will see the procedure to unbrick Samsung Galaxy S3 Neo GT-I9300I using a simple procedure, thanks to usman_fareed of XDA for taking his time to provide this useful piece of information. This procedure works only for the hard bricked device, which means your device is fully dead and not turning on except for the case when you connect to PC where it will show Qualcomm branding. Follow the detailed procedure given below to recover your hard bricked Galaxy Neo.
Downloads
Win32DiskImager → Click Here
Debrick file → galaxy-s3-neo-debrick.rar
Odin file → Click Here
Stock Firmware (Search for GT-I9300I)→ Download
Unbrick Samsung Galaxy S3 Neo GT-I9300I
Download and install the Win32DiskImager software on your PC.
Download and extract the debrick.zip to get the debrick.img of your Galaxy S3 Neo.
Insert an SD card (preferably class 10) to your PC using an SD card writer and format it.
Now open the Win32DiskImager and write the debrick.img to your SD card and remove it from PC after the image is written.
Insert the SD card into your Galaxy S3 Neo and press volume down + home + power button combo which will take you to the download mode.
You can now remove your SD card from the device as it's part is over.
Download the stock firmware, you will get a zip file. Extract it to get a firmware file with the extension .tar.md5
Open Odin and flash the firmware file using our Odin firmware flashing guide → Click Here
Reboot your device once everything is completed successfully.
That's it, you will see the stock firmware running on your device after the reboot.
Note: Since your SD card is flashed with the debrick image file, it will show only 90 Mb. Use any partition tool like EaseUS Partition Manager to format your SD card to full capacity again.
Let us know of any queries regarding the guide in the comments section below.
Also See:
Update Galaxy S3 Neo GT-I9300I to Android 4.4.4 KitKat