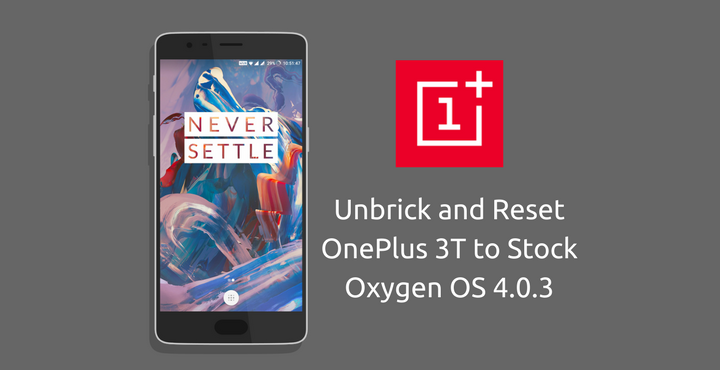 When you own a developer friendly device like OnePlus 3T, it is almost impossible to resist from rooting and flashing custom mods/ROMs on your device. And when you do that quite often, there is a good chance that one of those times you mess up your device. I have been there a couple of times in the recent past and it really doesn't feel good. So, if you are in that no-so-good position right now, do not worry and read ahead – let us help you unbrick your OnePlus 3T and completely restore OnePlus 3T to stock Oxygen OS 4.0.3. This article is based on the tutorial published on XDA Forum by fareed_xtreme, all credits go to him!
Attention!
Please keep the following things in mind before proceeding:
This will wipe your device, including the internal SD Card.
Your Bootloader will be relocked if it was unlocked before this procedure.
This method will only work on Windows 64 Bit device.
Related article: Install Android 7.1.1 Nougat Based Oxygen OS 4.1.1 on OnePlus 3 and 3T
Necessary Downloads
You need to download the below file in order continue this tutorial.
The above archive contains:
1. OnePlus3T Stock Reset Oxygen 4.0.3 [Folder Name: OnePlus3T_28_A.041_170208] 2. Qualcomm Drivers (x64 Only) [Folder Name: 64-20160925T230624Z]
Unbrick and Restore OnePlus 3T to Stock Oxygen OS 4.0.3
1. Extract the downloaded file:
When you extract the downloaded RAR file, you will have two folders: "OnePlus3T_28_A.041_170208" and "64-20160925T230624Z".
2. Install the Qualcomm Driver:
Make sure your phone is not connected to the PC.
Turn off your phone. If it is bricked and you are unsure whether it is switched off – keep pressing the power button for 40 seconds.
Connect the USB cable to your phone.
Hold down the Volume Up button and plug in the other end of the USB Cable to your PC. The screen will stay black but you will hear a sound from your PC that a indicates a device has been attached.
Open Device Manager on your PC. Start > Control Panel > Device Manager.
Double click and expand "Other Devices". Under "Other Devices" you will see "QHSUSB_BULK". Right-Click on it and choose "Update Driver".
Navigate to and select the "64-20160925T230624Z" folder and press OK. The driver should now install.
Must read: How to Install Hydrogen OS Android 7.1.1 on OnePlus 3/3T
3. Flashing Process
Open the "OnePlus3T_28_A.041_170208" folder.
Open "MsmDownloadTool V3.0" with administrator privileges. Right-Click > Run As Administrator.
Check if your phone is detected by the tool: One of the rows would show the device type as "COM N". In case if it doesn't, check the driver installation from the previous section.
Click on the "Verify" button. This will verify the MD5 hash value of the downloaded file, making sure that the file is intact. This step will take some time, wait patiently. Make sure everything is fine. If the file verification failed, re-download the images and try again.
Press the "Start" button and let the process complete.
When it's completed, your phone will automatically restart. If it doesn't, disconnect the phone from the cable and manually switch on the device.
If your device is stuck in boot loop, no need to worry. Switch off your device again. Boot into stock Recovery (Volume Down + Power Button) and simply wipe the data and restart your device. Everything should be fine by now.
Done!
If you have any doubts with any of the steps, drop a comment below. We'd look into it as soon as possible!
Also read: Top 7 Custom ROMs for OnePlus 3T