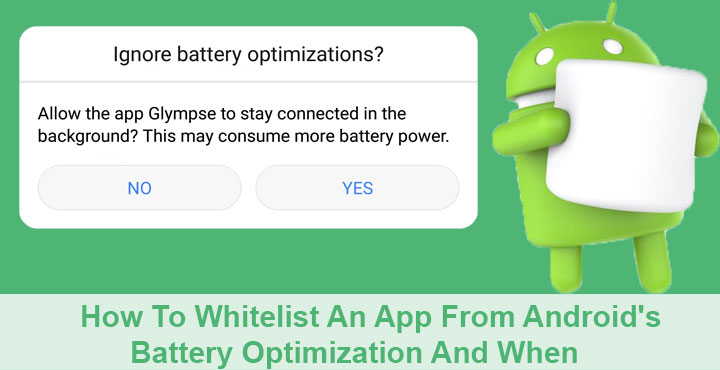 We may have gotten used to having the world at our fingertips, but today's smartphones are nothing short of modern marvels of technology. Smartphone technology has seen a rapid growth ever since Android brought smartphones to the masses. There has been no looking back. But it is rather odd that the batteries used in these astounding pieces of technology are still more than a decade old. You can't just wish a better battery tech to reality, which is why until one comes about, it is up to the software to make sure your battery lasts long enough. Keeping that in mind, starting Android 6.0, the mobile OS was armed with built-in battery optimization settings, but they're not perfect. There are times when you'd want to whitelist. Why? When? How? Read on.
Android's battery optimization – Doze
A Doze mode was introduced with Android 6.0 Marshmallow and improved upon subsequently in Android 7.0 Nougat and Android 8.0 Oreo. What it essentially does is hibernate apps when you're not using them. Limiting the background activity for apps is a good way to squeeze out some extra juice off your battery. But it also poses a problem. Not all apps are always running in the background because they're poorly designed.
When to allow an app to avoid doze
Some apps, like a VPN service, Tasker, or Auto Shazam, really need to run in the background at all times. And while Doze mode is beneficial in most cases, if you use such an app it can actually prove detrimental to the app's performance. If a VPN is hibernated by Doze, you may at times find yourself back to an unprotected network where you can be tracked. Or you might think Shazam has automatically identified the song playing around you, but it actually hasn't. The uninitiated will blame the app and its developer when it might not be their fault at all.
Doze does not always affect such apps, but if you're facing similar issues with an app, that's when you may need to whitelist the app from Android's battery optimization.
How to whitelist an app from battery optimization
Battery optimization is applied by default to every third-party app you install on your phone. Here's how to whitelist an app you think is taking a hit:
Go to Settings > Battery and tap on the three-dot menu button in the top right.

Select Battery optimization. This can be a little different on some devices with heavily customized OEM skins. For instance, on a device running EMUI 5.1, you'll find this renamed as Ignore Battery Optimization hidden under Apps > Settings > Special access.
Tap on the drop-down menu up at the very top of the list and select All apps.

Scroll down the list to find the app you want to whitelist and tap on it.
Select Don't optimize and tap DONE.
You can see all the apps that have been allowed to ignore battery optimization. Just tap the drop-down menu at the top and select Not optimized.
Don't miss: 5 Camera Apps to Improve Your Device's Camera Experience
It should be noted that Battery optimization is indeed really helpful most of the times and it wouldn't be advised to whitelist all the apps or even your favorites just for the sake of it. Only do this when you feel an app is suffering due to battery optimization. For example, if you often don't receive message notifications from WhatsApp, you can try whitelisting it. It may not necessarily solve the problem but it's a troubleshooting step you should try out.