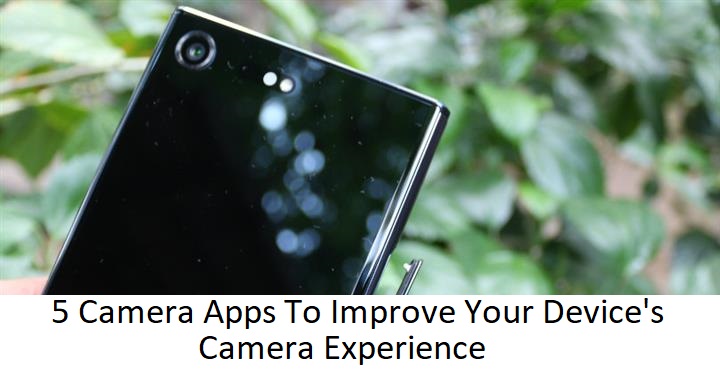 Android devices come in various different shapes, sizes and prices. Even though today, you don't need to pay $700 for top of the line hardware, you still have to spend cash if you want the best camera on a smartphone. The flagship Android smartphones today are in no way any inferior to any other devices out there. But if you don't have a flagship, the camera experience might not necessarily be satisfying. So here are 5 camera apps that might just give your Android camera that edge you're looking for. Even if you do own a flagship Android phone, these apps could still further improve your experience.
1. Open Camera
[googleplay url="https://play.google.com/store/apps/details?id=net.sourceforge.opencamera"/]
Open Camera is one of the most advanced camera apps on the Play Store even though the UI might tell you otherwise. It is best sited for those who like to shoot in RAW. Many modern smartphones support shooting in RAW, but very few pre-installed camera apps do. This uncompressed, unprocessed format makes sure that your image does not loose any detail. The images can then be processed by an app like Snapseed the way you like to get the best possible picture to your liking. Open Camera can help you take advantage of this if your phone supports RAW photography.
It also has a number of other useful features that would easily let you use it as the default camera app on your phone.
2. Motion Stills
[googleplay url="https://play.google.com/store/apps/details?id=com.google.android.apps.motionstills"/]
Apple's live photos seem to be becoming quite popular. Many Android manufacturers, and now Google have added their own versions of it to their phones. That's mostly because of how ubiquitous GIFs are these days across the web and even in private conversations. It is still surprisingly difficult to create your own GIFs though unless you know something others don't. Motion Stills from Google changes that.
The app lets you shoot short 3 second video clips that can then be converted to GIFs and shared just as easily. You can also choose to save the video to your device instead. You can also shoot Instagram style hyper-lapse videos which are then condensed and stabilized by the app.
3. Selfie Master
[googleplay url="https://play.google.com/store/apps/details?id=com.dreamon.SelfieMaster"/]
The front facing selfie cameras on most smartphones are not really on par with the main rear facing camera. With a smaller aperture and no flash, taking selfies in low light could prove to be a challenge. Many smartphone makers then came up with the "selfie flash" idea. But if your smartphone does not have one of those rare gems, you can try Selfie Master.
The app uses an Apple iPhone like method to take better selfies in low light. Hitting the shutter button turns the screen a bright white, thus illuminating your face. The app also has some filters and other add-ons you might want to try.
4. Panorama 360
[googleplay url="https://play.google.com/store/apps/details?id=com.vtcreator.android360″/]
Most Android phones have a built-in Panorama mode in the default camera app. But not all of them let you shoot the entire 360 degrees. That is where Panorama 360 comes in. The app works like other panorama shooters, hold your phone steady and pan slowly in a straight line to capture things around you. The camera takes several pictures which are then stitched together to create a seamless 360 degree image.
You can view the picture within the app, swiping around to see it all. Or, you could pop the phone in a VR headset or cardboard viewer and enjoy your own homemade VR experience.
5. Bacon Camera
[googleplay url="https://play.google.com/store/apps/details?id=com.fgnm.baconcamera"/]
If you're more of a professional photographer who likes to adjust every little detail in a shot, you'll enjoy Bacon Camera. Even though many flagship smartphones now offer a manual or pro mode for such users, some don't. Bacon Camera can let you get full manual control over your device's camera.
You can set the shutter speed, ISO, and white balance, and focus manually. The downside being that your device has to support the features. But the app works on most if not all modern smartphones, especially those with a Snapdragon processor. All of the app's features are packed in a UI that you'd feel quite at home with if you've used a DSLR before.