Only true enthusiasts get the irritating feel while switching to a new Android (or iOS) device, and then having the need to transfer all of your apps/games, and data onto your new device. This is very common amongst Android users, as we are never able to settle on the fact that one device is more than just enough. However, transferring stuff onto your new device can be quite glitchy and annoying. This is due to the fact that you not only need to transfer media, like photos and videos, but you also need the App data stored on your previous device to be transferred onto your new one.
Say, you've been using the Samsung Galaxy S5 for the past year, and just upgraded to the LG G4. It isn't only the different device which will encounter difficulties while transferring, but it is also transferring stuff from one OEM to another. With the increasing amounts of tools we have seen in the Google Play Store, we have all come to a common conclusion – Why not use a utility program that simply backs up your data, and then restores it on a new device?
While the answer is quite simple as there are hundreds of such applications around, however, it is still a long process to back your old device, then restore it on your new one. One such software company, named Wondershare has probably put their minds into this problem too hard, and has come up with a genius invention – MobileTrans.
While many PC applications like these have flown by several times, this one is a needle in the haystack. The reason why we've picked this software program is not only because of Wondershare's previous glory, but how their new program functions. MobileTrans isn't a mobile application, but is an application which needs to be installed onto your computer.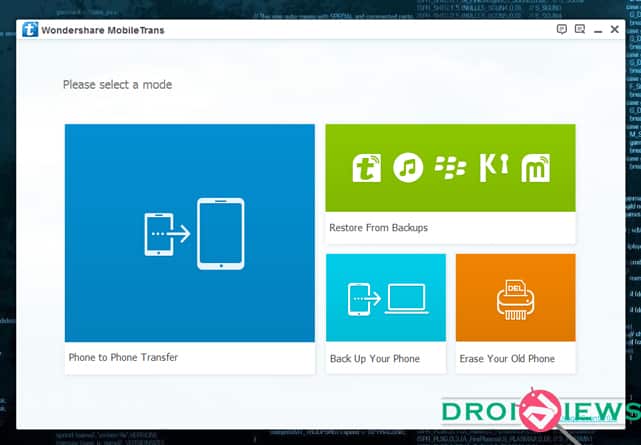 While we would really want to describe this amazing utility program in detail, that would take a really long time (and huge amount of pages), thanks to its eye-popping number of features. We, however have been able to pick the best-used features, and have described them down below! Without any further delay, let's get right into it.
Functionality
I am a strict all-time Android user. What bugs me is the fact that not much stand-alone PC applications support the new Material Design's gorgeous UI. While Wondershare MobileTrans isn't using the latest Material Design, I find it really very attractive and gorgeous. Firing up the program for the very first time, you'll have the option to either use it for free, or buy the pro version at a really affordable price. Once fully functional, you'll find that the program has clear and specified instructions for the various tasks that it does. At a glance, the program has the following main menus and features:
Phone To Phone Transfer :  Basically the highlight of this program. When chosen, you can connect your two phones of choice – the Source device, and the Destination device. What stands the Wondershare MobileTrans out of the crowd is the fact that you can connect almost all types of devices running various OSes. Namely, Android, iOS, Symbian, and BlackBerry OS are the various OSes Wondershare's MobileTrans supports.
Restore From Backups : What you can do with this feature is easily restore backed up data which you've stored on your PC. This includes backups stored by other mobile managers, like iTunes, or even Wondershare's own MobileGo software for PC. You can even restore data stored on iCloud (for iOS devices only). Supported restore types are BlackBerry backups, iTunes backups, or even backups done by several other mobile managing applications.
Backup Your Phone : Does what it says – you can seamlessly backup the various bits of data stored onto your Android/iOS/Symbian/BlackBerry device(s) in a minute span of time.
Erase Your Old Phone : Need to desperately sell your old device? People with even a little bit of sense might want to use this feature before actually selling it off to someone else. This feature allows you to simply erase all of your user data on your device. No, a factory reset is a different thing. Even if you soft-reset any device, there is still some minute bits of data stored on it. With this feature, there is no trace that your old device ever had any amounts of data stored on it previously.
Features
Enough talk about the geeky stuff. Let me now explain it all to you what this amazing and glory-full application does. When you need to transfer data from one device to another, you need to connect both of them to the same PC (duh.) and use the application. Moreover, you can transfer almost about everything from one device to another. For detail purposes, below is a list of stuff which MobileTrans lets you transfer amongst your devices:
Contacts
Text Messages (SMS)
Calendar
Call Logs
Apps
Photos
Music
Videos
So, if you're ever feeling quite helpless and want to seamlessly transfer all of the above stuff from your old device to your new one, just connect them both, and select the stuff which you'd like to transfer, and boom! You can grab a coffee if you've got really big amounts of media in there (selfie lovers)!
The same is the case when you want to backup a device. You can backup contacts, SMS, apps, and everything listed above. The backed up file is then securely stored onto your PC. There will then be no fear of loosing your precious data again (unless your 3-year old knows how to operate a computer). I've restored existing media from my computer to my Android device, and it is really very smooth and fast.
Also, if you feel kind of alienated to this new design, there's a simple tutorial option which can be found in the menu (located in the top-right hand corner). Even more options like the Frequently Asked Questions (FAQs), and live chats can be accessed using the menu button located above the program.
Design (Look/UI)
As stated above, with the release of Google's new Material Design, it is getting harder to let it go once you've used it anywhere, might it be on Android Lollipop, or some other application which supports it. The reason why we all love the look and feel of an application/program that uses Material Design is due to its amazing and gorgeous UI, and responsive feel. While Wondershare's MobileTrans doesn't currently utilizes the Google's Material Design, there is a much better feel to it.
Rather than the old-textured UI, MobileTrans uses a flat-looking theme, which provides a lot of eye-candy to its users. The response you get while using this application is really very seamless and without any lag.
Verdict
So, at the end of the day, everyone needs such a utility tool, especially with the growing amounts of devices manufactured every year. Wondershare, as we all know isn't a new competitor in the market. I've previously used Wondershare's MobileGo for Android for a very long time, and had loved its amazing features. The new MobileTrans thus has an advantage over Android and other enthusiasts.
While we've used the program with the full version pack, people using it for free might enjoy it just as much. Upgrading to the Pro version doesn't only give you access to multiple PCs, and devices, but is also a better experience since you can transfer data at high speeds like never before!
You can download Wondershare MobileTrans from the given link right here: Wondershare MobileTrans.
Sure do let us know your experiences with this amazing tool! If you have any queries regarding this article, feel free to refer us in the comments section below.