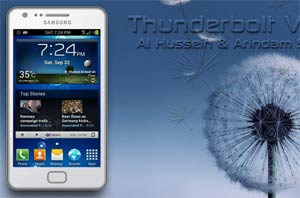 All right its here finally for people who were not in the mood of rooting their phones to use the Galaxy SIII Launcher.
All Credits to Vimal, for helping this out.
This Launcher is only supported in ICS Devices, so if you have an ICS device, grab the pack and just say Hurrah!!.
The Rar File Contains:
Galaxy S3 wall for GS2 & GS1 [960×800] and Non resized [1440×1440 ] is in the pack.
Galaxy S3 launcher
Galaxy S3 Weather Clock widget.
S3 Icons.
Instructions:
Unrar the S3 Pack file, S3 icons launcher and everything is in there.
When extracted put on sdcard.
Just install launcher as normal apk, start launcher,
If you want to download both AccuWeather apks and you can use S3 weather & clock widget. [that is the only widget you can use in this launcher].
Your stock icons come in the launcher so if you want GS3 contacts icon etc in homescreen download Desktop Visualizer and just add the icon [very easy].
The S3 icons are in the S3PACK as I said before. Wallpapers are also included in the pack.