Google Nexus 5
Android Oreo 8.0, the latest version of Google's mobile operating system was officially unveiled last week and it was initially
Maru OS is not your ordinary feature packed highly customizable ROM, it is so much more. If anything, Mau OS is a clear testament to
One of the fascinating things about Android is that it lets you unleash your adventurous self. If you are just a basic or average user,
Nexus devices are the first one's to receive the update to latest Android version but since Nexus 5 is almost a three-year-old
Being updated on your devices can sometimes be a pain. Being the first to use a new OS means being the first to encounter bugs too. The
The Android 6.0.1 Marshmallow update comes in the form of the MMB29K build which is available to download for most Nexus devices and
CyanogenMod has released the official CM 13 ROM for some Nexus devices recently. Here is yet another Nexus device that has received the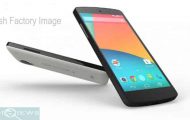 Google recently released a new update for its former flagship phone, the Nexus 5. This will take the firmware to build version MRA58N.