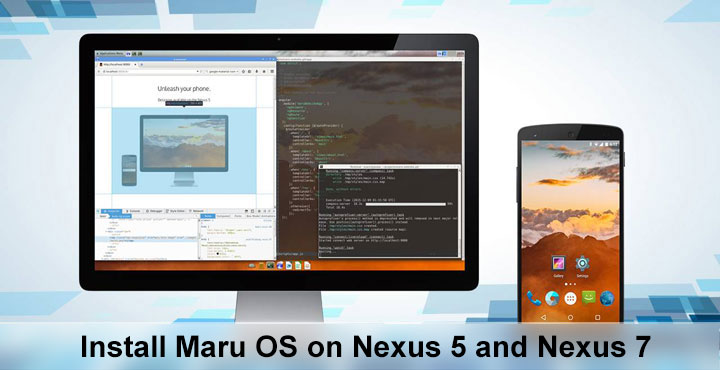 Maru OS is not your ordinary feature packed highly customizable ROM, it is so much more. If anything, Mau OS is a clear testament to how far smartphones have come in just a few year. It hides a full-fledged desktop OS right inside your phone, and you won't even notice it until you connect your phone to a PC. It is still the traditional Android, so you don't have to learn new ways to operate your smartphone, but when you connect it to a PC, it transforms into a full Linux based desktop OS. It's what Microsoft has been trying to achieve as well with Windows. If that sounds appealing to you, you can now install Maru OS on Nexus 5 and Nexus 7.
However, before proceeding any further, you should know that installing Maru will wipe up all your personal data, including your device's internal storage. So it is better if you first backup all your data on your PC. Take a full Nandroid Backup of your ROM as well and store it on your PC. MaruOS for the Nexus 7 is still in beta mode so expect some bugs.
If you don't know a lot about rooting and bootloaders, using the easy installers is a good idea. Your bootloader will automatically be unlocked during the process. But if you do know your way around Android, have an unlocked bootloader, you can easily flash the ROM from the recovery. Installing it via a custom recovery prevents the internal storage from being wiped, and you can also use Maru as a secondary ROM using MultiROM.
Disclaimer
Maru OS, like any other custom ROM, is an aftermarket firmware and installing it on your device will void any warranty that you may have. It is also a risky process, and there are chances, as small as they are, that you will end up with a bricked device even if you followed the guide. Hence DroidViews takes no responsibility for anything that you do to your device, you have been warned.
Download Maru OS for Nexus 5
Download Maru OS for Nexus 7 (WiFi)

| | |
| --- | --- |
| maru-v0.4-installer-flo-linux-83fa7e0c.zip | 667 MB |
| maru-v0.4-installer-flo-mac-f00167bd.zip | 667 MB |
| maru-v0.4-installer-flo-windows-711e7d1a.zip | 667 MB |
| maru-v0.4-update-flo-648299d7.zip | 659 MB |
Install Maru OS from TWRP recovery
Maru OS can be installed like any other ROM from the recovery. All you need is the correct ROM zip. For instance, if you have a Nexus 5, download the zip from above named maru-v0.4-update-hammerhead-dd793179.zip
Transfer the file to your Nexus and power it off.
Press and hold Volume Down, Volume Up and Power buttons at the same time.
– release the buttons only when the Fastboot / Bootloader Mode menu appears.
Use one of the Volume buttons to select Recovery Mode.
With Recovery mode highlighted press the Power button to boot your device into recovery mode.
Take a full Nandroid backup if you haven't already.
Tap Install on the TWRP main menu when you're ready to install.
Navigate to the Maru ROM zip you downloaded earlier and select it.
Swipe right to flash.
Once the installation completes, go back tot the main menu and tap Wipe.
Swipe to factory reset your device.
Then tap reboot.
You might be asked if you wish to root the ROM. It is safe if you go ahead and root it. The decision is entirely up to you.
Install Maru OS using a Mac
Download the respective Maru OS Mac installer from above depending on your device.
Unzip the downloaded zip file into a folder.
Connect your device to your Mac.
Navigate to the unpacked folder and Control+Click (right click ) on the file named install.
Select Open.
In case you get a dialogue box saying "install is from an unidentified developer. Are you sure you want to open it?"
Select Open. The installer is perfectly safe.
Install Maru OS using Linux
Connect your device to your Linux PC.
Unpack the contents of the installer zip into a folder.
Open a terminal window and navigate to the folder where you extracted all the files.
Enter the following command

$ ./install.sh
Install Maru OS using Windows
On Windows, first of all, you will need the correct drivers. Download latest Google USB Drivers from here and use the instructions here to install it.
When you have the drivers, go to Settings>Developer Options on your Nexus device.
Enable USB debugging and connect your device to the PC.
Navigate to the folder where you extracted the installer.
Double-click on the file named install.
Maru OS installer should now unlock the bootloader and then proceed to install the OS on your device. Your device will reboot several times, and after the final reboot, your device will boot into Maru OS.