Well, it happens every year! Google releases a new Nexus phone and a tablet flagship what comes packed with an all new version of Android dubbed as the name of a sweet eatable. And then follows a long round of rumors, press releases, possible release dates, leaks, and desperate wait on the part of the users. While Nexus and Motorola devices get new updates first because they use stock AOSP firmwares, devices from OEMs like Samsung, HTC, Sony  and LG receive updates after months. Since all these OEMs ship their devices with heavily customized versions of Android, it takes some time before the new features, changes and design language gets integrated into the customized UXs like TouchWiz, Sense and others.
For the past few weeks, we have been consolidating ourselves with leaked videos of Lollipop being teased on various Samsung devices, it's for the first time that we have seen a real evidence. At least, there is a valid reason for us to believe that the Android 5.0 Lollipop update for some top Galaxy devices is just round the corner. Yes, the users of the Sprint Galaxy S5 SM-G900P have now got a reason to smile as they can now get an early peek into the upcoming Lollipop update for their device.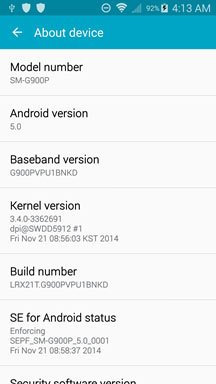 XDA member garwynn has got hold of a test build of the Android 5.0 Lollipop firmware for the Sprint Galaxy S5 with build version G900PVPU1BNKD. The leaked test firmware is now available for download. All you have to do is to download the firmware file with .EXE extension and extract it. Then you can use the latest version of Odin to install the firmware by selecting the firmware file in AP section in Odin. As I write this news, hundreds of people have already tested the new firmware and reported positive things.
To add some more spice to the sweetness of Lollipop, the leaked test build has got a working root too. Thus, you can also enjoy root access on the Android 5.0 firmware on your Galaxy S5 by flashing the provided CF-Auto-root file using Odin.
Downloads
Firmware: G900P_NKD_FullRestore.exe
Root Package: CF-Auto-Root-kltespr-kltespr-smg900p.zip
Latest Odin: Link 1  –  Link 2
Tutorial for installing firmware and CF-Root files: Link
Warning
Please not that the Android 5.0 firmware provided above is a full-wipe firmware. It means that it wipe all data and apps present on your Galaxy S5. Therefore, we strongly recommend that you backup all your important data before flashing the firmware.