Download Samsung Firmware | Odin | Mods and Apps
This is a dedicated section for Samsung users. You will find firmware update news for Samsung Galaxy devices and download Samsung Odin, stock wallpapers and mods and ports. We also have lots of tips and tricks, hacks to make your experience better.
Samsung is taking a big chance with its brand-new flagship smartwatches, the Samsung Galaxy Watch 4 and Galaxy Watch 4 Classic. Samsung
Samsung's new foldable bring improved mechanics and refined designs. Read our first impressions of the Galaxy Z Fold 3 and Z Flip
No matter your requirements, there's ample competition in the truly wireless earbud space. These are the best true wireless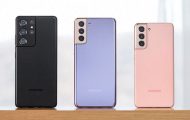 We expect the Samsung Galaxy S22 to launch early in 2022. We've got a ways to go until then, but here's what we hope to
Samsung has used Exynos flagship chips for a long, long time, so we thought it would be a good idea to chart its history. Exynos
From Touchwiz to Samsung Experience and One UI, Samsung software has always been packed with the latest features, sometimes to its
Samsung revealed One UI Watch. This new software skin will live on top of the as-yet-unnamed wearable software from Samsung and Google.
The Samsung Galaxy Watch 4 could arrive soon, but what will it improve? Here's what we know so far about Samsung's next