With a whole bunch of MMO games emerging on the market, this browser-based game has something unique and something better to offer. Sparta War of Empires is a new entry in the field of online multiplayer games, but it is most definitely a step ahead of all other games in the same genre. After a day's worth of gameplay, and neglecting my exams over it, it is well worth to write a brief review of the same and spread the love.
It is a good thing to note that MMO games aren't meant for everyone. The term itself symbolizes that you need to put your utmost devotion in the game. What makes such genre of games stand out is that they test your skills, agility, intelligence, and above all, patience. So, if you're the type of person who would like to live a virtual life online, then this game is a must for you!
This game is set all the way back in 5th century BC, and takes place in Ancient Greece, as expected. However what's not expected, is that the whole land is under attack by Xerxes, and his vast army of a Persian Empire. In the game, you are the fierce hero that needs to save the day, but due to the hard circumstances, this game will not be as easy as you might've visualized. Knowing nothing, you take guidance from the slowly fading away King Leonidas.
The main objective of the game is to build a fierce and fearless army of soldiers that will be able to tackle the Persian Empire, and result in the resurrection of the long-gone land of Ancient Greece. However, since this is an MMO game, things will not always be in your favor. Also, since this is an online multiplayer game, you will be able to challenge both the AI and other real players in real time.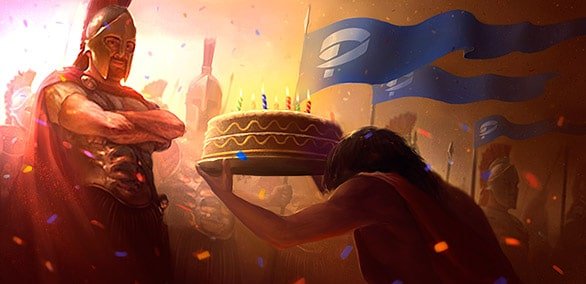 Once you get the hang of this game, you will never get bored of upgrading your city-state by constructing buildings, strategizing your troops, and above all, defending your empire. But what's the beauty of this game is the fact that you can collaborate and form alliances with players nearby, and within a truce, you will be able to defend your empire from the over-powered Persian troop.
Finally, this is where the challenging (and kinda the rage) part comes in. Since this is all a multiplayer network of players stitched together, this games encourages you to steal, trade, exploit, kill, and borrow goods and troops from the cities of other players in real time. While there are about a million other little details in the game that we might have missed, we wouldn't want to leak the fantasy of the game, how it goes with the flow and the challenges you need to face.
All in all, Sparta: War of Empires is a pretty amazing MMO game, that tests all of your skills combined, and with the least bit of lack of attention, you might end up losing to your enemies. As of now, the game is only available as a browser-supported game, but we won't be surprised to see this ported over to the Android kingdom soon, and if it ever does, you already know where to look for it.