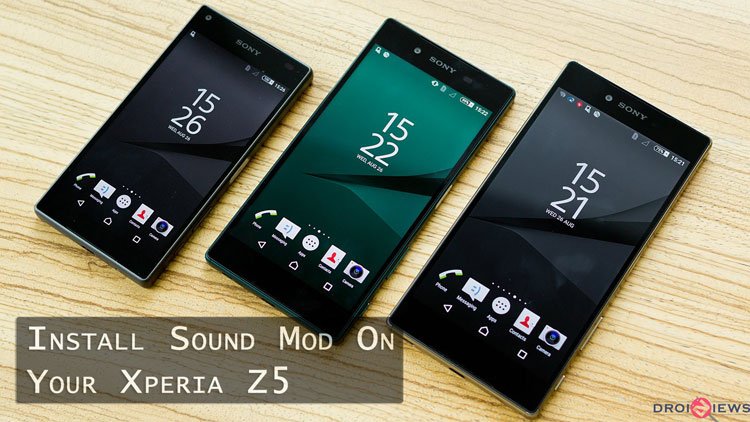 Sony Xperia Z5 may not be the most popular flagship device in the market but it is a powerful device and can outrun its competition in few categories, the sound quality is one of those departments. Xperia Z5 owners should know that their device gives decent enough sound quality from its front-firing stereo speakers. But if you want to have an even better multimedia consumption on your device, you can install the sound mod linked below on your device.
Xda developer zohaib0001 has put together a sound mod for Xperia Z5 to provide better music/multimedia experience from your device. This mod tunes the sound quality of your device to provide better results. The mod also includes Viper4Android sound mod which is renowned all over the community for improving sound output on Android devices. The mod makes certain changes in the system files so you would require a rooted device with a custom recovery like TWRP installed on your device to install this mod on your Xperia Z5.
The mod includes sound files from the latest version of Xperia firmware and has few other modifications from other sound mod. The mod provides following features as well :
XLoud
Clear Phase
Clear Stereo
Stereo speaker while incoming notifications
Ringtone + Louder Sound
To install this mod on your device follow the steps given in the Installation section. Make sure to backup your current ROM before installing this mod, so that you could revert back to original sound if something doesn't work the way it is intended to. Although, this situation should not arise unless you are installing this on the wrong device. Several users have given positive feedback about this mod. So, go ahead and let your ears enjoy with better sound control and quality from your Xperia Z5.
Note: Do not use this sound mod with any other sound mod as this may give hazardous results. Uninstall any other audio mods before installing this one. Also, keep in mind that you will have to flash SuperSU after flashing this sound mod to regain root access.
Things You Will Need
Installation
Download the mod zip file from the link given above and transfer it to your device's storage.
Reboot your device into Recovery mode. To do so, turn off your device then press and hold volume down and while holding the key connect your device to your PC using a USB cable. Then follow on-screen instructions to boot into recovery mode. Alternatively, you can use Quick Boot app from play store and select boot into Recovery mode option.
Once TWRP has booted on your device, select the Backup option to make the Nandroid backup of your current system.Then select all the partitions and swipe to make the backup of your current ROM.
Now go back to home screen of TWRP and select Install. Browse the zip you downloaded and select it. Then swipe right to start the installation.
Now you will have to flash SuperSU zip file on your device if you want root access, even if you previously had root access. Same goes for the Xposed Installer.
Now reboot your device.
Now head over to this link and download the latest version of Viper4AndroidFX.
Install the app, open it and then uninstall the drivers and Reboot.
Once again open the app and now install the drivers from the app then Reboot.
Congrats! You have successfully installed Sound Mod on your Xperia Z5. Enjoy the new sound and better sound quality on your device with your favorite music. Let us know how does this sound mod perform on your device.
Feel free to drop down your queries in the comments section below.