Flashing Custom ROMs is a part of our daily drill, most of us keep on changing our ROMs almost every other day. Now, if you would ask why? The answer is, we always look for something new and distinctive in our ROMs, something that suits our device and also our own needs, these could be features, attractive user interface and most of all, the stability. I, myself have wandered a lot in search of a perfect custom ROM (Like a soul mate, eh?), which is both rich in features and stable enough, because I can't afford to switch ROMs daily, due to my time occupancy. Also, another factor that I had in consideration was, that the ROM should be based on the latest software – Android 5.0 Lollipop, didn't want myself to look past the trend. And after days of flashing and swapping, I finally came around a masterpiece, which fulfilled all the requirements.
Purity ROM – A pure love interface between you and your Android device. It is a fortune, gratitude to DariosF, the mind and hands behind this brilliant piece of work. The ROM is a complete and precise package of everything that a user desires. We will be outlining a few below, so that you get a better view of what is coming. Purity by its name has always been a pure ROM since KitKat and consists of only the required features with no additional bloatware.
Features
Status Bar &  Quick Settings
These are the basic lot of settings that are desired by each and every one of us. Stock ROMs do not offer much to alter in terms of these, but there is a definite need to do so. Each and every option provided is listed below.
Show or hide clock and date from the status bar
Change the alignment of the status bar clock from right to center or vice-versa
Enable/disable AM or PM
Show date,  set format and case
Set battery icon styles
Enable or disable battery percentage
Brightness control
Double-tap to wake
Display & Sounds
The ROM also takes care of some essential sound and display modifications such as.
Volume rocker wake: Pressing the volume keys when the device is asleep will wake it, so that the power key is not stressed as much.
Safe headset volume: Prevent loud volumes on first headset plugin.
Media control: Media volume will be controlled by default, then the notifications.
Playback control: Long pressing the volume key when the screen is off, will seek music tracks.
Charging sounds: Enabling this will set a specific tune to play when the charger is plugged in or out.
Notification light: Set variable lights for every single application according to your wish.
Battery light: Choose the lights to display when the battery is low, charging or full charged.
App notifications: Manage notifications for installed apps, block, show on lockscreen, and prioritize.
Purity U2D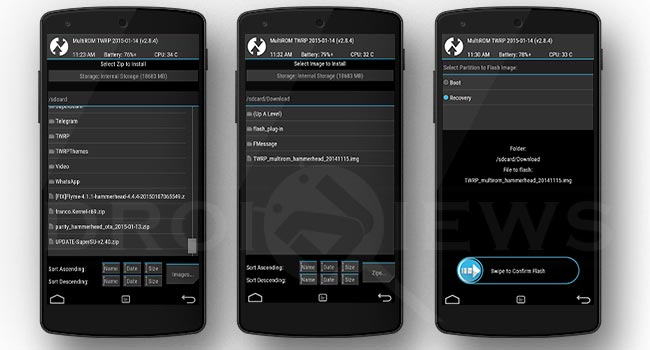 A list of custom ROMs offer in-built updates from the settings, Purity ROM renders a beautiful app known as Purity U2D, which helps you stay up-to-date. The app is simple and based on Google's Material Design. You can set custom time intervals for background updates check, use a custom proxy, choose download location, update source, ROM base and desired Android version. The app works flawlessly in the background and consumes very less in terms of battery.
My Views
I have been using Purity ROM since KitKat 4.4, and now on both my Nexus devices running Lollipop. It offers not too many features,  but only the precise ones to maintain the stability and performance in equality,  at all times. The second advantage I consider is that the ROM is based off AOSP and not CM, i don't know how many of you think of this as a better option,  but it has been a plus for me. Purity ROM combined with Hellscore kernel is an exceptional combination,  resulting out the best Android custom ROM experience. If you're seeking a ROM with enough features and stable environment to carry out your device on daily basis and on a long-term, you should choose Purity ROM.
Install Purity ROM
Our beloved developer DariosF has been kind enough to support a list of Nexus devices, you can download the latest Lollipop build and related GApps by clicking the link below. Join the Google+ group to support the discussion.
Download ROM: Link
Download GApps: Link
Installing Purity ROM will require you to have a custom recovery like TWRP installed on your Nexus smartphone. You can find your guide to Install TWRP here. And finally, when you're done, you can use our in-detailed guide to installing custom ROM on Android devices. Purity ROM does not contain root by default, to gain root, you can simply download flashable SuperSU and flash it using the TWRP recovery.
If you have already installed, provide us with your feedback via comments and help us build a better community.