Smartphone users are using messaging apps like Messenger and WhatsApp more on more to communicate via text. However, if you the one who still uses SMS service to send and receive messages, we got an app for you using which you can receive and send encrypted messages and secure your privacy.
Privacy has become a primary concern for most tech enthusiasts out there. The widespread use of the Internet and Wireless Networks has made user data vulnerable to a variety of Malware attacks. One way developers usually try to overcome this issue is by using encryption on data transfers. Encrypted data are very difficult to decrypt by a possible attacker. In fact, many popular messenger apps currently use encryption, such as the WhatsApp Messenger.
However, the SMS or short messaging service (which uses the standard Telecommunications Network instead of the Internet) did not catch the attention of privacy-concerned developers. At the dawn of the smartphone era, TextScure (now Signal) by WhisperSystems could send and receive encrypted SMS messages. This feature was, however, dropped in 2015, as the app's developers decided to concentrate their efforts on encrypted Internet messaging.
If you still need to communicate with encrypted messages, you can install Silence. Silence is a TextSecure fork that only supports SMS/MMS messaging.
At a glance, Silence feels just like any other SMS messaging app. It actually works as a drop-in replacement for the default SMS app. Also, no external servers or Internet connection are required for it to function properly.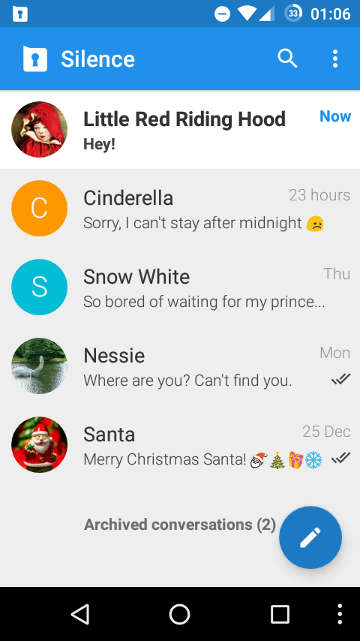 In its internals, Silence is a powerful encryption machine: SMS messages are encrypted on the device itself, using the Singal Encryption Protocol. Received SMS messages are decrypted on the recipient's device. No data is stored in any third-party location, making sure that nobody other than the sender and receiver has access to precious information (end-to-end encryption).
Full Feature List – Silence App
Send Encrypted Messages, End-to-end encryption for safe SMS messaging
Local encryption of messages. You can lock and unlock the whole app using a passphrase.
No Google Services dependencies. It will operate normally on any Android device.
Send non-encrypted messages to contacts that do not support it (can work as a standard SMS app).
Block contacts
Dual app themes available, Light and Dark. Users can also adjust conversation colors.
Android O emoji support
How to Receive and Send Encrypted Messages
To communicate with encrypted SMS, both the sender's and recipient's devices must have Silence installed. First, you must initiate an encrypted SMS session. You can do this by creating a new message and clicking on the lock icon available on the top bar of the application window (see the screenshot below). Then, select "Start secure session". A dialog box will appear, clicking yes will send a key exchange message to the recipient. Silence handles everything automatically afterward. If all goes well, the message input area should now say "Send secure SMS".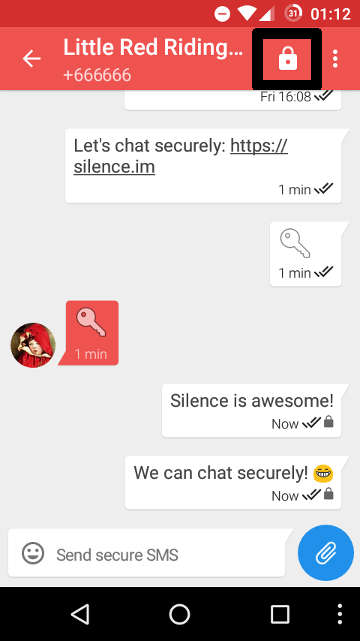 Note that if one of the users uninstalls Silence inside an encrypted session, they will then receive malformed SMS messages. The second peer will have to disable the encryption in its Silence app for messages to appear normal again. Unfortunately, Silence does not provide any sort of support for doing this automatically. This is one of the shortcomings of the SMS encryption feature, and one of the several reasons the original TextSecure developers dropped support for encrypted SMS messages.
Development of Silence app is quite active, with features and patches appearing on a regular basis. Finally, if you like the app, you can donate to its creators to support development.
Download Silence App: