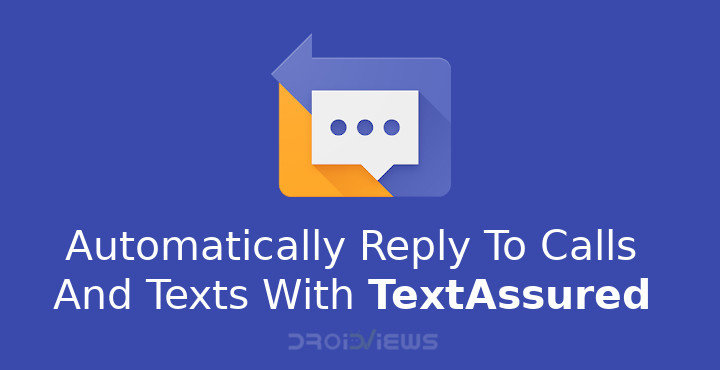 There are certain times in the day, juggling the professional and personal lives when you can't take calls or respond to texts from people. In a meeting, driving, etc. are such common situations that most are automatically baked into a number of apps and phones as quick responses. Android smartphones let you automate a lot of the things that you do on your phone with Tasker. It can also respond automatically to your calls, texts, emails, and even WhatsApp messages and more. These are basic enough functionalities that you don't necessarily require Tasker either. TextAssured is another such app that lets your Android automatically reply to calls and text messages.
If you've been following us, we've discussed a number of similar apps before. Apps that let you schedule and send automatic SMS replies to those that let you schedule even Facebook posts, Emails, WhatsApp messages and of course SMS messages. And now we're here with TextAssured, another app that does something similar. It's getting repetitive you must think. However, when was having so many tools to do one job a bad thing anyway? Furthermore, TextAssured is one of the better-designed apps amongst the category and is definitely worth trying out. The only other apps that come close to the level of polish on this one are SKEDit and Can't Talk.
Getting started
Right off the bat, when you launch the app you'll be asked to allow certain permissions. Allow them and the first thing to do is turn on the Toggle that you'll find right in the center-left. TextAssured requires permissions to access your the Camera, Contacts, Phone, SMS, Storage and Your location. It doesn't ask for these permissions all at once, but rather on a need basis as and how you explore the app and uncover its features. This way, you also know why the app requires a certain permission. The app responds to SMS and calls based on a certain set of conditions. Each set of conditions are called profiles.
'UNTIL A TIME' Profile
Currently, TextAssured only supports the condition of time. That is, you can make it respond to calls and texts until a certain time, say 3 PM.
The profiles card on the main page does show While Driving and At a place but they're not yet available. These are simply placeholders for now.  The easiest way to create a profile right now is to tap UNTIL A TIME. A pop-up card appears allowing you to select the time, the automatic reply and whether to respond to texts, calls or both. You can even attach an image if you want to by tapping the attachment button. When you're ready just tap ACTIVATE. A persistent notification will let you know that the profile is active. This also helps keep the app running in the background which is very essential. It is advisable to not use Battery Savers, Antiviruses, Task Killers, etc. or if you do, exclude TextAssured from being killed by them.
Custom Profile
You'll notice the profiles card on the main page also has the option CUSTOM. A custom profile currently lets you set conditions such as replying UNTIL A TIME, and to specific contacts. In case you only want the app to automatically respond to calls/texts from certain contacts this should be your choice. You can select both the condition of time and contacts to better suit your needs. In future updates as the conditions of place and driving are added, the custom profile feature will only get more useful. You can give your custom profile a name as well. All your active or inactive profiles are displayed as cards on the main page. You can tap on the gear icon to toggle them on or off, edit, duplicate or delete a profile.
Other features
The side drawer menu gives you access to Reply History, and it is quite obvious what that is. In the Settings, you'll find the options to select the time interval before which automatic replies are sent to the same contact. You can turn on Silent Mode and Vibration while any of your profiles are active, which makes sense. You'll not want to toggle off Ignore Short Numbers here unless you want to send replies to advertisement SMS messages or texts from businesses such as banks.
Under Contact Groups, you can create different groups of contacts, obviously, which can help you while setting up profiles. The Gallery includes several pictures related to the conditions you can select in the app, and you can add your own. The gallery helps you quickly select a photo for an automatic reply without having to browse through a ton of images on your phone's gallery.
Read next: Does Lowering the Screen Resolution Increase Battery Life?