Volkey, a simple yet effective concept which allows the users to scroll through any content on Android device using the volume keys. This app is developed by XDA's Senior Member mrYoussef135 and is available on the Google Play Store for download. But is it worth it? Read ahead to find out.
Brief Description
Volkey is a volume-keys scrolling app that allows users to scroll any type of content including the web, shopping apps, launchers and probably anything that has something scrollable in it. The best part about this app is that it does not require root access and is compatible with most of the devices. This clearly means that anyone can install and take full advantage of what this app has to offer.
Also read:
The app can be setup so that it activates when running specific apps only. This can be done by tapping on the '+' sign and selecting the apps according to one's choice. Apart from that, the app also has a global activation toggle which will enable this feature in every single app.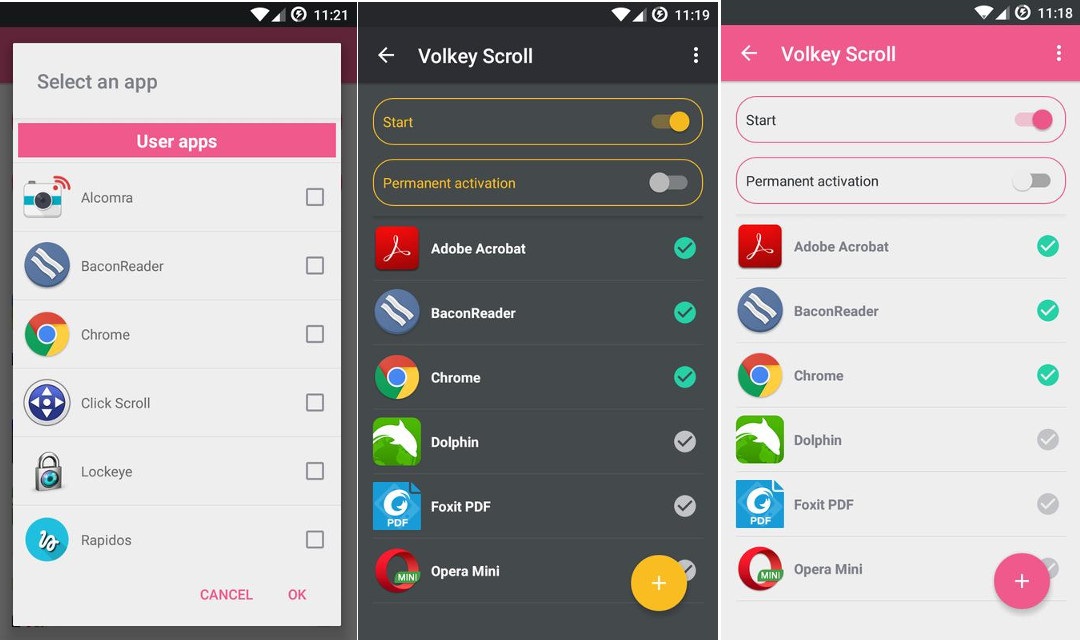 Issues with Root Access
As I said the app doesn't require root access. However, there is a toggle named Smooth Scrolling in the app which requires root access to be enabled. As the title suggests this should allow for better scrolling experience. Unfortunately, that's not the case. I would suggest leaving it disabled. Why? Well because enabling it causes the app to stop working. I don't know if this is the case with me only.
You may also like: Download Latest ADB and Fastboot SDK Platform-Tools
I tried it on my Nextbit Robin which is running an official Omni ROM and has root access but didn't find any luck. So, I thought it would be a device issue and tried it on my OnePlus 3T running Stock firmware which is rooted with SuperSU access. Unfortunately, it didn't work either. So, I'm assuming it to be a problem is with the app. Maybe a bug which will get fixed in the coming days. But till then I would suggest keeping the feature disabled.
Is it worth it?
Nevertheless, the app is unique in itself and works perfectly when the Smooth Scrolling feature is disabled. Now, if I had to sound reasonable then honestly this app isn't for everybody. Why? It is because of the volume keys. Not every device has volume keys made and placed perfectly.
The point behind this is that if the device has sturdy volume rockers and require quite a pressure to activate then it can become uncomfortable if we had to scroll a large amount of content. Pressing the button for more than 5-10 seconds can get annoying. Apart from this the transitions from the scrolling effect are stuttery and don't feel or look nice. However, it gets the job done.
Recommended reading: How to See All Purchased Apps in Google Play Store
Verdict
If you guys want then you can try out the app yourself. It is available to download for free in the Google Play Store. Just remember the app wasn't designed to be perfect neither it was designed to make any financial gain. It was made to try something different. To give the users a different type of experience, a different taste.
Most importantly it teaches us that there are parts of our devices which can be used in different ways while building an app. Indeed a new type of thinking in this gimmicky world. What are your thoughts about this app? Will you prefer it over your swipe to scroll controls? Let us know in the comments below. We will be waiting to hear from you.