Android is a very versatile OS and is meant to be run on handheld devices like smartphones and tablets. We love it for its open source nature that allows root access and modification of system files. Android comes in different flavors on thousands of devices (from the cheapest to the costliest) from hundreds of manufacturers. Having been used to Android for a long time, have you ever wondered to experience the OS on a desktop computer or on a laptop?
It's really a cool idea to have a single OS on all our devices. Isn't it? Just imagine a computer that can be easily rooted, that supports millions of apps, widgets and games found in the Play Store, and syncs to your Android phone seamlessly. Maybe Google thinks about it someday and realizes the concept of Android OS for computers.
Well, it might take some time probably before we see any official attempts in the Android OS for computers, but there are a number of unofficial projects striving seriously in that direction. You might be familiar with projects like Android-x86, Andy, and Bluestacks, a company that ports Android to personal computers. You might have also seen emulators that let you experience Android on a computer:
How to Run Android 5.0 Lollipop On a Windows PC
Enjoy Android (Ice Cream Sandwich) on Your PC with WindowsAndroid
Console OS is another great project that began in June 2014 with an aim to bring the Android OS to PCs. It all started as a Kickstarter project funded by backers. After working hard for about 6 months, the developer came up with the first developer preview of the OS in December 2014 and now with 9 months passed, we have a stable version of the Console OS ready for action.
To get a better idea of the project, we have quoted some lines from the official page and a video:
"Introducing Console OS with Android Inside. We've taken Android apart, and put it back together for your PC. Console OS is a fork of Android designed to take everything that has made mobile awesome, and bring it back to your PC. This isn't an emulator and this isn't homebrew. This is real, Intel-licensed, native Android that can really toggle with Windows on your PC."
The following table shows a quick comparison between the Console OS and other similar projects: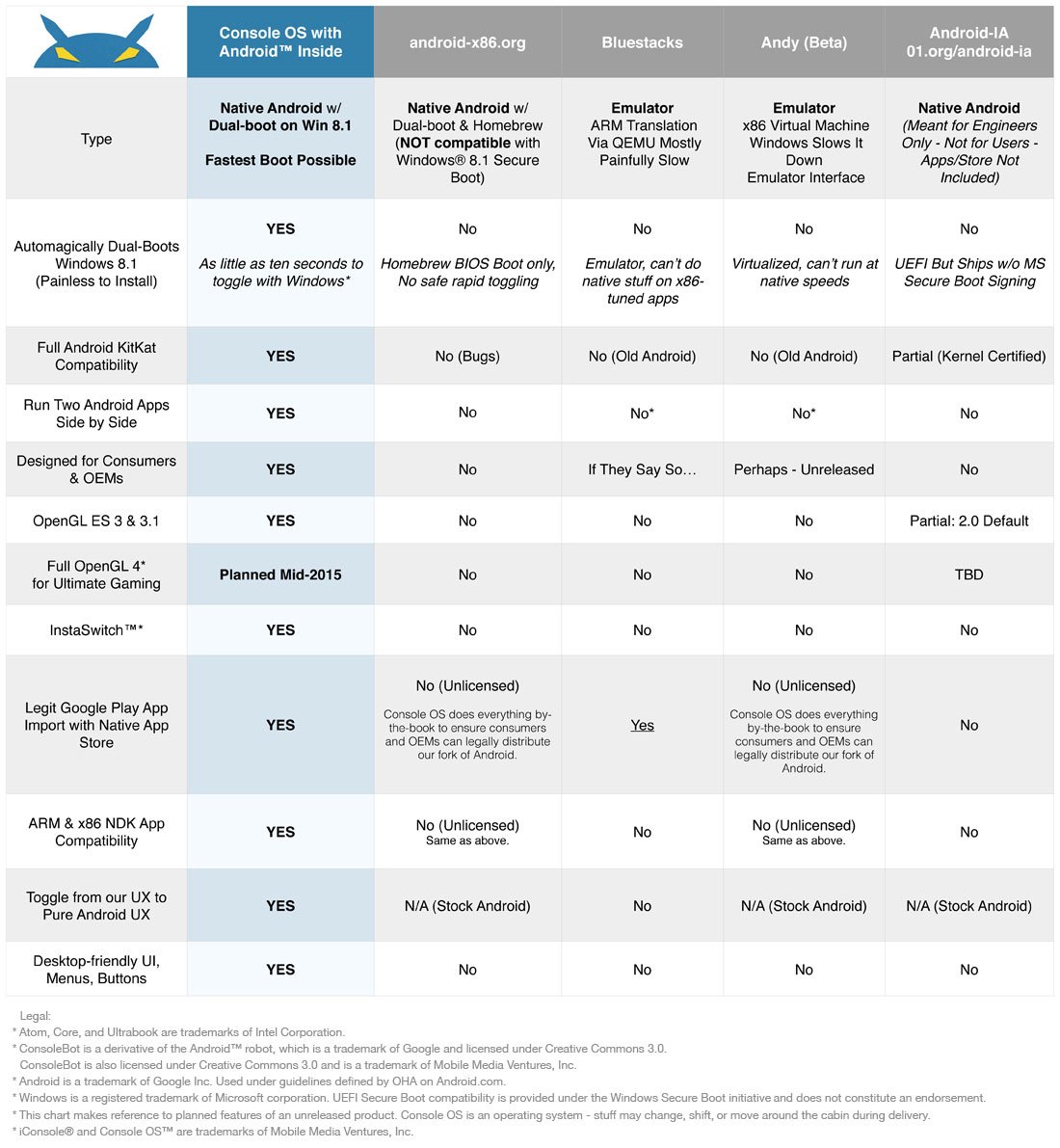 The OS is designed to live in harmony with Windows in a dual-boot configuration and features dual app support and OpenGL ES 3. As of now, the OS is based on Android 4.4 KitKat. The developers are working on updating the OS to the latest Lollipop.
As for compatibility, Console OS does not work on all Windows machines. You can test it by installing it on a USB 3.0 hard disk. Also, the OS officially supports computers with Intel Bay Trail processors and Sandy Bridge, Ivy Bridge, or Haswell chips. To get a full list of supported systems and devices, check this page.
If you're interested in experiencing Android as a full-fledged OS on your personal computer, just head over to the official Console OS page for more info and download.