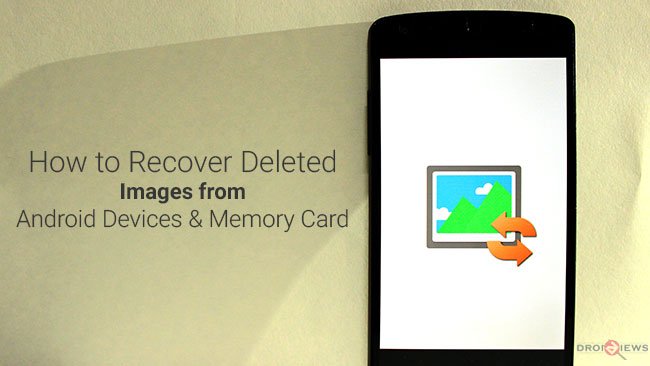 For once, everyone does come across this, getting hyped and shouting "Holy mother! This can't be happening", when you just accidentally delete your precious photos off your Android phone's gallery or your camera's memory card. Generally, if you ask someone that you have trashed them, people would ask you to move on, since they think that there isn't any way to recover deleted photos from your Android or memory card. But, there is, we will explain below what actually happens when you delete them and what follows the basic principle of recovering the deleted photos. This article might prove your immediate help if you have accidentally erased photos off your Android device or memory card.
Now, when you delete photos off your Android device or memory card, they don't actually get deleted but are still practically invisible and could not be accessed anymore. The delete process simply removes the photos from the physical memory, and display that the corresponding space has been emptied. There is a high chance of recovering photos from the memory, which has not been written again with new photos, suppose you have accidentally removed your photos, now if you have already taken new pictures, the chances to recover deleted photos are second to none. You must mark something if you are willing to recover your precious items – "Never write any new data to the memory" be it your Android phone or the memory card, if done so, the new data will begin to overwrite the old sector, making it impossible to recover.
Below, we will be guiding you to recover deleted photos from an Android device and a memory card. The process follow the use of a few simple programs, which can be a savior in such disasters.
Before You Begin
Have all the drivers installed and set up for your device. You can find the USB drivers here.
A USB cable, preferably the original one delivered with the device.
A card reader, if there is no in-built reader.
If its your memory card, make sure not to switch the device on in which it is or was inserted and safely remove the card out of it, instantly.
In case of your Android device, make sure not to switch on the camera, gallery, video apps etc. Simply terminate all the connections.
You will have to make sure that their are no related sync services operating on your PC/laptop, where you're about to carry the process. Close all the services as soon as possible.
Recover Deleted Photos
#1: From Android Devices
Data recovery on Android is quite a pain, but when it comes to recover deleted photos, it can be done without much of it. In the past we reviewed some tools for recovering lost files on Android but Wondershare Dr. Fone works better that its peers.
Wondershare Dr. Fone for Android is a complete recovery tool for Android devices, which is completely free and could be used to recover most data on your Android. It is also claimed to be #1 data recovery software for Android. Here today, we're going to use the very same tool to recover deleted photos from your Android smartphone. Let see how we can operate this software. It can be installed on Windows and Mac both.
Download and install Wondershare Dr. Fone: Link
Run the installed program.
Once it initiates, the software window will ask for your device to be connected.
Connect your Android phone to the PC via USB data cable. The program will detect and make required connections with the device.
The next step will be to identify your device to Dr. Fone for Android, for this just enable USB debugging under Developer options in Settings. Th program itself helps you with the instructions to enable this option. If you are still confused, read our detailed guide here.
Once done, the program sets the phone up for scan.
You will be prompted to check the type of files you want to recover, we will tick the Gallery check box and click on Next.
Select your preferred scanning mode and click on Next, again.
The tool will perform necessary operations on the device to collect and analyze the device data (The device may restart during the process) and if you receive any prompts, agree to them and allow them to carry on further.
When the scan is complete, you can select the photos from the list that you want and click on Recover.
It will take sufficient time depending on the amount of data storage.
When all is done, you can disconnect the device and close the program.
#2: From Memory Card
This memory card could be belonging to your Android device itself, as an external storage or your personal camera. Out there, if you Google, you will find several file recovery software claiming to recover some practically impossible data, which is a big hoax. Recovering data is not that simple, there are a few precautions to keep in mind before taking a step forward.
We're going to use a program called "Recuva" to get the job done for our storage card. The software developed by Piriform the same team who have their minds behind CCleaner, which is another known program for PC and Android. Using this brilliant software, is the best chance for you to recover deleted photos from your memory card. More information and download link for Recuva: Link.
Now, lets proceed to the specific steps to recover deleted photos from your memory card using Recuva.
Download and Install Recuva software on your PC by clicking the link mentioned above.
If you're using a laptop, you may have an in-built card reader otherwise you can use any reliable card reader unit, which is not much expensive.
Insert the card with appropriate card adapter (if required) to the slot.
Open the Recuva program. Toggle the drop down menu on the top left and select the memory card disk.
Click on Scan. The operation will begin and detect all the recoverable files on the selected disk.
Once the process is complete, a list of files will be displayed.
The files that can be recovered fully will have a green icon in front of them, while those that can be partially recovered will have yellow and the ones that cannot be, will have red icon.
Check the ones you want or select all. Then, click on Recover on the bottom-right of the software window.
It will prompt you to select a location where you want the recovered photos, select it and click on OK.
The procedure will take time depending upon the load of photos being recovered. When done, you can view, edit or manage the recovered photos and use them as you please.
Few Alternatives
We highly value our reader's opinion, so below we will list all the recommended programs by our fellow users, which will help you recover deleted photos from your Android device and memory card.
Remo Recover
Recommended by Jcharles Brown – "Remo Recovery Software is also the best application to retrieve files from memory card without any difficulty."
At last! You have been successful in the process to recover deleted photos from your Android smartphone or memory card. The method was quite easy and didn't require much, but you should always make sure to backup your data on regular basis, either to a physical storage or even to cloud storage, so that it could be accessed anywhere without any hassle. We hope the information in this article has proved itself useful to you.
Let us know about your views and provide us with your valuable feedback, it will help us build a better community.