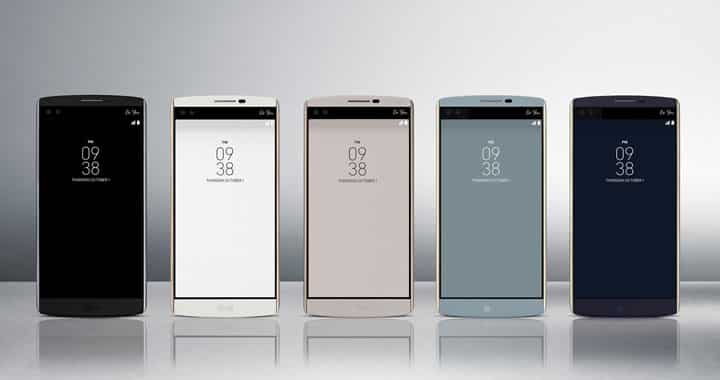 LG V10 is a phablet that comes with a dual screen setup which was released by LG last year in the month of October. V10 comes with a primary display measuring 5.7″ and with a quadHD resolution and a secondary display measuring 2.1″ in size and has a resolution of 160 x 1040. On the inside, the V10 is powered by a 1.82GHz hexacore Qualcomm Snapdragon 808 processor and 4GB of RAM. It has 64GB internal storage which can be expanded up to a further 128GB more using the microSD slot. The rear shooter has a 16MP sensor with optical image stabilization, laser autofocus, and 4K video recording while the front has a 5MP duo camera setup. The V10 runs on a 3000mAh battery.
On the software front, Lg V10 runs Android Lollipop 5.1.1 which has been customized by LG to include several useful and a few gimmicky features. The LG's customized user interface is not appreciated by many users and it may not appeal to you as well. Moreover, there is a ton of bloatware added by both LG and your carrier(Verizon in this case).
To get rid of this annoying bloatware you can root your device and remove some unnecessary applications that are otherwise not removable. Rooting also gives you better control over your Android device. You may read the article linked below to get to know more about benefits of rooting and the risks involved with it.
Thanks to XDA developer tungkick, now Verizon users can also enjoy root on their Lg V10. Just follow the guide given below to get root access on your device.
Read – Rooting Android: Why you Should and Why not
Warning: Rooting your Android device will void your manufacturer warranty, so proceed at your own risk. Also taking backup of your data before proceeding with the guide is recommended.
Things You Will Need
Lg V10 (VS990) and a PC
VS990 Root.zip| Link
The above is a link to the zip file that contains all the files you will need in the following guide.
Steps To Follow
Step 1. Download the VS990 Root.zip file from the link given above and extract the file using any unzipping tool you have on your PC.
Step 2. You will find LG drivers on extracting the zip file in above step. Install on them on your PC, just like any other software.
Step 3. Now extract the .rar file again using any file unzipping tool you have on your PC. On extracting the .rar file you will get the .tot file needed for rooting your LG V10.
Step 4. Now we will install LGUP, a software used to install firmware on your Lg V10. To do so, extract the lgupnew.zip.This will give you two files LGUP_Store_Frame_Ver_1_14_3.msi and LGUP_8994_DLL_Ver_0_0_1_18.msi. 
Step 5. Run  LGUP_Store_Frame_Ver_1_14_3.msi file first and then run LGUP_8994_DLL_Ver_0_0_1_18.msi. This will install the LGUP software on your PC.
Step 6. Now you will have to copy the "common" folder that should be present in the zip file you extracted in Step 1 and move it to this location "C:\Program Files (x86)\LG Electronics\LGUP\model".
Step 7. Now move to your phone and enable USB Debugging. To do so first enable Developer Options by going into Settings> About Phone and then tapping Build Number multiple times. Once your phone shows a toast message that "You are now a Developer!" you have successfully enabled Developer Options.
Step 8. Now open the Developer Options and enable the option that says USB Debugging. Now plug in your phone to your PC using a USB cable.
Step 9. Run the LGUP software using Start menu of your Windows.
Step 10. Select your phone. Then select UPGRADE option otherwise, your data would be wiped.  For the "BIN File" select the "rootedsystemvs.tot" file you extracted in step 3. Finally, click Start.
Step 11. Reboot your device and update the SuperSU application and then reboot your device again.
Congrats! you have successfully achieved root access on your Verizon Lg V10. You may confirm the root access using the root checker application linked below.
Stuck somewhere? Leave us your queries in the comments section below, we will try our best to help you resolve your issues.