Samsung devices receive new software updates pretty late and when they become a bit old and if you got a US variant of any Samsung phone or tablet, you must keep yourself prepared to wait to the brink of tediousness. I know about some US models of Samsung devices that never-ever received a single major OS upgrade. If you own or have owned the Galaxy Note 10.0 (GT-N8013), for instance, you would understand what I mean to say.
Luckily, Samsung seems to have improved their notorious tendency to delay software updates in the recent months. For the last couple of months, the OEM has been busy sending the new Lollipop update to the eligible devices. The T-Mobile variant of the Galaxy Note 3 started getting the Android 5.0 Lollipop OTA update just a few days ago.
If you have not yet got the OTA update notification because you have used a custom ROM, you can restore your phone to stock by installing the Lollipop firmware with build version N900TUVUFOB6 manually. You can then root your device on the new software and install a custom recovery too.
Warning
Please note by rooting your phone you'll void its warranty. Moreover, the procedure described below might prove risky. Please proceed only if you understand what is at stake.
Install Android 5.0 Lollipop Firmware on TMO Note 3
Download the Android 5.0 Lollipop firmware file and unzip it: TMB-N900TUVUFOB6-FULL.zip
Now follow our detailed tutorial on installing stock firmware on Samsung Galaxy devices.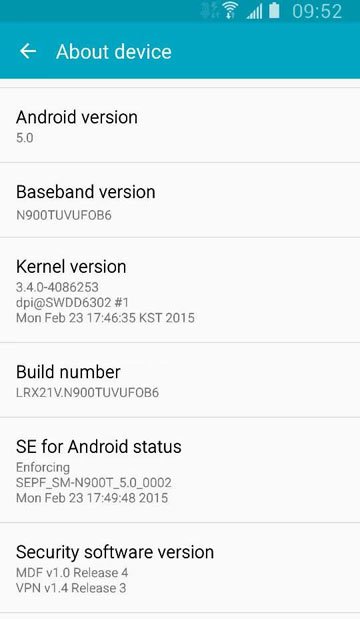 Getting Prepared
Install TWRP and Root T-Mobile Note 3 on Lollipop
Copy UPDATE-SuperSU-v2.xx.zip to your phone.
Open Odin folder and launch the program.
Now turn off your device and hold the Volume Down + Home + Power keys together for 2-3 seconds till you see a warning screen. Then press the Volume Up key to boot the device in Download Mode.
Connect your Note 3 to the PC and wait till Odin detects the device. Device detection is indicated by "Added!!" text in the Odin message box.
Now click the AP button and select openrecovery-twrp-2.8.x.x-hltetmo-4.4.img.tar.
Then hit the Start button to begin the installation.
When the installation finishes, your Note 3 will reboot automatically.
When your device boots up, turn it off again and hold the Volume Up + Home + Power buttons simultaneously till you see the Samsung logo. Then release the Power button and keep the other keys pressed until the phone boots into TWRP Recovery.
If you see, stock recovery on booting into the Recovery Mode, install TWRP again but this time, uncheck the Auto Reboot option on Odin. When TWRP is installed, pull out the battery and place it back after 30 seconds. Then use the key combo to boot in recovery.
In TWRP, tap the Install button, navigate to UPDATE-SuperSU-v2.xx.zip file and select it.
Install SuperSU, go back to TWRP main menu and tap the Reboot> System option.
Your Note 3 will reboot again and when it boots up, it'll have root privilege. To verify proper root access, install the following app and run it: