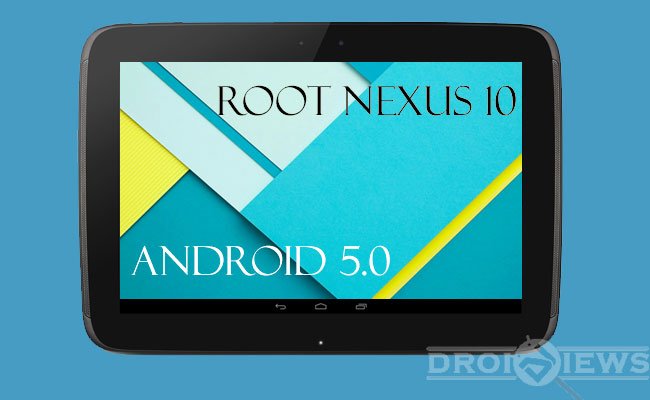 A busy day for Chainfire today as he pushed out several of his signature CF-Auto-Root programs for various devices. These include support for Moto x 2014, Nexus 5, Nexus 7 2013 (WiFi), Nexus 7 2012 (WiFi) and last but certainly not least the Nexus 10. With all these devices running their just released Android 5.0 Lollipop builds it really is an incredible feat. Some problems were experienced by Nexus 10 users earlier on as the first file Chainfire released wasn't working properly.
However Chainfire soon figured out the issue with the Nexus 10 files, saying it was "A case of the OutOfSpacies on /system". He has corrected the issue and the files have been updated and uploaded. This means it's now all systems go for Nexus 10 users wishing to root their very recently updated Lollipop devices.
Warning
This guide should be followed very carefully and patiently. Any deviation could lead to a bricked device. Make sure to read each step completely before proceeding and allow ample time for the processes to be completed. Furthermore this guide does not guarantee the process will be successful and all risks are taken solely at the user's discretion. This guide is intended only for the Nexus 10! Other devices are not supported. Incorrect use of these files might result in a bricked device. You alone are responsible for any consequences that might occur during the process, we shall not be held responsible for any damage to your device. Your warranty will become null and void by following this process.
With all those formalities out of the way it's time to get on to the fun part, rooting your Nexus 10.
Before you Begin
Here's a little check list to help you prepare before you begin
Ensure your battery is charged to above 60% to prevent it from dying and corrupting the process

IMPORTANT!

 If your Nexus 10 doesn't have an unlocked bootloader, CF-Auto-Root tool will

unlock

it and in doing so it will wipe your phone's apps and data. Remember to backup all files, contacts and other important data. If you have unlocked its bootloader, you will pass on unharmed.
You can download the CF-Auto-Root program from here.
Turn on USB Debugging, find out how to do this here
USB Drivers need to be downloaded and installed from this site
Root Nexus 10 on Android 5.0
Begin by extracting the contents of the downloaded file to somewhere convenient, like your desktop
Turn off your Nexus 10 Tablet
Restart by holding down the Volume Up, Volume Down + Power keys altogether
"Start" will be displayed on the screen you can then plug your tablet into the computer via a USB cable
Double click the root-windows.bat file, this will load the rooting program screen
Simply press any button to begin the process, follow the on screen instructions to proceed.
Your tablet will restart showing a red android logo. When the root process completes the tablet will reboot and load as normal.
Check for the "SuperSU" app in your App Drawer, if it cannot be found then simply download it from Google Play Store.
Lastly you can download the Root Checker app from the Play Store to verify your root access.
Hoorah! Your Nexus 10 is now ready to rumble! We hope this guide brought a smile to your face and was helpful in rooting your Nexus 10. If you're having any difficulties leave a comment down below and we'll be sure to help you out. Alternatively if everything was smooth sailing then also let us know so other users can be reassured.