Rooting is one of the best things about Android. It is a bliss that lets us satiate our appetite for customization and tweaking the device. However, sometimes our OEMs and service providers try to put a check on the very soul of Android by putting a check so that users might not be able to root their devices. That is why there is always a cold war going on between our developers and the service provider. Fortunately, in most cases, the great minds of the Android development community come out with a victorious smile. Now, you can root AT&T Galaxy S4 on the UCUAMF3 firmware.
The latest mischief has been made by AT&T who appears to be following Verizon's path. An OTA update with baseband version UCUAMF3 for SGH-I337 rolled out the last month brought a security patch, making all existent root methods ineffectual. Moreover, the users of the AT&T Samsung Galaxy S4 with MF3 version are unable to downgrade to a lower version.
However, the users of this device can now take a sigh of relief because XDA member Jortex has released a working root exploit. So, if you have updated your phone to build number JDQ39.I337UCUAMF3, you will now be able to achieve root access. Though Jortex's method is not so easy as the Motochopper way, it is not very difficult to perform too.
UPDATE
To root your AT&T Samsung Galaxy S4 SGH-I337 on Android 4.4.2 KitKat, use Geohot's TowelRoot app.
Requirements:
A microSD card and a card reader or adapter.
In case you know how to execute commands in ADB, you need not use an external SD card or download the Terminal Emulator app from below. And yes, do not forget to enable USB Debugging on your phone and install Android SDK on your computer before you use the ADB method.
Download and install Terminal Emulator app from the Google Play Store.
Download the rooting package file: Root_for_ATTSG4_FM3
Root AT&T Galaxy S4 SGH-I337 on  UCUAMF3 Firmware:
Now here are the simple steps to get root on AT&T Galaxy S4 SGH-I337 on UCUAMF3
Insert your microSD card in the card reader and format it to exFAT on your Windows PC.

Insert the microSD card into the computer using a card reader or a microSD adapter.
Go to "My Computer".
Right-click on your SD card drive.
Click Format and choose exFAT.
Click "OK".

When the formatting is done, extract Root_for_ATTSG4_FM3.rar and copy all its contents (4 files) to the memory card.
Now put the card into the phone.
Then open the Terminal Emulator app and type the following lines:

cd /mnt/extSdCard
./pwn
./script.sh

Issuing the above command will execute the "script.sh" file and all necessary apps like Busybox and SupeSU will be installed to your Galaxy S4.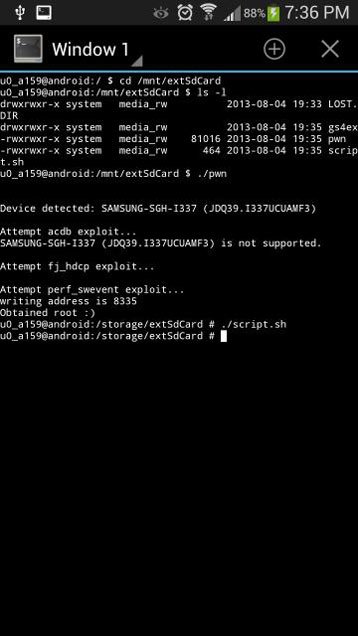 If everything goes well, you will have root privilege on your AT&T Galaxy S4 SGH-I337. Open app drawer and look for the SuperSU app there. To verify successful root, install Root Checker app from the market: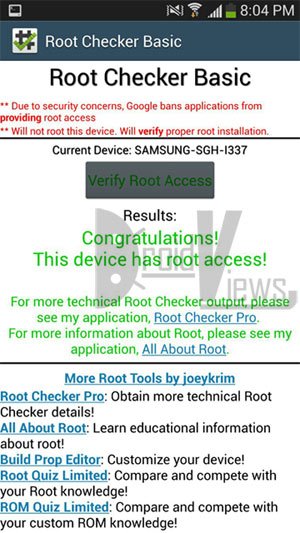 Also See:
How to Root AT&T Galaxy S4 on Android 4.3