Google play gift cards are probably one of the best methods of making payments in the Google play store. They are easy to use, don't have an expiration date, and you don't have to share your bank details with Google. It is a win-win situation for both you and the developers.
Google play gift cards were introduced by Google in the U.S.A. back in 2012 and now it is available in more than 20 countries. With these cards, you can buy apps, games, movies, music, magazines, books, and make In-App Purchases.
In case you're not sure if Google Play gift cards are available in your region, here's a complete list of the countries where you can get them from: Australia, Austria, Belgium, Brazil, Canada, Denmark, Finland, France, Germany, Greece, Hong Kong, India, Indonesia, Ireland, Italy, Japan, Mexico, Netherlands, New Zealand, Norway, Poland, Portugal, Singapore, South Africa, South Korea, Spain, Sweden, Switzerland, Turkey, United Kingdom, and United States.
If you happen to have a Google play gift card and want to redeem it, here's how it's done.
Before we continue, make sure to scratch the code on the back of the card. Do not scratch it too hard or the code will not be visible. Done? Do you have the code now? Great!
1. Redeem Google Play Gift Cards On Your Device
This is probably the easiest way since you'll be using your device to buy content from Google play store. To redeem code on your device, open the Google play store and tap on the hamburger menu on the left of the search bar. Now a menu will appear from the left of your screen. Scroll down and tap on redeem. Now enter the code you got from the Google play gift card. If you have entered the code correctly then you will see a confirmation that the said amount is added in your Google account and now you can start buying anything you want.
2. Redeem Google Play Gift Cards Via Computer
This option is useful if you got the redeemable code in your email and you are already using your computer. To redeem the code via computer, copy the code from your email and go to play.google.com/redeem. A popup will appear on the screen with an input field. Paste your code there and you are good to go.
3. Redeem Google Play Gift Cards While Making A Purchase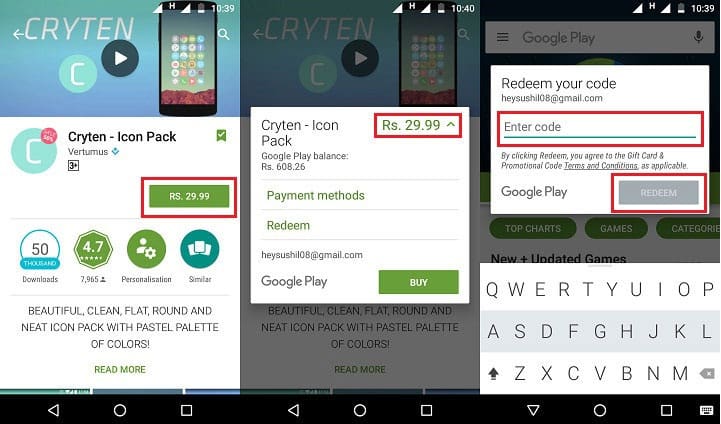 This method is quite similar to the first method but instead of going to the settings and entering the code, you enter the code while purchasing something. When you tap on the mentioned amount to buy something, a popup appears with buy option. On top of that popup you'll see a downward arrow, tap on it to select redeemable code as your payment source instead of debit or credit card. Enter the code in the popup and the amount will be added in your account and the said amount of the content will be deducted which you want to download.
It's done. Enjoy your newly purchased stuff!