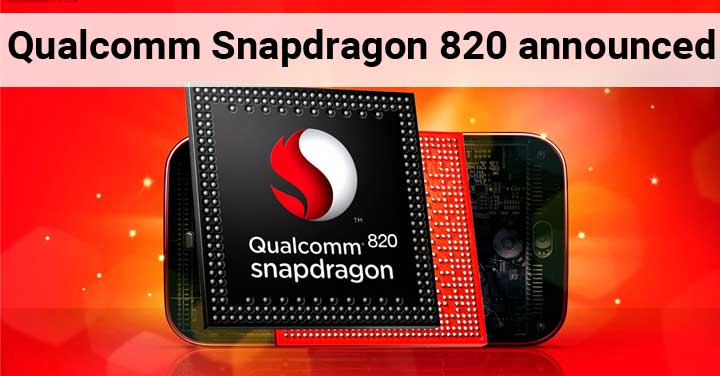 After a long wait and even longer list of rumors Qualcomm has finally announced the successor to its 810 chipset – the Snapdragon 820 system on chip. Snapdragon 820 SoC also marks the return on Qualcomm's custom processors, with Qualcomm Kyro CPU being part of the 820 SoC. Devices sporting Qualcomm Snapdragon 820 will only start hitting the markets in the first half of 2016, ideally from March – April onwards. Qualcomm already claims to have around 60 design wins.
The big news for multi-tasking users is the 820's stronghold over the 810, two times over. Twice as fast, twice as efficient, the new Kyro CPU is penned to deliver rapid smarts with an always-on Hexagon 680 DSP that won't dent flagship battery life. Gamers also rejoice as the  all new and all powerful Adreno 530 GPU in the 820 apparently offers 40% improvement over the 430 in terms of graphics performance. The new Snapdragon 820 processor supports LTE Cat. 12 download speeds of up to 600 Mbps as well as LTE Cat. 13 uplink speeds of up to 150 Mbps. It also comes with support for X12 LTE, which is said to provide 33% faster peak download speeds and triple the peak upload speeds of the company's 810 processor with X10 LTE.
Up to 25MP camera sensors will be supported by the Snapdragon 820 thanks to a 14-bit Qualcomm Spectra image signal processor being used which aims to keep lag minimal.
Qualcomm reckons overheating chips are a thing of its past, even with Quick Charge 3.0 tech on-board the 820 – which equals four times faster charging over conventional plug-and-charge setup that most devices follow – as well as native 4K capture and playback smarts. As ever, getting a true indication of the performance characteristics of a chip is difficult, because real-world factors like soft- and hardware interaction and process delivery make benchmarking results sketchy when compared to on hand usage.
That said, comparing old-gen models from the same manufacturer with new handsets packing the 820 should give a good idea of just how much using 14nm-manufacturing methods are making it faster.