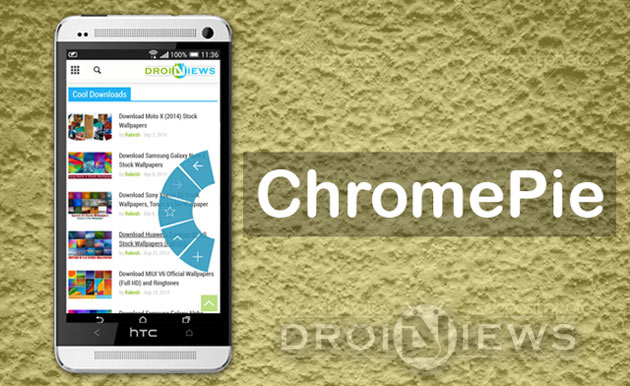 Just imagine a world without internet? This modern marvel has become an integral part of our life. Most of us prefer to surf the web on a desktop computer because navigating the web is easier on a PC than on a smartphone or tablet device. The big screen, a full-fledged keyboard and mouse make things a breeze.
Since our smartphones have much smaller screens and keyboards too small to type text easily and without mistake, surfing the web on them is not a pleasant experience. Google Chrome is the most popular browser among PC and smartphone users alike. And if you use Chrome on your Android device for browsing the web, there is a new app available now to make navigating the web much easier.
XDA member JT5 has developed a very useful module that works with Xposed framework. ChromePie, as the module is called lets you access your desired or most used navigation options found on Chrome through a beautiful pie-launcher. ChromePie works with both, the regular and the beta version of Chrome.
ChromePie is a very simple app that that offers pie-controls for options like:
Back, forward, refresh, new tab, new incognito tab, close tab
Add bookmark, history, request desktop site, find in page
Add to home, share, scroll to top, full screen, etc.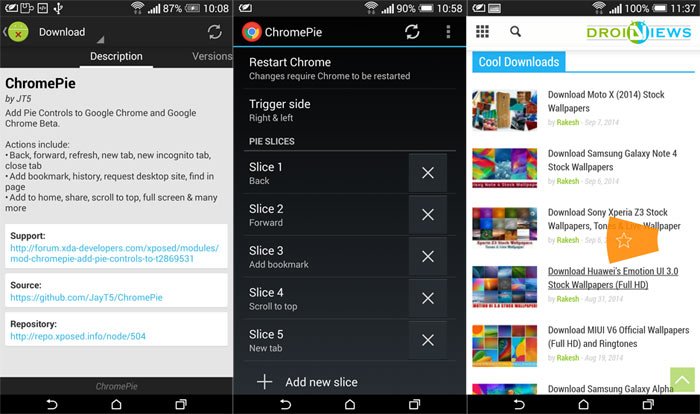 Thus ChromePie makes using Chrome for surfing the web a better experience. You can launch the pie-controls anytime while using Chrome by swiping finger from left, right or both edges of the screen. Since it's a module for the Xposed Framework, you need to have a rooted device with Xposed installed on it. We tested the app on the Nexus 5, HTC One M8 and LG G3, and it worked flawlessly on all of them.
Download ChromePie
You can download ChromePie drectly using the Download option and searching the module in Xposed itself. You can also download it from Xposed modules repository.