Adventure vacation is great to pump your adrenaline. Adventure trips include trekking, camping, river rafting, hiking, etc. But as much as they sound thrilling, they can put you in a tight spot. If you love going outdoors, then you must prepare your smartphone as well. You must install the following best outdoor adventure apps for Android before you take on your next big adventure.
These outdoor apps can come handy in adverse situations. You might get lost, loose trail, get hurt, etc. In those scenarios, your smartphone is the only tool available to you.
This list is a compilation of the 8 best outdoor adventure apps for Android. Moreover, most of the apps are available offline. So there is no dependency on the internet. I suggest you must install these apps in your smartphones to stay ahead of difficult situations.
Before you scroll down, you might want to some great Android apps that support fingerprint scanner.
Best Outdoor Adventure Apps for Android
Let us take a look at each of the application, one-by-one.
1. Offline Survival Manual
Offline Survival Manual as the name suggests, is an outdoor survival ebook. It is one handy ebook that is available offline. It contains descriptive outdoor survival guide for adventure-loving people. This app offers a guide on multiple topics like how to make fire, find food, build shelter, etc.
You get a lot of help from this ebook in case of an emergency. Besides, you can use this app for general outdoor vacations also. You also get to learn many handy surviving DIYs. For instance, you can learn to create fire without any tools, or know which plant to eat in shortage of food.
Whatever you want to learn you can get through this app. Most of the topics have been covered and with updates more are added frequently. You also get easy infographics and images to help understand better. We recently compiled a list of exciting survival games for Android. Don't forget to check them out.
[googleplay url="https://play.google.com/store/apps/details?id=org.ligi.survivalmanual"]
2. ViewRanger
This app is apt for biking and hiking lovers. You can discover trail maps curated and shared by its users and experts. It offers map trails for mountains routes or countryside walks. More importantly, it works offline and uses your GPS to display maps.
You can also create your own routes and share them with others within the app. ViewRanger has a massive library of trails and routes. Moreover, you can view and record your tracks live and share with your friends. It shows statistics such as distance, speed, altitude and more.
Besides, ViewRanger also has an Augmented Reality mode. It uses your mobile camera to determine peaks, places, and lakes. Additionally, it supports Wear OS smartwatches. It is available in countries like the U.K., Canada, and New Zealand. When you are out for adventure, you might not have a working internet data connection. These 155 offline games for Android will keep you entertained in remote areas.
[googleplay url="https://play.google.com/store/apps/details?id=com.augmentra.viewranger.android"]
3. Locus Map
Locus map is another great app you must consider taking on outdoor travels. It has a catalog of maps specially curated for biking, hiking, and similar adventures. You can create, edit, plan record your maps in this app. It offers detailed statistics like distance, speed, and altitude.
Voice and sound navigation is also available in any supported regions. Moreover, you can share your tracks on platforms like Google Earth, GPSies and more. It gives you a sound warning when you go off track.
Besides this app also features parking assistant, notes manager, and live tracking. LoMaps shows the offline maps of the world. This app is available in many countries.
[googleplay url="https://play.google.com/store/apps/details?id=menion.android.locus"]
4. First Aid
First Aid is the most important thing you must carry no matter whichever type of vacation you are going. Anybody can get hurt or an emergency could arise anywhere or at any time. And if you are skilled and equipped, you can handle those situations.
This app features a huge collection of tips and tricks to tackle adverse situations. You can learn via videos, interactive quizzes or through a simple step by step articles. Additionally, this guide also includes animations to make learning fun and easy.
It offers all the information and helps without needing an internet connection. Moreover, there are no ads in the app and is spam-free. Besides, it contains safety tips from hurricanes, earthquakes, tornadoes, etc.
[googleplay url="https://play.google.com/store/apps/details?id=com.cube.arc.fa"]
5. Digital Compass
Digital Compass is what the name suggests. Your smartphone might come preloaded with a compass app. But, in case there is not, then you should download this application. This app is very handy for outdoor vacation, adventure travel or general purpose.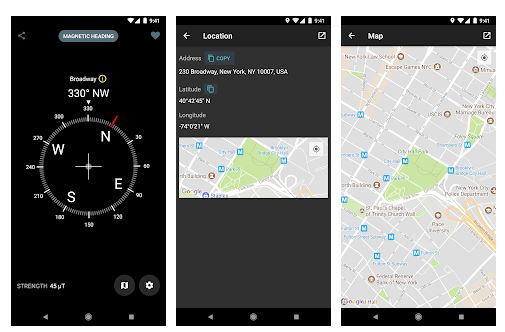 You can also use this app in conjunction with Locus Maps, Google maps, etc. Moreover, Digital Compass can lead you in the right path even without an internet connection. This app uses your inbuilt sensor modules in order to navigate.
Besides, it has a clean user interface and minimal design. It also features a torch app. One thing to note is that you should not use the compass app with magnetic covers. The reason being it might show you the wrong navigation.
[googleplay url="https://play.google.com/store/apps/details?id=com.vincentlee.compass"]
6. Open Signal
Open Signal is a network signal searching app for Android. You can also use this app for running speed tests for your internet connection and WiFi signals. It comes very handy when you are on outdoor adventure travel.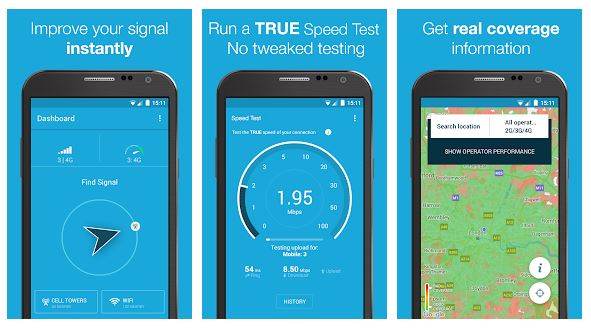 This app can let you see the nearest location to the highest network frequency. It can be helpful when you are in a place where there is low network coverage. You can follow the network towers to get a decent signal. Moreover, Open Signal also features the ability to scan and locate local WiFi hotspots.
It has a clean and simple user interface. You have a dedicated dashboard containing all the information you need.
[googleplay url="https://play.google.com/store/apps/details?id=com.staircase3.opensignal"]
7. Spyglass
Spyglass is an augmented reality navigation app. This is one of the must-have Android apps for outdoor travel. It also works as a heads up display for compass and the map. This outdoor travel app features gyrocompass, offline maps, speedometer, altimeter, etc.
You can track your location, speed, sun, moon or stars, view the rangefinder and other tools. This app has all the features combined in one which will be beneficial in times of need. You can use the sextant and angular calculator to measure the heights and distance of the objects.
[googleplay url="https://play.google.com/store/apps/details?id=com.happymagenta.spyglass"]
8. Komoot
Komoot is a great outdoor traveling app. With this app, you can plan your route before heading out. It is a must-have an app for cyclists, hikers or MTB adventurists. The best thing about this app is that all the navigation and the path, trails are available offline.
Moreover, it features routes, surface conditions, distance and elevation and more. Besides you also get turn by turn navigation which is a great function. Komoot also has a community where you can see the popular destination of your next adventure shared by others.
Furthermore, you can also add photos, tips, and highlights to your trail and share with others. It offers seamless integration with all the devices. And Komoot also supports Android wear devices. Besides Komoot, there are a bunch of more travel apps for Android to help you if you've been planning a trip.
[googleplay url="https://play.google.com/store/apps/details?id=de.komoot.android"]
Conclusion
The above-mentioned apps are good for preparing your smartphone for outdoor travels. This list contains the best Android apps for outdoor adventure and travel. You do not know when the need for these apps can arise due to any. Please let us know in the comments below any other Android app which will be useful for people who love adventure and outdoor traveling.
Read Next: 5 Best Keyboard Apps for Android – 2019