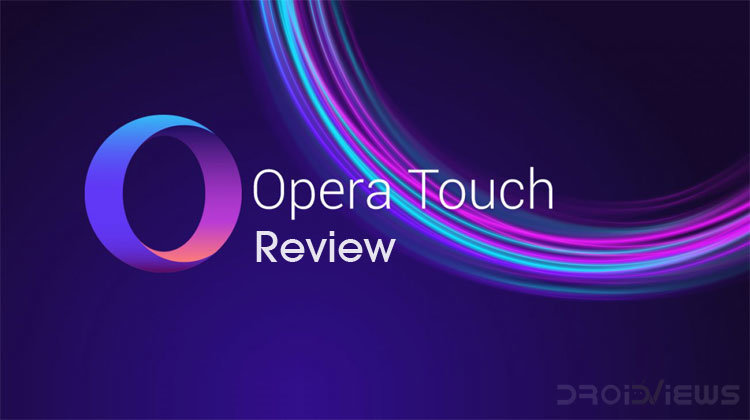 When you think of fast web browsers, the first name that comes to your mind would be without a doubt Opera. Opera has been always in the forefront when it comes to developing lightweight, a quick and snappy web browser for smartphones. Speaking of which, Opera has outed a brand new web browser for Android called Opera Touch, which the company claims to be fast in web searching while you are on the go, lightweight and easy to use with only one hand and more. Alright, now let's check out the features and screenshots of the Opera Touch web browser.
Opera Touch overview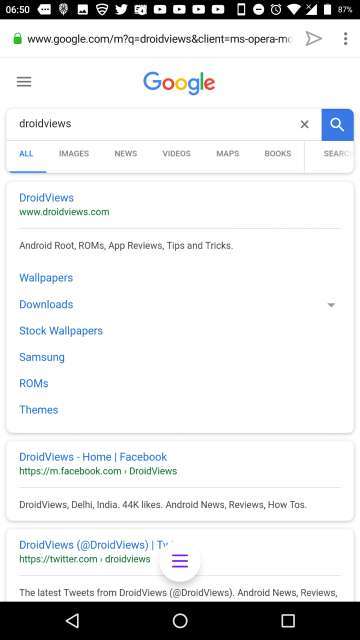 Quickly access the most popular websites and also the websites you had recently visited
Search your favorite websites instantly by scanning a QR code, typing a web address or using the integrated voice search function.
Tap and hold the Fast Action button  (three line button) to access instant search, also while browsing to access quick shortcuts: refresh the page, close the current tab, access My Flow, access the open tabs and also your most recently visited websites.
Let your web browsing experience keep flowing with a feature called My Flow. My Flow provides you with the ability to browse seamlessly by using Opera Touch along with your Opera computer browser. To connect Opera Touch to your Opera computer web browser, all you have to do is just scan the QR code displayed in the Opera computer web browser with Opera Touch and you're good to go. Now, you can send or share videos, links and more, which will now be available across all of your devices. Its all easy peasy, as in, you do not require any account, password or any type of login credentials.
The data you send in My Fow is fully end-to-end encrypted. This browser also features Opera's crypto jacking protection, which reduces the risk of your mobile getting overheated or running out of battery when you browse the web.
Opera Touch features a built-in ad blocker for an uninterrupted, hassle-free, fast and clean browsing experience.
Must Read: Get Google Product Sans Font from Android 8.1 on Any Android Device (Root)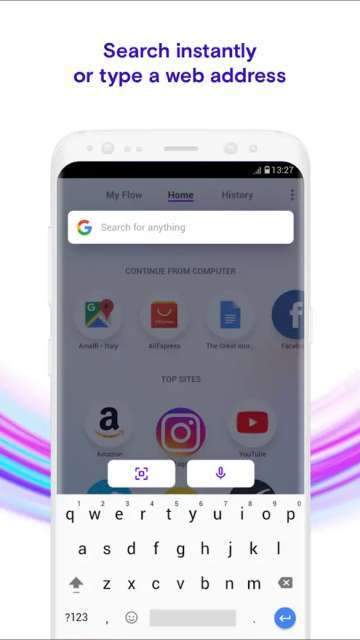 Do Not Miss: How to Prevent Screen from Waking Up Accidentally on Samsung Devices (Android 7.0+)
Settings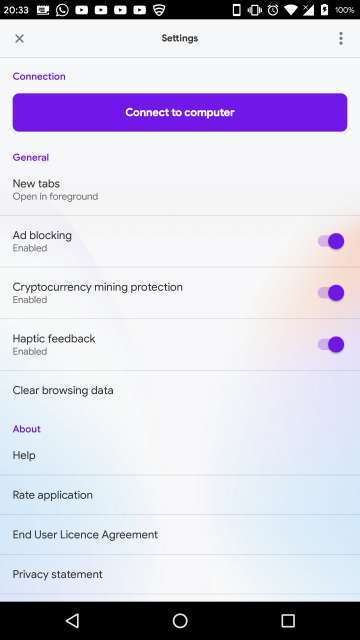 My thoughts and conclusion
So that's it, folks, on an in-depth overview of a brand new web browser for Android. All I can say is that the browser feels smooth, fast and reliable. Considering that the browser from Opera, one cannot expect anything less, and also the fact that Opera is the king of lightweight, logical and snappy web browser in the mobile space.
Let us know in the comments section below on your take and experience with Opera Touch web browser for Android. Download Opera Touch via the Google Play Store link given below.
[googleplay url="https://play.google.com/store/apps/details?id=com.opera.touch"/]