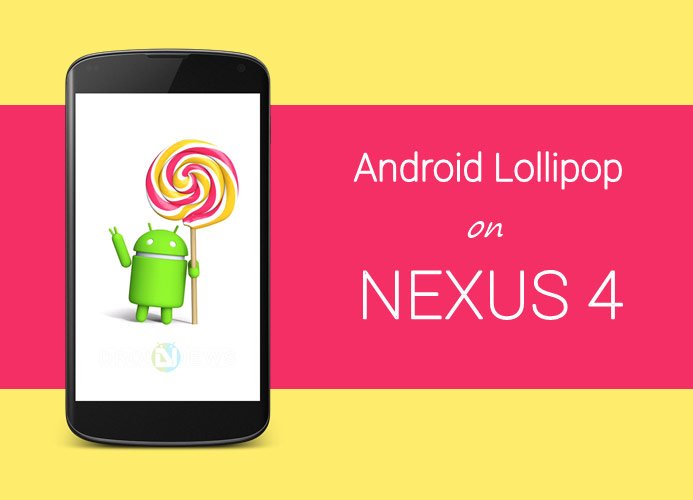 Android Lollipop is the talk of the Android community now, thanks to Google for finally unveiling the Android 5.0 Lollipop officially. To let the developers do the tinkering, Google also released the Android 5.0 preview images for the Nexus 5 and Nexus 7 2013 devices. But it looks like the tinkering is way beyond the hands and now Nexus 4 gets Android 5.0 Lollipop from percy_g2 of XDA developers community. Thanks to his efforts, the Nexus 4 users are now getting an early taste of the Android Lollipop which is due to roll-out in the coming weeks.
The Android 5.0 port is still in the alpha builds and since it's a too early release, you can expect a few bugs in the ROM. But Android enthusiasts, we never try to stop at anything and if you're curious enough like us to taste the Android Lollipop on your Nexus 4 before anyone else, just grab the Ported ROM and flash it using any custom recovery on your device. If you haven't had any custom recovery on your Nexus 4, follow our TWRP installation guide before installing the ROM.
Install TWRP on Google Nexus 4
Download the Nexus 4 Android 5.0 Lollipop port from the download link below and follow our installation guide to get the latest Android Lollipop on your Nexus 4.
Download Nexus 4 Android Lollipop ROM
Install Android 5.0 ROM on your Nexus 4
Download the ROM file and transfer it to the internal storage of the phone
Reboot the phone into recovery mode. To do so:

Switch off the Nexus 4 and wait until proper shutdown.
Press and hold Volume Up, Volume Down and Power buttons together and release them when bootloader menu appears.
Now press the Volume Up/Down button to select the recovery mode and then press the Power button to boot into Recovery Mode.

Perform a full wipe by wiping the cache, dalvik cache and doing a complete factory reset. Format the System partition as well for less hassle with the ROM.
Return to the main menu and select install zip and select the Nexus 4 Android Lollipop ROM file. Confirm the installation when prompted.
After the installation, wipe the cache and dalvik cache again.
Reboot the device from the recovery menu.
The initial reboot might take a lot of time as the new Operating System has to build data and Cache on your device, so be patient until the end and don't switch off the device in middle of the process.
Leave your impression on the Android Lollipop on your Nexus 4 in the comments section below.