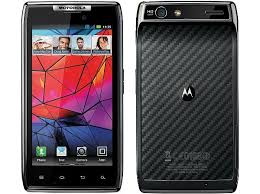 Motorola has been out of the android update scene since a while but yesterday they threw a surprise which will make all the android Motorolians happy, yes! Motorola has finally decided to roll out Jelly Bean 4.1 updates for their Android Devices released in 2011 and up, starting with Droid RAZR M, the latest Motorola flagship which was announced and released in September 2012.  According to Motorola, a lot has been incorporated in Jelly Bean 4.1 updates for Motorola devices which includes all the new Google goodies like Google Now, Voice Search, Android Beam, NFC, Speech-to-text and improved notifications support. You surely will come around a lot of new features as soon as you get your hands on it .
Introduction Of Test Drive & Trade-up:
I am sure you must wanna ask "What Is Test Drive?", so let me tell you, "Test Drive" is a Motorola initiated a program to test the upcoming Android updates like Jelly Bean 4.2 and so on. In this process, Motorola will deliver its device specific update to a few people for a trial period, where the feedback will be worthy to fix the issues (If any) or include any other upgrade (If possible) before the public release of the upgrade software.
Now, the "few people" who want themselves to be included in the "Test Drive" program will have to sign-up for it, which will be projected to some Terms & Conditions. Sign-up and other details for the same will be published on Motorola Blog soon.
 There is only one thing about what I am disappointed, the earlier released power Motorola devices like Defy, Defy+, Photon, Atrix, Droid 2/3/X2 and many more are restricted from getting any official ICS/ JB support. Instead for some of these devices, a new "Trade-up" service has been introduced for the sake of those users, who are not at all willing to miss the Jelly Bean update. This program gives listed device users a benefit of trading their old device to Motorola on which the enterprise in return, will hand them $100 for the new device.
You shall find the Trade-up device list here. So, do have a look if you have an old device to be traded up for the benefits of the new device with Jelly Bean update. If your device is listed, head over to the Trade-up program page for details and instructions to participate in it.