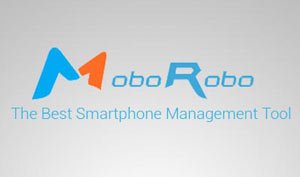 Android is achieving great heights in all the aspects when it comes to competing with other OS's smartphones. Let it be hardware specs, software updates, possibility to modify, compatibility, Android rules it all. One thing that has always pinched the Android Smartphone users is the non-availability of a content-management software for their devices. While iOS has iTunes, Blackberry has Blackberry Desktop Software, Nokia's has Nokia PC Suite and Android has got? Unfortunately, nothing.
I've browsed the web with my ongoing search regarding a Managing software for my Android devices. Tried many but turned my back to them because each of them either had limited features or was paid, and why shall we pay for our Smartphone's basic necessity. Finally, after all my research I came to conclude that the best Smartphone Managing software for an Android device is MoboRobo, which is a free software for any PC running Windows OS.
Out of Mobo Community's products MoboRobo is one and MoboLive is another, which we have already reviewed earlier here.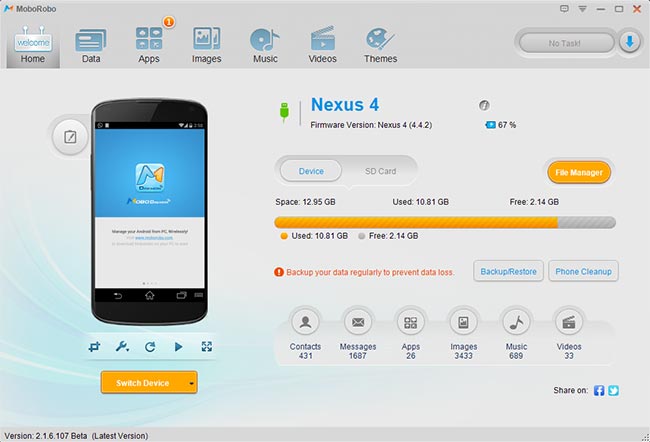 About MoboRobo
MoboRobo is your smartphone's best companion. It is a Software Management Tool that syncs your Android Smartphone to your PC and perform numerous unique features. It is available to operate on any Desktop/Laptop PC running Windows XP/Vista or 7. The latest version is 2.1.6.107 Beta which was released on 1st April 2014.
This multi-function tool performs various tasks, of which managing Apps, Storage, Contacts, Messages are just a few. The complete list of functions are mentioned below and following it is the in-depth explanation of the major ones.
What's new in v2.1.6.107
The latest update has added MoboLive in-built into the tool. Check out Latest, New and Recommended themes for MoboLive and Install them. Read more about MoboLive here. The tool now also supports an iPhone running iOS7. Several other bug fixes are accompanied.
Features Offered By MoboRobo
Connect various devices at once and switch between them at your own will.
View inch by inch information of your device and its current conditions. This includes Device Model, Android Version, Battery Level and Storage Information.
Receive notifications directly on your desktop for any new Texts or Calls.
Backup/Restore your Smartphone's complete data including Contacts, Messages, Call Logs, Images, Wallpapers, Theme, Music, Ringtones, Apps and App Data.
File Manager lets you quick access your device storage in a much more graceful way and lets you perform various management operations.
Contacts management has never been this easy. Add, delete, edit,  import, export, backup or restore them in no time.
View, manage and send Text Messages directly from the tool window.
Edit and view Call Logs
View Installed and System Apps in detail, Install/Uninstall or transfer Apps.
Install APK directly from your PC
Delete System Apps easily (Only for Rooted Smartphones)
Update Apps directly using App Updater.
Install a huge list of new Apps and Games from Mobo Market.
Manage Images on your device's Gallery, Sync between the PC Gallery and your device.
Download latest and new wallpapers.
Sync your Music, manage it, set Phone ringtone, notification tones or download new music.
Sync and Manage your video library.
Install Mobo Player, a perfect alternative to the stock Android Video Player offering tons of new features.
Let your PC do the job for downloading and hence save your Mobile Data at a large extent.
An interactive user interface which is easy to understand and operate, even if you're not familiar to the tool.
Above we have outlined the functions that MoboRobo can serve you with and Below are the major ones explained.
In-sight Of Some Major Features
Since the list is too long and the words are limited, we are bound to make you go through some major features of the MoboRobo tool.
1. Backup and Restore everything
Previously you have used different Apps corresponding to the type of data you wanted to backup. But now, you don't need to put yourself through such hassle anymore because MoboRobo is here to assist you. The Backup and Restore function of this tool allows you to backup everything on your device which includes Contacts, Messages, Call Logs, Images, Wallpapers, Music, Ringtones, Apps and App Data, all this using a single tool.
The backup and restore, both the processes could be carried out either on a whole or selectively backing up the content. To backup or restore all the data of your device completely, you could go to the Home tab, click on Backup/Restore and follow the onscreen instructions.
2. Manage All Apps
Another remarkable feature lies under the Apps tab of the MoboRobo window. You can view your Installed and System Apps in much more detail and manage the current Apps. Install hundreds of free Apps and Games directly from MoboMarket and hence save your mobile data.
If you have an APK on your PC which is waiting for installation, you can do it simply by using the App Library feature by just dragging and dropping the APK file. App Updater is yet another new feature which checks your device for Apps that needs to be updated and notifies you. Not only Installed Apps, MoboRobo also lets its user to uninstall System Apps provided that your device is rooted.

3. Not Only USB, Over Wi-Fi Too
MoboRobo not only supports a sync between your smartphone and the PC via USB cable but also beholds special wireless compatibility, to perform the same operations without any limitations. Use the Mobo Daemon to scan the QR code from the Home tab and it would take a matter of seconds to connect.
4. MoboLive And Theme Support
The most innovative Mobo product is the MoboLive, which is Launcher App. It is a completely customizable and buttery smooth to operate. MoboLive supports a huge list of beautiful themes which can make your device's UI appear much more appealing and attractive. Other features include enormous transition effects, wide range of wallpapers, Quick access to Apps, additional widgets, Ability to hide Apps and much more.
So, if you have Installed MoboLive, do not trouble yourself and your Mobile data to download themes, just connect your smartphone to the PC, launch MoboRobo and access the Themes tab.  Visit Theme Center to view and download the latest and the most popular themes available. Or, if you already have the APK file of the theme, just use the Theme Library option to install it directly to the device.
Conclusion
Nothing beats MoboRobo! Its simple, its fast and it packs tons of features altogether. To sum up, MoboRobo is the best Smartphone Management software available for Android. Offers so much and asks for nothing (Its FREE!) in return but your love and feedback. You won't need other separate Apps or software anymore to backup every single content, you have MoboRobo that does everything for you.