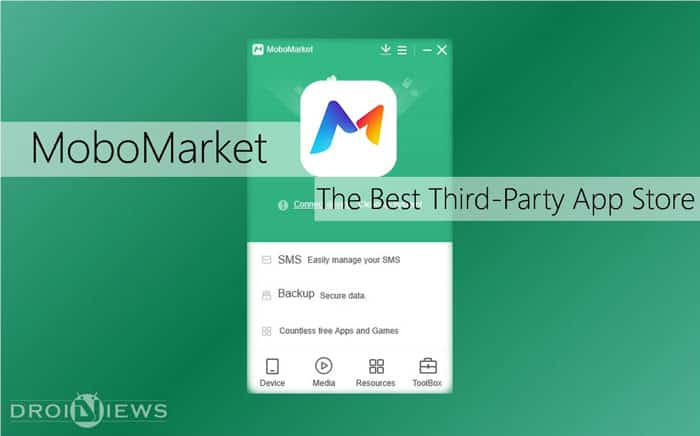 The Google Play Store has been a success for both, Google and Android enthusiasts. However, since the Apple App Store has been significantly growing over the years, it is not the best app store for smart phones. Where Apple falls short is the fact that there is only one (simple) way of downloading and installing applications onto an Apple device. However, this is not the case with Android, where you can either sideload an APK file or download it directly off the Google Play Store.
One of the growing third-party stores for Android is MoboMarket. Today, let's have a look at the best features that MoboMarket holds, and why you need it!
MoboMarket is quite different from Google Play Store because it offers a lot more. It allows Android App downloads, Android backup, file manager and bunch of other features. The experience gets better when you install it on your personal computers. The User experience is wonderful on both small and expanded interfaces.
The setup is swift and in no time you can avail its features. The device can be integrated with a USB cable or connecting on same Wi-Fi network. I found setting up through USB connection more convenient. With single click one can easily manage their device using Mobomarket. Every feature is just a single click away from the mini window.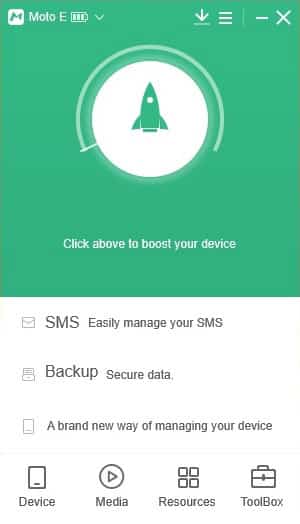 MoboMarket has four main catalogue namely:
Device
Media
Resources
Toolbox
Device
The Summary section is a live image display of your smart phone. It has every necessary information of your device like Android version and kernel information, battery life, internal and external storage. Now you no need any third part app to display your hardware information cause we can notice our IMEI, Mac address and serial number in this section itself.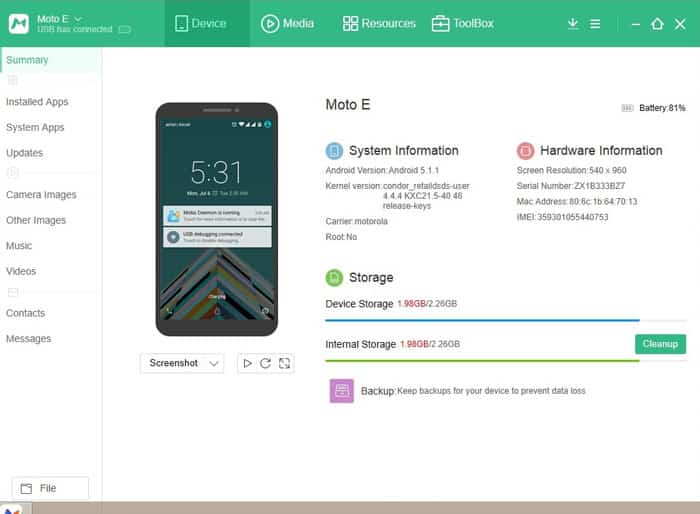 Installed apps are listed and you can export them selecting "Export" option from the menu bar. The exporting is better via USB cable in my tests. If you find your internal storage full, now it is easy to move your apps in bulk to your SDcard.
A side bar displays relevant list of recommended apps which match your taste and style. The recommended apps are so precise that, for sure you will be tempted to install few of them before you switch your screen. Updates are shown instantly and you can be choosy regarding them. A rooted device can be debloated using Mobomarket but be careful when you mess with system apps.
Other tabs in this section give access to camera photos, videos and music of the device which makes Mobomarket a perfect Device manager.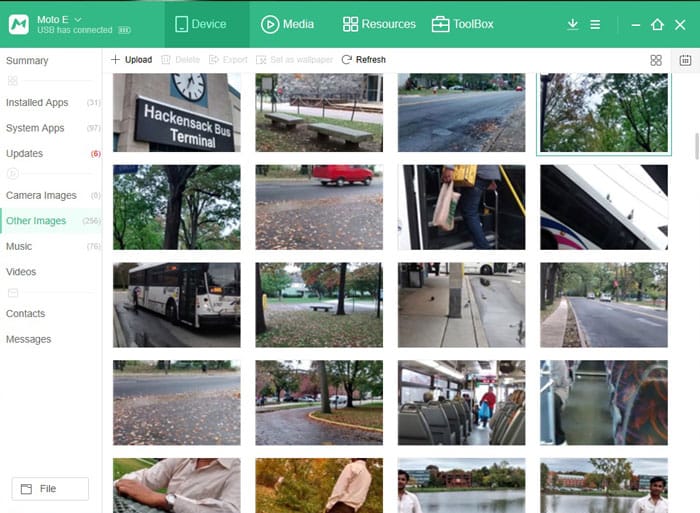 Now messages can easily be read and organized. It was a good experience with MoboMarket PC version. This is something you can't do elsewhere even on your smart phone it becomes irksome.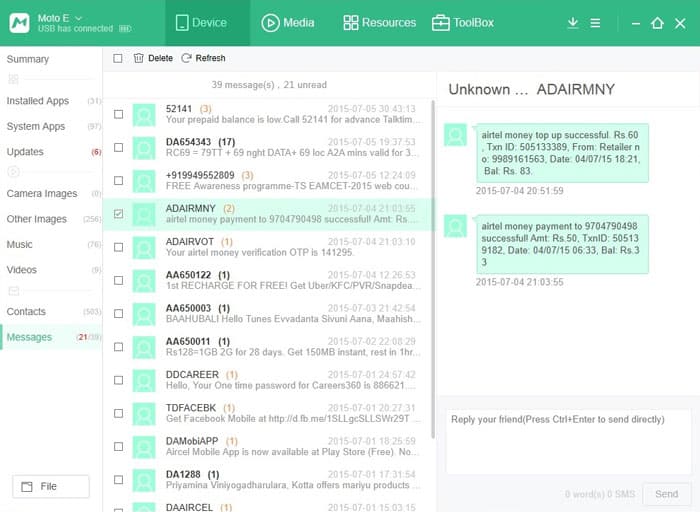 Media
Media section displays all the readable media from your personal computer and you can easily sideload it to your device with a single click. In-built music player adds further advantage to listen the song you've loaded in your device.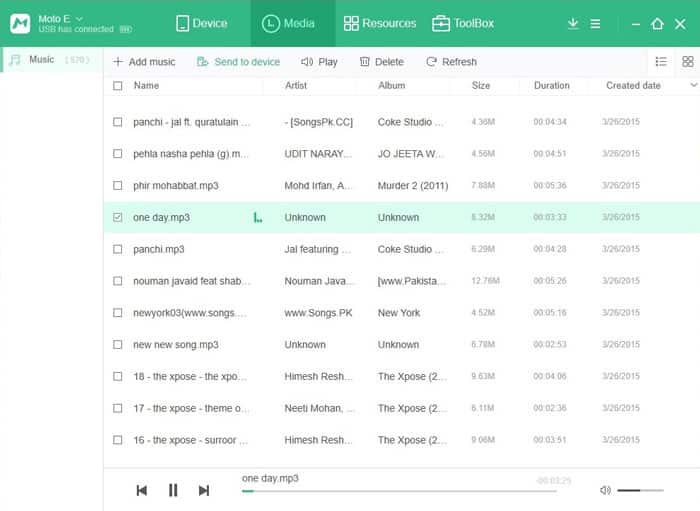 Resources
The next section is Resources is heart of Mobomarket. You will find world of Apps in this section. Everything is categorized and well sorted. The must have section in here makes it unique from other stores. In many ways it is better than play store, unlike play store we aren't limited to region and country. Mobomarket gives freedom to enjoy apps which are available in or out of Google Play Store.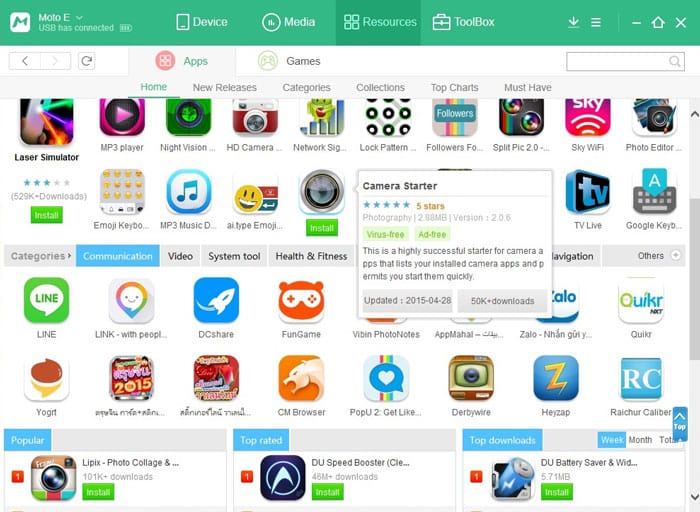 ToolBox
MoboMarket offers many useful tools like full screen view. The most admired tools are backup and restore tools which are very handy and useful. This tools set Mobomarket apart from rest of the stores. The restore and backup is easy and it covers all the applications, contacts, images and call logs. In short you can avail all the mini advantages of a rooted device through Mobomarket. The Cleaner tool is also helpful and does its job very well.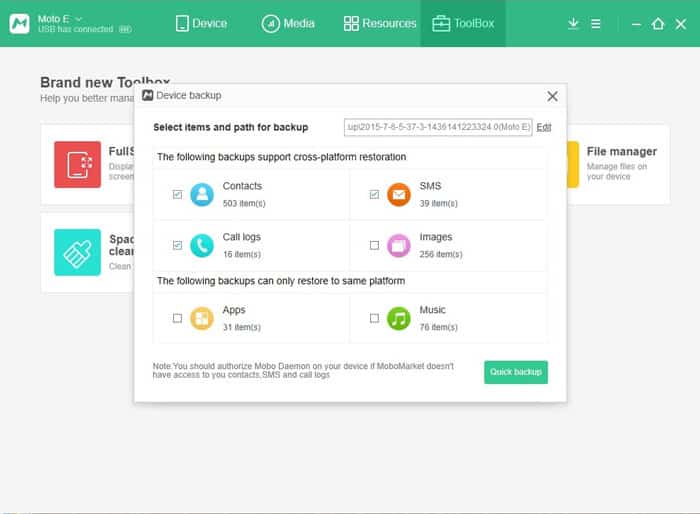 Deep in the options it also offers installing apps directly to SD card. Which according to me is the killer feature in MoboMarket.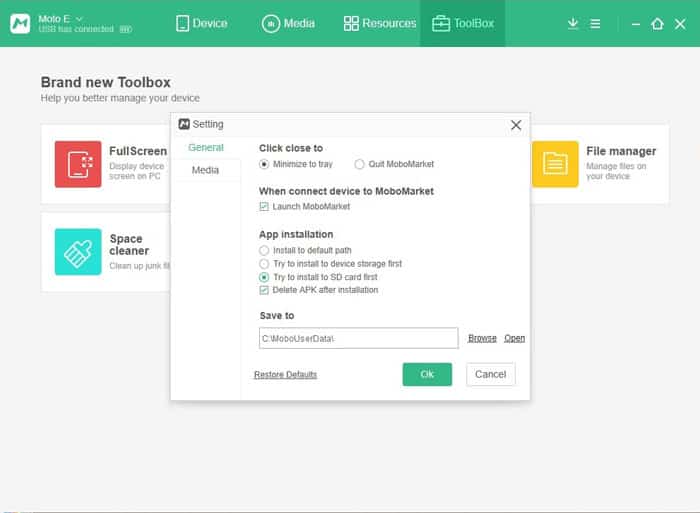 Setting up MoboMarket is easy but for Noobs here is a quick guide.
Quick Setup
Download MoboMarket from here and Install it on your PC.
The Installation will complete within a minute.
Now you have two options. Connecting your device with USB cable or on same Wi-Fi network.
USB connectivity is recommended as data transfer are quick. Now you have to enable USB debugging option from Developer options. (Settings > About Phone > Build Number – Multiple taps on build number to enable Developer option)
Connect the device with USB cable. At this instance you will be prompted RSA fingerprint, select "Always allow from this computer" and tap "OK".
It will take a second or two to connect.
That's all! Now you are ready steady and Mobo!
All in all MoboMarket proves to be elegant and universal store out there. My experiences with it was amazing and it deserves a try, so what are you waiting for? Just jump to their site and grab your Universal store. Don't forget to share your experiences with us.