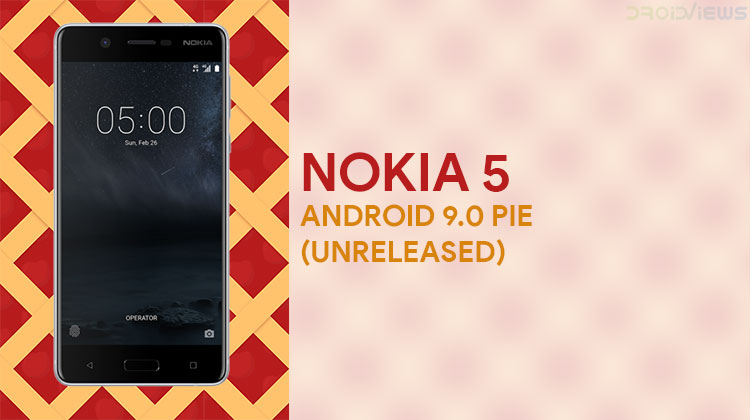 Android Pie update for the Nokia 5.1 is available ahead of its official release. You can download and install the leaked Android 9.0 Pie update on Nokia 5.1 by following the steps described below.
Juho Sarvikas, the chief product officer of HMD Global promised in October that the Nokia 5.1 Plus will get its Android 9.0 Pie update by the end of December. Nokia has been one company which has been doing great when it comes to providing timely Android updates. Not just to its flagships but also even the cheapest of its devices.  We never had any reason to doubt Nokia and they've delivered on their promise. Now it seems Nokia is also readying an Android Pie update for the Nokia 5.
XDA Senior Member hikari_calyx has shared a leaked early build of Android 9.0 Pie for the Nokia 5. All the new Android 9.0 Features are present here since Nokia devices run pure, stock Android. Just in case you've forgotten or somehow aren't aware of, listed below are some of Android Pie's key features.
Android Pie Key features
The new System navigation system offers a single home button that provides intelligent predictions and suggestions (user enabled).
Notifications are also made more useful and offer actionable functionalities with conversations such as attach photos and stickers along with suggesting smart replies. Also, helps users get things done faster by predicting their next move and displaying the right action on the phone.
It also comes with Digital Wellbeing which includes Wind Down and Do Not Disturb. With these features, users can set a daily schedule to get the phone ready for bed. Its screen fades to Grayscale, while Do Not Disturb silences notifications for a restful sleep. He/she can activate Do Not Disturb anytime they want to disconnect.
Android Pie's Slices feature identifies relevant information of users' favorite apps to make them more easily accessible when needed.
Besides the regular Google security patch, Android 9.0 Pie brings numerous new safety features. This includes a standardized biometric authentication prompt to provide a more consistent authentication experience across Android.
Android Pie restricts any apps accessing users' phone microphone, camera, or other sensors when an app is idle or running in the background. (If an app does need to access a sensor, it will show a persistent notification on your phone.)
Furthermore, Android 9.0 Pie introduces several new security features, including a standardized biometric authentication prompt to provide a more consistent authentication experience across Android.
The Pie update also brings important enhancements that protect all web communications and offer private web surfing. It enables encryption of Android backups with a client-side secret (the device PIN, pattern or password) for greater security.
Other notable features include full-view screen friendly swipe-based navigation interface option, revamped setting drawer, adaptive battery, and display, extend battery life and several others.
Download
Android 9.0 Pie Update Packages for Nokia 5 | Mirror
Download either ND1-558K-0-00WW-B01-558J-0-00WW-B01-update.zip or ND1-612C-0-00WW-B01-558K-0-00WW-B01-update.zip depending on your current firmware version and download ND1-612D-0-00WW-B01-612C-0-00WW-B01-update.zip. To check your current firmware version, dial  *#*#227#*#* in the dialer app.
Install Leaked Android 9.0 Pie Update on Nokia 5.1
Transfer the downloaded zip files to your device's internal storage. Make sure you place the zip file in the root of the internal storage and not inside any folders.
Launch the dialer app and dial this code

*#*#874#*#*

After installation, you may get the message "Encryption failed". If you do, tap "Factory reset".
Note
In case you don't or your phone gets caught in a boot loop, reboot it to recovery mode.

Press and hold both Volume keys and the Power button together until you see Shutdown device in the top-left corner of the screen. Release the keys when you do to power it off.
 Connect your phone to the charger and press and hold the Volume Up and Power button when you see a charging animation.
When the phone vibrates, let go of the Power button but keep holding the Volume Up key.
When you see the dead Android logo on screen, press and hold the Power button and quickly press the Volume Up key once to boot into recovery mode.

Once in recovery, highlight the Wipe data/factory reset option using the Volume keys and use the Power button to select it.
Confirm your selection if asked and initiate the factory reset.
Once the factory reset is complete, reboot to system and your device should boot straight into Android 9.0 Pie.
Enjoy the Android 9.0 Pie Update on Nokia 5.1. Keep in mind this is an unreleased firmware and there might be good reasons for it. You may run into bugs that can't yet be fixed or worse.