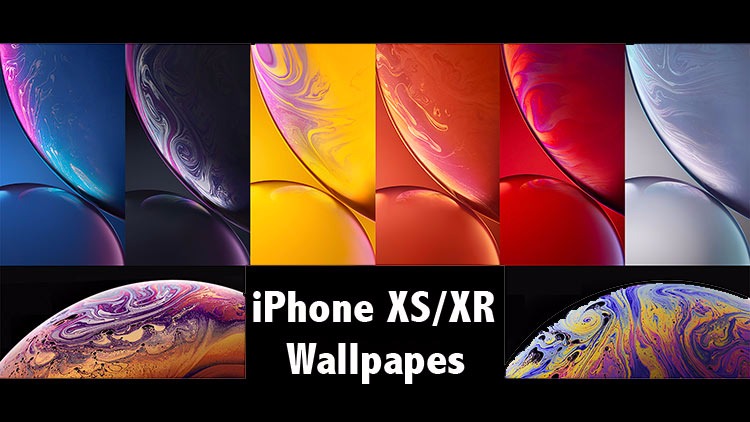 Download iPhone XS and iPhone XR stock wallpapers in original quality. You can download the iPhone XR wallpapers from the links below. Not too long ago, we shared a couple of leaked wallpapers from the iPhone XS but what we're going to share today are official ones.
If you were out on a vacation in some deep forest, Apple has announced their new iPhones and just like every year, the fans and the tech world is going crazy about them. Everyone's talking about the new iPhones. So while are here sharing with you the brand new iPhone XS and iPhone XR stock wallpapers (yes, of course, we have them already) let's talk about the new iPhones too.
The two new iPhones are called the iPhone 10S and 10R. The XS is your regular incremental improvement over the iPhone X whereas the XR is Apple's iPhone 8 successor. That also reflects in their pricing. The iPhone XR is being called the cheaper, affordable iPhone by many and it is by Apple's new standards where smartphones cost around a thousand dollars. There are also some differences between the two, of course.
Specs
Both the iPhone models are dual SIM and have dual standby and both have them feature a traditional nano sim slot and an inbuilt eSIM. An eSIM works with any network that the phone can work with but is even smaller than the nano-SIM and Apple is all about saving space. In China, due to the laws of the country, both devices will be offered with two nano-SIM slots.
In terms of power as well both devices have the same A12 Bionic SoC based on a next-gen 7nm fabrication process. It is 30% faster than before and can handle five trillion operations per second according to Apple. In other words, performance will not be an issue, at least for a while.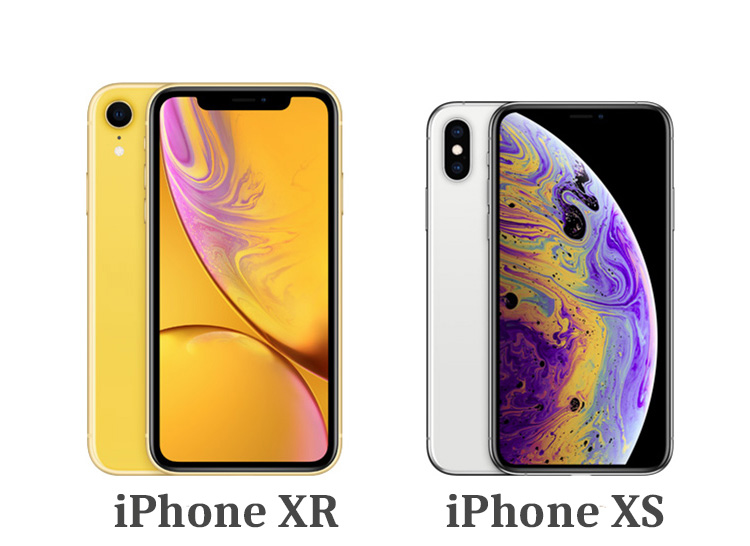 None of the phones have TouchID anymore and rely on FaceID introduced last year on the iPhone X. Also similar to last year's iPhone X, both phones feature the omnipresent notch although the iPhone XR has significantly larger bezels all around in comparison. Apple being Apple did not reveal any information about the amount of RAM or the size of battery but the iPhone XR seems to provide more talk time so we'll assume it has a larger battery.
The main difference between the two devices is in terms of the display and camera. The iPhone XR has less of an all screen display as we've already mentioned but it has a larger 6.1-inch LCD Retina (828 x 1792 pixels) display. The iPhone XS has a 5.8-inch OLED Super Retina (1125 x 2234 pixels) display.
Camera
There is a single camera rear sensor on the iPhone XR that comes in a 12-megapixel resolution with a f/1.8 aperture. It's paired on the back with a quad-LED True Tone flash, an advanced flicker-detect system, OIS and Focus Pixels. The iPhone XS has a 12-megapixel wide-angle sensor with f/1.8 aperture and another 12-megapixel telephoto secondary sensor with f/2.4 aperture.
The rear cameras on both devices are capable of 4K video recording at 24fps, 30fps, or 60fps and 1080p HD video recording at 30fps or 60fps. They also support slow-motion video support for 1080p at 120fps or 240 fps. On the front is a 7-megapixel TrueDepth camera with f/2.2 aperture and Retina Flash at the front.
IP Rating
The iPhone XS is rated IP68 whereas the iPhone XR is rated IP67 which is still dust and water resistant but not as much as the XR.
Pricing
Both devices will come in three different storage options (listed below).
iPhone XR
64GB will cost $749
256GB will cost $799
512GB will cost $899
iPhone XS
64GB will cost $999
256GB will cost $1,149
512GB will cost $1,349
Download iPhone XR Stock Wallpapers
The new iPhone wallpapers have a resolution of 1242 x 2208 px and you can download them from below. The last two have a slightly different resolution of 1125 x2436 px. The new wallpapers are quite different than last year's if not the phones themselves. Each image below is a full-sized PNG image so you can simply right-click on it and click Save image as… to save them to your PC. You can also download all the wallpapers at once as a zip package using the link at the bottom.
The resolution of the following iPhone XS wallpapers is 2290 x 2290 pixels.
Download iPhone XS Stock Wallpapers
Update:

iPhone XS Halloween wallpaper
Update:

iPhone XR Gold version wallpaper
Update:

iPhone XR Christmas Edition Wallpapers

With Holiday season around the corner and the Christmas just a few days ahead, we got some Christmas wallpapers for you. These wallpapers are inspired by the iPhone XR's stock wallpapers and have been designed by @AppleiDesigner. There are a total of 6 wallpapers celebrating the spirit of Christmas (see the preview below). Merry Christmas to all! The resolution of the wallpapers is 1125 x 2436 pixels.
Download Links:
iPhone-XS-XR-Stock Wallpapers.zip  |  Mirror link
iPhone XR Christmas Edition Wallpapers.zip
iPhone XS, XS Max, and iPhone XR Stock Ringtones
Download All iOS Stock Wallpapers