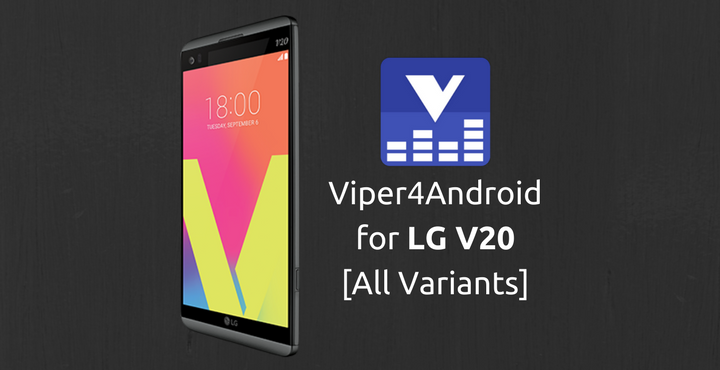 When the LG V10 was released, it was received well by the fans and critics alike. One of the major attractions of LG V10 was the little horizontal ticker screen that showed contextual information according to the app or screen that you are in. When the pictures of the phone leaked, I was quite skeptical but the LG V10 turned out just fine. The LG V10 was a tough act to follow owing to its commercial success and the love it received. But, LG did it again with the LG V20. With the Note 7 out of the scene, consumers who needed a big screen phone couldn't find a better replacement than the LG V20. One more important feature that the users loved on both these phones is the high-impedance DAC that was used inside them. Though I have not personally experimented with the bunch, all I hear is only positive things about the phone's sound output (through a headset, at least).
To make the already great sound experience on LG V20 even greater, we will tell you how you can install 'ViPER4Android', no matter what variant of the device you own – all thanks to the XDA Forum member Paradoxumical.
Download Viper4Android for LG V20
Please click below to download Viper4Android (flashable .zip file) for LG V20:
Please note that the same zip file can be used for all LG V20 variants.
Install ViPER4Android on LG V20
Your phone needs to be rooted and should have a custom recovery installed, for this method to work.
Copy the downloaded .zip file to your phone's internal memory.
Install BusyBox, preferably to /system/xbin partition. If not, XHiFi will not work, only FX will.
Reboot your phone into TWRP Recovery:

Turn off your phone.
When the phone is completely turned off, press and hold the Volume Down button and Power button at the same time.
When the LG Logo is displayed, release the Power Key but keep pressing the Volume Down button; while doing so press the Power button only once.
Release all the keys as soon as the recovery mode menu is displayed on your LG V20.
Assuming you have successfully booted into TWRP recovery, tap on 'Install' from the available options. You will be asked to choose a file to flash/install. Browse and select the downloaded file and then 'Swipe to install.'
Reboot your device.
Congratulation, now you have Viper4Android on your LG V20.
Note: When you open the Viper4Android XHiFi for the first time, you will be shown su binary warning. As per the developer's advice, this is expected and you can simply ignore the same.
Below are a few screenshots of Viper4Android in action on LG V20:
Do let us know if you need assistence with any of the steps above. We'd be happy to look into it!