Samsung announced the update for Galaxy S6 and S6 Edge devices last week, but it seems that update has started to hit the devices now only. Galaxy S6 and S6 Edge users from the United Kingdom and with Vodafone carrier are the lucky ones to receive the update before other models.
If you still haven't received the OTA notification on your device and you have the model specified above, wait no more and install the latest Android update for your device by following the steps given below. Before starting on with the steps let me tell you some new things introduced in the Marshmallow update for Galaxy S6/S6 Edge.
What's New in Touchwiz's Android Marshmallow Update
Android 6.0 brings version 4.0 of Samsung's internet browser. This newer version of browser supports the ad blocking plugins that were launched earlier. Samsung Internet 4.0 also supports browsing through the Gear VR. The other major new feature is Cross App. With Cross App, you will be able to operate "certain apps from within other apps".
As Samsung's example notes, this could include firing up the gallery or camera or opening a link through the in-app browser in the messaging app. For the latter, the app will allow users to flick the in-app browser while the page is loading so they can continue sending messages while the website's content loads in the background. Cross App isn't totally new – third-party apps already do this pretty well (for example, WhatsApp), and Samsung is simply implementing cross-app functionality in its own apps.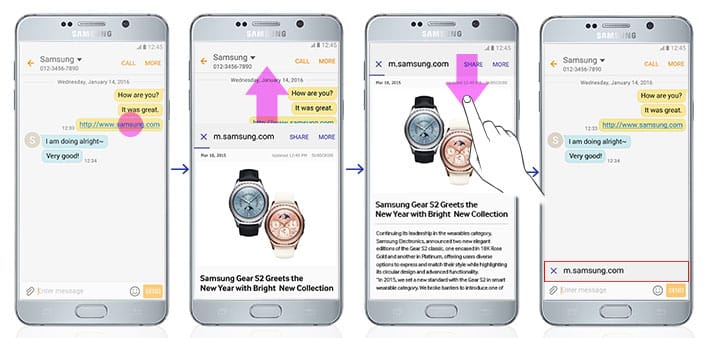 Other new features are the power-saving feature Doze, better control over app permissions, Google Now on Tap and the ability to adjust audio speed when playing video. For Galaxy S6 Edge users there are some new Edge panels in the update. There are many visual changes in the update, status bar and quick toggles menus are now fully white instead of blue, the power menu has been redesigned, and a few app icons have been changed as well. The pro mode in Camera app now includes the option to control Shutter speeds as well.
Overall with the visual changes and new features of Android Marshmallow, it is big and a long due update for Galaxy S6/S6 Edge users.
Note: The update is now available for more models and regions, follow this link to download the firmware for your region if you have Galaxy S6 Edge(G925F) and this link if you have Galaxy S6 (G920F). (Post edited on 1/3/2016)
Things You Will Need
Galaxy S6 (G920F) or S6 Edge (G925F)
PC
USB Drivers: Link
Firmware:
Odin v3.10.7: Link
Install Official Marshmallow Update on Galaxy S6 &S6 Edge
Make sure you have the Galaxy S6/S6 Edge(G920F/G925F). Updates for others models and regions are not available right now. We will add the links to other models and regions as soon as they are available.
Download the firmware from the link given above(Download only for your device model). You will have to Sign Up on Sammobile for downloading the firmware. After Signing up, you will be able to download the firmware.
Extract (unzip) the firmware file on your PC.
 Download and install USB drivers on your PC, if you don't have them already.
Download Odin v3.10.7 from the link given above.
Extract Odin ZIP file.
Open Odin v3.10.7.
Reboot your phone in Download Mode by pressing and holding Home + Power + Volume Down buttons for few seconds after switching off your phone.
Connect your phone to your PC, once it has booted into Download mode and wait until you get a blue sign in Odin.
Add the firmware file to AP/PDA.
Make sure re-partition is NOT ticked in the options tab of Odin.
Click the Start button, sit back and wait few minutes.
Reboot and Enjoy!
Enjoy the latest version of Android on your Galaxy S6/S6 Edge. Let us know if you have any doubts regarding the installation procedure in the comments section below, we will be happy to help you. Also, let us know whether you like the new update on your device.
Stay tuned if you have another model of S6/S6 Edge, the update should be released for all the models very soon.
Links for Galaxy S6 (G920F) or S6 Edge (G925F) from other regions have been added.
Also Read: Install TWRP and Root Galaxy S6 and S6 Edge on Marshmallow Firmware