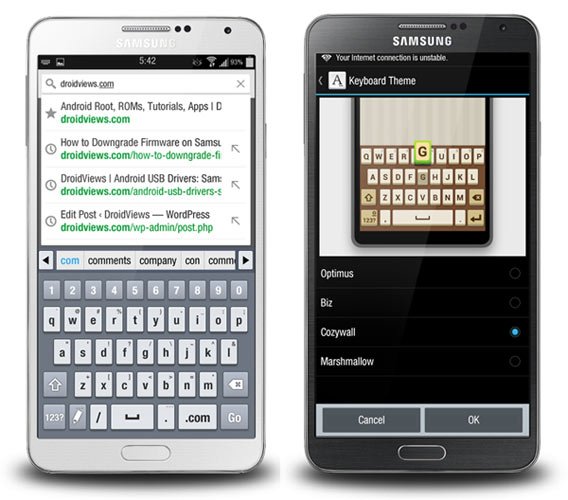 Android is the most loved OS for mobile devices and one of the reasons why it inspires passion among its users is the variety and possibilities of customization it offers. Dozens of world's leading OEMs manufacture Android devices and they give it a personalized look and and feel. Thus, we have Android dressed up in Google's stock experience, Samsung's TouchWiz UX, HTC's Sense UI, and so on. We might buy a particular device from any manufacture, but the wish to have the features and look of a device made by a different OEM, make us pine at times.
Thanks to the open source-ness of our OS and to our talented developer community that keeps toiling to give us more and more opportunities to enhance our mobile experience and customizing our devices. At DroidViews, we keep hunting for interesting stuff for our users and make sure to share them pretty often. You must have forgotten the LG G2 lockscreen port for all Android devices we shared recently:
Get LG G2 Lockscreen on Your Android Device
Today, we have another app from LG's flagship to share with you and it is the LG G2 Stock Keyboard app. As smartphone users, we all know that typing a lot of text on the stock keyboard app of our phone feels uncomfortable. And therefore, a good keyboard app becomes a must have.
Personally, I am a SwiftKey fan but if there are a few stock keyboard apps that I really love, they include the Xperia and LG G2 keyboards. The LG G2 Stock keyboard looks good and it supports themes too. It's compact word suggestions makes it a treat to type text on phone.
The keyboard app from the LG G2 has been ported by gerardroid from XDA. Under the keyboard settings, you will find a wide set of options for customization, such as word suggestion, auto punctuation and capitalization, touch feedback, themes, etc.
For Rooted Devices
This version of the LG G2 keyboard comes with some extra features and options like shown in the screenshot below:
How to Install:
Just download the APK files from above, copy them to your device and install as normal apps. The LG G2 Stock Keyboard and its themes do not require root access on your phone.
If you have root on your device, download the keyboard app for rooted devices from above. This keyboard app supports some advanced features like split keyboard, emoji, etc., and that requires root privileges. You will have to edit the build.prop on your device to get these features work. Here is how to get them to work:
Install the keyboard app and themes on your phone.
Make sure you have a root file explorer app installed on your device. [appbox googleplay com.jrummy.root.browserfree]
Open Root Browser and go to system> build.prop file in edit mode.
Now add the following lines at the end of the build.prop:

ime_extend_row_keyboard=true
ime_onehand_keyboard=true
ime_split_keyboard=true
ime_vibration_pattern=0:20
ro.config.libemoji=libemoji_lge.so
ro.lge.capp_emoji=true

Having added the lines, tap on the save icon on the top bar.
Exit Root Browser and reboot the device.
Done! Enjoy the new LG G2 Stock keyboard and do not forget to share your feedback. Cheers!
Also Download:
LG G3 Keyboard App Port for All Android Devices