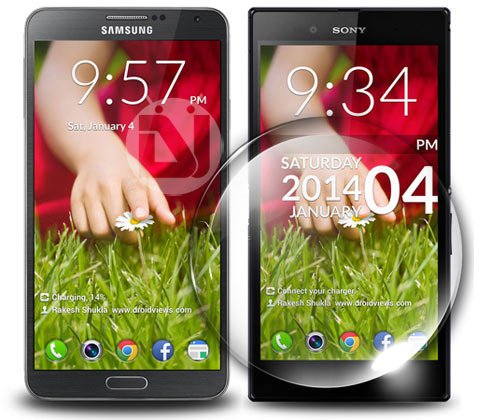 Months ago, we posted a tutorial on getting LG Optimus G lock screen on Optimus 4X HD. Many visitors asked us then if that lockscreen would work on their phones. Porting the lockscreen of one Android smartphone over others is one of the most herculean tasks in the world of Android. The reason for this is very simple— the lock screens are mostly integrated inside the core framework of a device and porting it simply means you need to port the whole framework to some other phone to get it to work. Keeping this point in mind, it appeared that the wish to enjoy the beautiful lockscreen from LG's flagship on other Android phones might never be realized.
Well, as we always say, Android has a marvelous community of talented innovators and coders who keep striving to take new challenges and accomplish them. In an older post, we shared the Galaxy Note 3 lockscreen port for all Android devices by andev888 . Today, we are back again to share with you another beautiful lockscreen port app by the same developer from the LG G2 that will make say "WOW"!
LG G2 Lockscreen:
I do not actually own the LG G2 currently but have used it for a couple of weeks. And, from that experience, I can say that the LG Optimus Lockscreen, as the app is called, is the closest imitation of the original one. The similarity between the original and the copy. The app is very easy to install and setup and can be downloaded from the Play Store for free. Having installed the app on your Android device running ICS, Jelly Bean or KitKat, you'll be able to enjoy five types of effects on your phone's lockscreen:
Particle effect
Crystal effect
Ripple effect
White Hole effect
Dewdrop effect
In order that you can enjoy the awesome Dewdrop effect without issues, your phone must have root access. Other effects work just fine whether you have root on your device or not. LG Optimus Lockscreen offers a huge set of options for personalization. It lets you choose whether you want sound or vibration effect or notifications on your lockscreen. You can show or hide the status bar and set up to 5 app shortcuts on the lockscreen for easy access. Under personalization settings, you can decide the size of clock and date and set custom text to show on the lockscreen.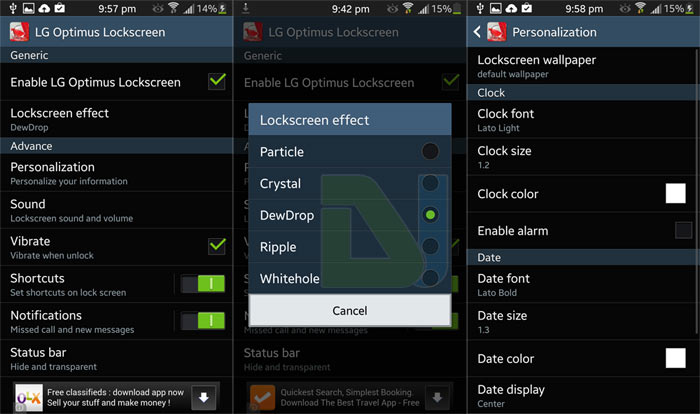 The only bad thing that I noticed in the LG Optimus Lockscreen app is the pop-up app that irritates while you play with the settings. Download the latest version of the app from the Google Play, install it and start enjoying the LG G2 lockscreen on your Android device. Cheers!
Download:
Direct Link: LG_G2_Lockscreen_202-v2.0.2.apk
Also Download: