The OnePlus 5 was recently launched all across the globe and even though it is priced significantly higher than many were expecting, it seems to be selling well enough. Will it surpass the OnePlus 3 and 3T in terms of sales? Only time will tell. The "small" company focused heavily on the camera this time around, just like .. every other smartphone manufacturer out there. But somehow, almost all of them never focus on the in-built speakers. That's not to say all smartphone speakers are bad, but they can be better. This is also true for the OnePlus 5's built-in speakers. They're fine but they can be better. Therefore, XDA member I$han has ported the Dolby Atmos sound mod for the OnePlus 5.
Of course you will need to have a rooted OnePlus 5 along with a custom recovery installed if you're thinking about installing the mod. Luckily, rooting or unlocking the bootloader on a OnePlus device does not void its warranty. However, that does not mean it isn't a risky step. Unlocking bootloader will wipe all the data on your device, whereas installing a custom recovery and rooting might brick it, if something goes wrong. To help you get through the process safely, we've already published a guide on how to install TWRP and root the OnePlus 5.
Download
If you already have rooted your OnePlus 5 and have a custom recovery installed, you can go ahead and download the Dolby Atmos sound mod by I$han from the link below.  It's a zip file which is flashable via any custom recovery. We, and many others recommend using TWRP recovery.
Warning
Considering that you've rooted your device, you probably already have read this before but it is only customary that we repeat them. Installing mods is a risky affair and there are chances, no matter how low, that you may end up with a bricked device. We don't take any responsibility for it in any case and you must proceed at your own risk. We'll be happy to assist nevertheless.
Install Dolby Atmos Sound Port
If you've used a PC or another device to download the mod file, transfer the file to your OnePlus 5.
Now boot your OnePlus 5 into recovery mode. It is a wise idea to enable Advanced restart under developer options. With that enabled, you can press and hold the Power button, select Reboot > Reboot to recovery anytime you want to boot your device into recovery. You can also press and hold the Power and Volume Down button simultaneously while your device is switched off to do this.
Once in TWRP recovery, select Back up and then select the available partitions. Swipe to create a back up. This is an optional step but it is better to not take any risks. To avoid waiting longer, you may back up just the system partition. 
When the back up is complete, or if you choose to avoid it, select Install from the main menu.
Navigate to the downloaded zip file and select it.
Swipe to flash the file. The flashing process only takes a few seconds.
When the flashing is complete, you will see a Reboot system button at the bottom of the screen. Tap on it and your device should boot up normally.
You can now find the Dolby Atmos app in your app drawer. Here you can further finetune your experience as per your liking.
If for some reason Dolby Atmos stops working or doesn't work at all, download SELinuxModeChanger. Install the APK like you would install any other APK, ignore the warning message. You probably already know this but for those of you who don't, installing a third-party APK requires you to enable Unknown sources in the settings. Just go to Settings> Security and scroll down until you see Unknown sources. Tap on it to enable it and tap OK on the warning dialog that appears. When you open the app, tap on the Enforcing or Permissive button whichever is available.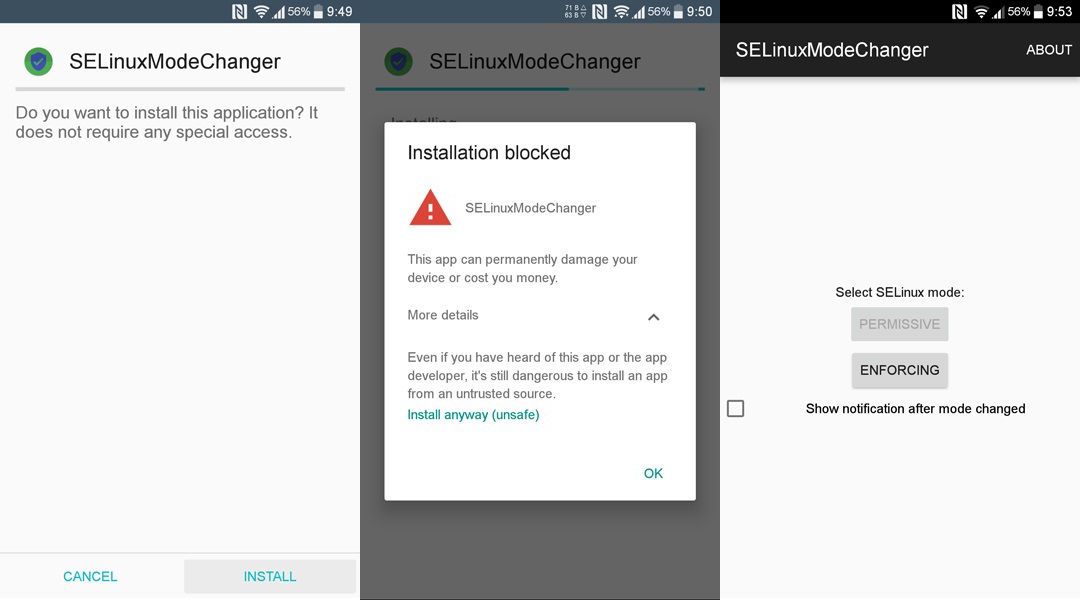 Source : xda