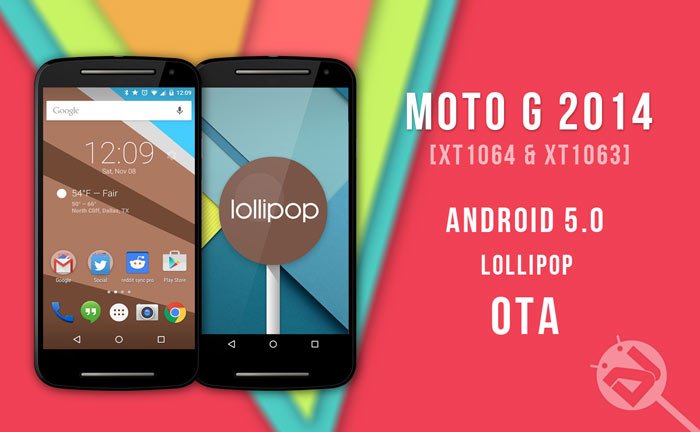 Moto G users will be all smiles when they get wind of this news, as theirs is the latest device to join the Lollipop movement. But it will be sour grapes for some users as this update, at this time, is only supported by devices with the model numbers XT1063 and XT1064. The update process also requires your phone to be in a stock state, so unrooted and still locked, in order for it to work or you risk bricking your device if you proceed.
For users who have already rooted or unlocked their devices, there is hope! Following this guide will allow you to return your device to a stock state and allow you to be able to flash the update too. However, note that unrooting and locking the bootloader does not guarantee success.
Warning
This guide should be followed very carefully and patiently. Any deviation could lead to a bricked device. Make sure to read each step completely before proceeding and allow ample time for the processes to be completed. Furthermore, this guide does not guarantee the process will be successful and all risks are taken solely at the user's discretion. This guide is intended only for the Moto G 2014 devices with model numbers XT1063 and XT1064 only! Other variants of Moto G or other devices are not supported. Flashing incorrect files might result in a bricked device so double check that your device is supported. You alone are responsible for any consequences that might occur during the process, we shall not be held responsible for any damage to your device.
Getting Started
Here's a little checklist of things to do before you start.
Ensure your battery is charged to above 60% this will avoid a dead battery from corrupting the process
Remember to backup all files, contacts and other important data
Also, double check your model number, this process is strictly for XT1063 and XT1064
You can download the OTA file for XT1063 or XT1064. (Do a search on Google)
Lastly, you need to copy the downloaded file to your internal SD Card
So without any further delays let's dive in.
Install Android 5.0 OTA Zip on Moto G 2014 XT1063 & XT1064
Power off your Moto G completely and wait a few seconds
Press the Volume down, Volume up + Power keys altogether until you see the boot mode screen
Using only the volume down key, scroll and highlight Recovery. Select it by pressing the Volume up
A warning Android logo will be displayed in the middle of the screen
Press the Volume Up and Volume Down buttons for around 5 seconds. Now while holding those two, press and release the Power button
Your device will now be booted into stock recovery mode, displaying Android System Recovery <3e> text at the top of the screen
Next, choose "apply update from sdcard".
Navigate to the downloaded file and select it
Congratulations! If all has gone well you're now well on your way to experiencing the latest version of Android. Remember that the first boot usually takes a little longer than normal and you just need to be a little patient.
We hope that you all enjoy the OTA update and have a pleasant experience following this guide. Let us know what you think about the update in the comments section below and to the users who have unsupported models, don't forget to check back often as we'll be sure to let you know when your device can join the Lollipop movement too.