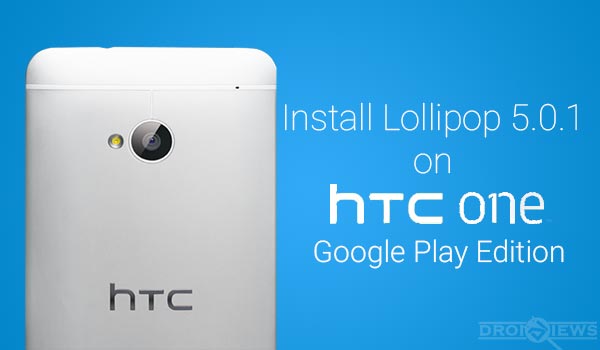 Recently, we posted news on the release of Android 5.0.1 Lollipop and that it has been already out for the Nexus 7, Nexus 10 and Nexus 9, through the Factory Images as well as OTAs. While we have been expecting the process to follow the rest of the Nexus series, the HTC One M7 GPE and M8 GPE users have surprisingly started to receive the OTAs worldwide. Most of you here might be curious and excited to just push this OTA to your M7 and M8, and see what new follows up in the latest Android 5.0.1 Lollipop update.
The HTC One M7 GPE was launched during 2013 and supports Quad-core 1.7 GHz Krait 300 processor running on Qualcomm Snapdragon 600 chipset, and on the other hand the One M8 GPE, which was announced during 2014, is an upgraded variant to the M7. It supports a rather fast Quad-core 2.5 GHz Krait 400 processing unit, on the latest and powerful Qualcomm Snapdragon 801 chipset with a bigger 5 inch Gorilla Glass 3 display. The M7 comes with Jellybean 4.1.2 out-of-the-box, whereas the M8 comes along KitKat 4.4.2, and yes! now both of them are upgradable to the latest Android 5.0.1 Lollipop.
The M7 and M8 have marked milestones when it comes to update and support, and this is yet another update for both these brilliant devices. We will assist you to Install latest Android 5.0.1 Lollipop on HTC One M7 and M8 GPE Editions by flashing the OTA zip file manually via the stock recovery. Therefore, you will require your M7 or M8 already updated to 5.0, running completely stock without any root.
Warning!
Installing updates manually may harm your M7/M8's OS, and may even cause it not to boot. Understand what you're doing and proceed thereafter. DroidViews or any of its community members shall not be held responsible for any damage to your device.
Prerequisites
Install HTC Drivers: link
Compatible USB Data cable
Backup apps, contacts, messages, calendars etc. Contacts could be synced using Google account or you can also follow this guide to backup everything without root.
Unrooted HTC One M7 GPE or M8 GPE running Kikat 4.4.4 KTU84P build with stock recovery
Downloads
HTC One M7 GPE: Click here
HTC One M8 GPE: Click here
Steps to Install Android 5.0.1 Lollipop on HTC One GPE Device
There is not much required to perform this procedure. But, the only thing to be kept in mind is that your M7 or M8 should be completely stock running KitKat (KTU84P) build.
Connect your M7/M8 Google Play Edition device to the PC via USB cable in MTP mode.
Transfer the OTA zip file to the device's internal storage.
Disconnect the device and power if off completely.
Press and hold the Volume Down and Power buttons at the same time.
Use the Volume keys to highlight Recovery and press the Power button to select it.
The device will output a screen with Android bot with a red exclamation mark on it. Press and hold Volume Up key and press the Power key to reboot into stock recovery mode of your HTC One M7/M8 GPE.
Use the Volume buttons to highlight apply from phone storage and press the Power key.
Browse and select the OTA zip file from the storage location using the Power button.
It will take sufficient amount of time to complete the process, hold back.
Once completed, select Reboot system now.
The first boot may take a long time as compared to a normal boot. So do not worry and be patient for the device to boot into Android 5.0.1 Lollipop.
Congos! You will now have Android 5.0.1 Lollipop on HTC One M7 and M8 GPe. Tell us what you have observed new and improvisations that you have figured out. We are awaiting for your feedback via the comments.